3 Reasons Why H4 EAD Form I-765 Will Be Released Only on May 26, 2015
If you are waiting for H4 EAD application Form I-765, then you have to wait for few more days.
H4 EAD applicants are waiting for official I-765 form and instructions from USCIS.   Several readers have posted questions like
Is current I-765 form is the right one to start filling.?

My wife has an H4 and will be eligible to apply foe EAD on May 26th. I on on H1B with approved I-140. What category should I put under question 16 of the I-765 form.?
So, when will USCIS  publish updated I-765 form for H4 EAD Applicants?
Answer is  included in the official H4 EAD Press Release from Feb 24, 2015.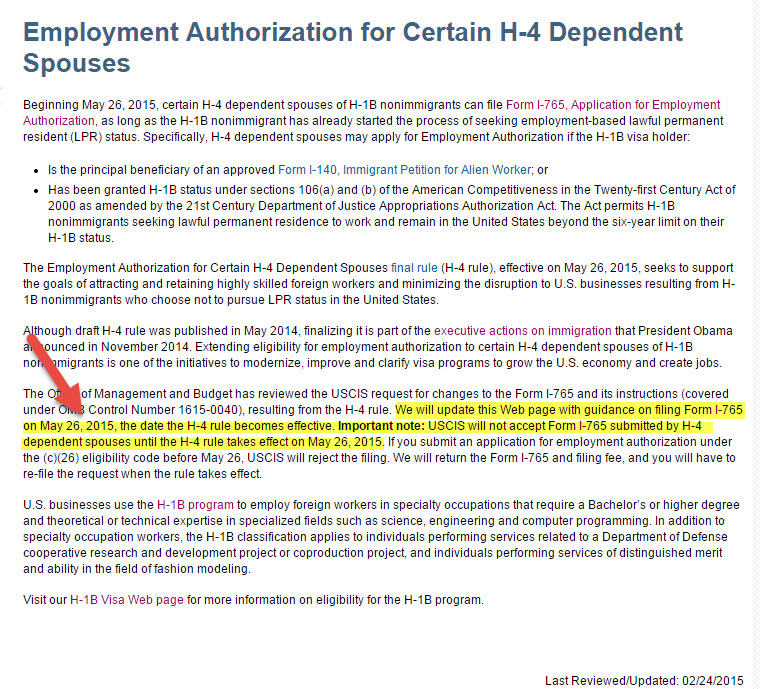 Refer to the highlighted section above. New form will be published on May 26, 2015.
Here's three possible reasons why USCIS would publish the H4 EAD form only on May 26, 2015 and not before that.
Applicants submitting incorrect forms
Apply before May 26, 2015
There's no Quota (like H1B Visa Cap)
Applicants Using Incorrect I-765 Version:
USCIS doesn't want to spend time and resources in handling incorrect I-765 form used for application. For instance, reader Amol is thinking current form can be used and he's wrong on that.
Small percentage of applicants could submit the incorrect forms. For example
Apply for EAD (OPT or I485 or DACA) with new form before it becomes effective.
Current version of the form will be invalid as of May 26, 2015. It's possible that some folks use the new version before it's effective date.
2. Apply Before May 26, 2015
Some applicants could apply for H4 EAD earlier than May 26, 2015. USCIS have clearly stated that application for H4 EAD are accepted only from May 26, 2015. Applications received before that will be returned.
If the form is released only on May 26, 2015. USCIS could eliminate  this problem of incorrect form submission.
3. There's No Quota for H4 EAD Applications
Unlike H1B Visa Cap, there's no cap for H4 EAD. Submitting application on May 26 vs May 27 or later wouldn't  delay the processing time.
EAD application takes about 3 to 4 months processing time. USCIS have been consistently approving EAD applications within that time frame.
H4 spouse's have waited for several years. I would definitely wait one extra day to apply, if that saves USCIS resources and confusion as listed in #1 and #2 above.
No way, I Wouldn't Make Such Mistakes
Now, you may say that you wouldn't file incorrect forms or apply early. If you wonder if someone can send in correct forms or apply early?
Here's another example:
USCIS press release was published back in Feb 24, 2015. But, only small percentage of applicants have read that USCIS will release H4 EAD applicants on May 26, 2015 and not before that.
You can refer to the comments posted at How to Apply for H4 EAD article to check number of comments asking when USCIS will publish the EAD application form for H4.
Application : Self File or Attorney
I recommend applying via an Immigration Attorney, but lot of EAD applicants apply on their own. Thousands of students on F1 visa apply for OPT, using the same H4 EAD form I-765.  It should be pretty straight forward provided your situation is not complex.
Here's couple of referrals for Immigration Attorney
Murali Bashyam from BashyamSpiro.com (Mention Happy Schools to get discount on Attorney Fees)
Ryan Locke from H4Work.com (use code HappySchools at check out for discount)
Self-Prep H4 EAD Application Guide
Happy Schools partnered with Immigration Attorney Murali Bashyam to create Self Prep H4 EAD guide. We used yet to be published I-765 form in the guide.  Using the guide, now you can learn
How to complete new I-765 form
What mistakes to avoid
Where to file the application
How to put together the application package
Tips to organize the application
Let me know if you have any question about applying for H4 EAD. I won't be able to answer how to fill the application form ( they are answered in the Self Prep H4 EAD Guide). But, beyond that, I will do my best to help with your H4 EAD application.
Enter EAD for H4 Contest
Don't forget to enter H4 EAD contest. One member can get Attorney Fee Waived for their H4 EAD application processing.