EAD for H4 Visa Rule Implemented – Process, Event & Timeline 2012 to 2015
Yay!. EAD for H4 Visa Rule was Approved (published) on Feb 24, 2105. It went into effect on May 26, 2015. But the H4 EAD Lawsuit stayed on. New Rule is proposed in Federal Register to Revoke H4 EAD. You can find the latest H4 EAD Lawsuit and Rule making to remove H4 EAD below.
EAD for H4 Visa rule was proposed to provide work authorization EAD for H4 Visa holders in certain conditions and they are
Approved I-140 pf H1B Spouse
H1B Visa period is extended beyond 6 years limits via AC 21 Law.
Some key terms to know
EAD – Employment Authorization Document or Work Permit
H4 Visa Work Permit – H4 is issued for dependents of H1B visa holders
Not all H4 Visa spouses will qualify for work permit. ("certain spouses").
DHS – Department of Homeland Security.
USCIS – US Citizenship and Immigration Services
EAD for H4 Updates Tracker
Remember this : EAD for H4 Visa was published as a Rule not a Law. Which means, if you are new to this whole process of U.S. Laws, you need to read Rule Making Process for EAD for H4 Visa.
Dec 2017 – Rule Proposed in Federal Register to Remove H4 EAD.
Sep 29, 2017 – Trump Administration asked for 2 months extension
April 2017 – Trump Administration asked for 6 months extension
Feb 2017 – Trump Administration asked 60 days extension
Sep 28, 2016 – New challenge filed against DC Court Ruling
Sep 27, 2016 – Lawsuit was dismissed in the District Court
April 2016 – New Lawsuit filed to Challenge the Rule in district court (by Save Jobs USA)
My 26, 2015 – UCSIS will accept applications for ED for H-4 Visa
Feb 24, 2015 – Effective Date will be May 26, 2015
Feb 6, 2015 – USCIS Submitted Final rule for White House OMB approval
Nov 22, 2014 – Final Rule set to be published in Dec 2014.
Nov 20, 2014 – President Obama unveils Executive Action
August 9, 2014 – When Rule can be published?
July 12, 2014 – Public Comment Period is Over. Next USCIS will review comment.
May 6, 2014 – DHS announces the criteria for qualified H4 Visa for EAD
April 8, 2014 – White House Announced Fact sheet to allow certain H4 visa holders to get EAD. Details below.
Feb, 2014 – USCIS haven't implemented this rule or made any progress. It's still listed in their Rule Making Agenda.
March, 2013 – Review Extended by OMB.
Feb, 2012 – This Rule was proposed in Feb of 2012.
This effort will help retain talented professionals who are valued by U.S. employers and who seek to contribute to our economy.
Dec 2017 – Rule to Remove H4 EAD
Title: Removing H-4 Dependent Spouses from the Class of Aliens Eligible for Employment Authorization
Abstract:On February 25, 2015, DHS published a final rule extending eligibility for employment authorization to certain H-4 dependent spouses of H-1B nonimmigrants who are seeking employment-based lawful permanent resident (LPR) status. DHS is publishing this notice of proposed rulemaking to amend that 2015 final rule. DHS is proposing to remove from its regulations certain H-4 spouses of H-1B nonimmigrants as a class of aliens eligible for employment authorization.
Feb 24, 2015
Feb 6, 2015
USCIS submitted final Rule ( no changes to criteria)
OMB have 30 to 60 days to Approve the Rule
Nov 22, 2014
Rule Making agenda was published with EAD for H4 Rule date set to December 2014.
Here's the Link to the Rule with Final Action date set to December 2014.
We don't have the exact dates in December.
Nov 20, 2014
It included EAD for certain H4 Visa holders proposal
August 9, 2014
I learned additional information about this rule and what to expect next.
Final Rule – Will not be drastically different than proposed.
USCIS – Reviews comments and Publish Final Rule.
OMB Review – It can take upto 90 more days of review. No minimum Review period.
After Final Review – Rule can be published.
Effective Date – 30 to 60 Days Delayed Effective Date.
It's August 2014 : Based on Above Math, rule will not be effective until January 2015, if reviews started by end of August.
July 12, 2014
Public Comment Period is Over.
USCIS will review the comments
Finalize the Draft of Interim Rule.
Submit the Rule to OMB for further Review ( 30 to 90 days)
Then White House have to Approve the Rule before publishing in Federal Register.
So, how long to wait? Few more months.
May 6, 2014
Department of Homeland Security announced the criteria "certain" H4 Visa spouses to get EAD.
Several H4 Visa holders will not be eligible to work, about 100,000 in first year of this rule becoming effective.
See updates from this USCIS News here – 97,000 qualified spouses in H4 can get EAD.
As you can see 97,000 is later increased to 179,000 ( as of Feb 24, 2015 when Rule was published ).
April 2014
Attracting the World's Best and Brightest: The Department of Homeland Security (DHS) will soon publish several proposed rules that will make the United States more attractive to talented foreign entrepreneurs and other high-skill immigrants who will contribute substantially to the U.S. economy, create jobs, and enhance American innovative competitiveness. These proposed regulations include rules authorizing employment for spouses of certain high-skill workers on H-1B visas, as well as enhancing opportunities for outstanding professors and researchers. These measures build on continuing DHS efforts to streamline, eliminate inefficiency, and increase the transparency of the existing immigration system, such as by the launch of Entrepreneur Pathways, an online resource center that gives immigrant entrepreneurs an intuitive way to navigate opportunities to start and grow a business in the United States.
Above statement was part of new fact sheet released by White House. Hope this will result in some progress from USCIS on new rule making agenda. We have to wait for exact language from White House or DHS to know who would qualify for "certain" H4 spouse as per April 2014 update.
March 2013
Previous update us listed below – Status update as of March/9/2013 – Rule Review Extended. In order for the this rule to be implemented, there is a process that DHS, they have to complete review via OMB. This work authorization for H4 rule was received by OMB on Dec/10/2012. Typical Time taken for PMB to review the Rule is 90 days. 90 Days have come and gone. OMB has extended the EAD for H4 visa holders rule review.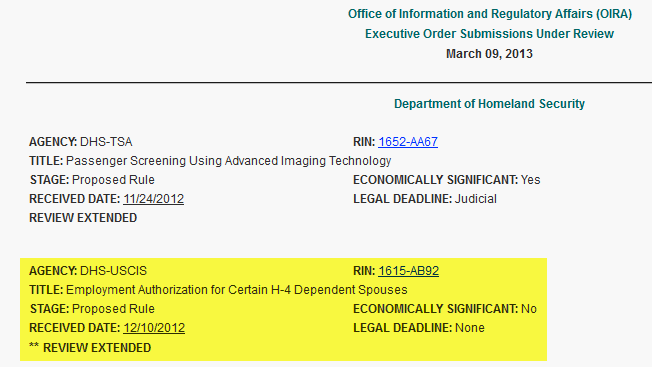 I don't know how long the extended review will last.
Looks like if the Rule is classified as Economically Significant, then this rule could have been reviewed faster.
I know several H4 visa holders are hoping for this new EAD for H4 rules to pass, so they can start working. I personally know several H4 Visa holders who are highly qualified, talented are spending time as home makers.
EAD for H4 Visa : 2012 – 2013
Updated ( 2014) : Following section applies to Rule when it was introduced back in 2013 and 2013 time frame. New proposed rule is improver version of this section. This section is still here, so you can learn about original proposal. This is part of initiative to Attract And Retain Highly Skilled Immigrants.
Provide work authorization for spouses (H4 Visa) of certain H1B holders.
This proposed change to the current DHS regulation would allow certain spouses of H-1B visa holders to legally work while their visa holder spouse waits for his or her adjustment of status application to be adjudicated.
Here is more detailed information on who will be qualified under new proposed H4 work option rule
This means that if the H4 Visa souse's whose principal H1B Visa holder have spent less than 6 years in H1B cannot get EAD.
At a minimum, a PERM labor certification or I-140 would have to have been filed, and even approved to qualify for the 3 year H1B extension, if less than 365 days had elapsed since submission.
Who qualifies for EAD for H4? For instance, a person named John, who is working on H1B in USA for 1 year, gets married. Wife Anita, get H4 visa and comes to USA. Anita (H4 spouse) will not be eligible to get EAD under this new rule right away. In order for Anita to get EAD for H4 Visa, she must wait for John to complete 5 more years in H1B for a total of 6 years.
EAD for H4 Visa : 2014
You can read the latest information about this Work Permit for H4 Visa spouse in this article – 97,000 qualified spouses in H4 can get EAD. In short, following H-4 visa holders will qualify
H1B visa holder should have approved I-140 application (and/ or)
H1B visa worker got H1B extension beyond 6 years using AC 21.
If you are new to green process, then you can read this article – Green Card Process Steps for EB2 and EB3 Stay tuned for more updates on this new proposed EAD for H4 visa rules.
We have been waiting for long time for this rule to be implemented right? Questions? Let me know if you have any questions about this Work Permit or about USCIS implementation of this rule.
Related Articles :