I am going for an extension with my employer for the first time. My employer has quoted below fees to me.

H1B Fraud prevent & detection fee: $500
H1B Fee Based on Public Law 114-113: $4000
H1B Filing Fee: $460
H1B Training Fee: $1500
Immigration Attorney Fee: 1200.

The total comes down to 7,660. They say that they would pay 50% & the remaining 50% should be paid by me.

I got to know my friends & colleagues that H1B Filing Fee & H1B Training Fee comes under H1B extension. Can someone please let me know what is this H1B Fee Based on Public Law114-123 which costs $4k? H1B fraud is basically for New H1 or H1 transfer & it does not come under H1B extension.

Does the H1B extension fee depends on the no of permanent employees with Employer?? If it depends on that, Could you please let me know the criteria? Also, please throw some light on this Public Law114-123?? Has anyone recently gone for the extension for the first time? What is the minimum/maximum amount charged by the employer?

Your help would be truly appreciated.
Who's Eligible for H1B Visa Fees
DOL has guidance on who can pay the fees and expenses associated with H1B Visa Filing.
Then select I'm an H-1B Worker.
Then Select Immigration Fees.
Select all the listed options to learn about who can pay them.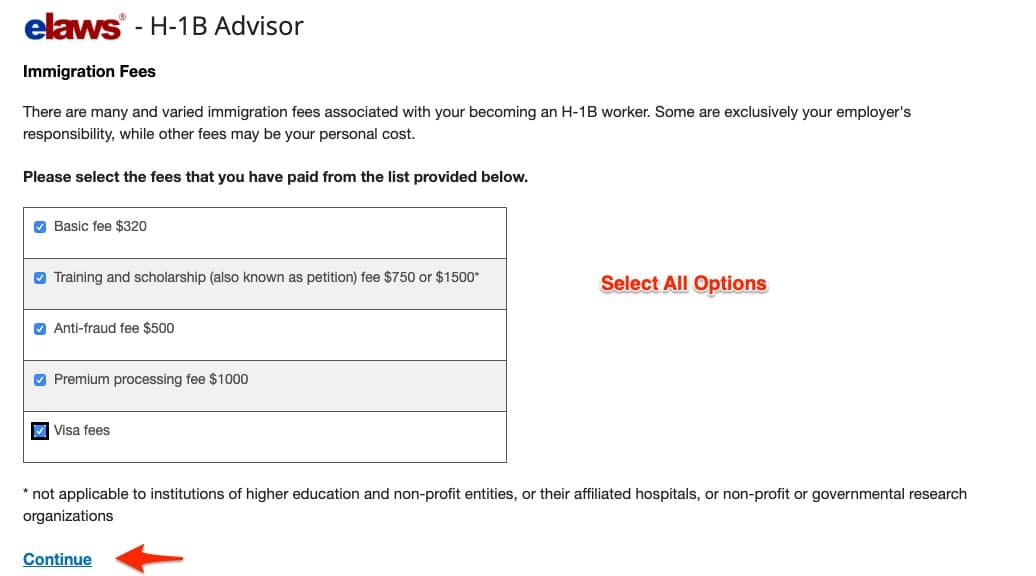 You will find the following answer:
You replied that you paid the basic fee $320; training and scholarship (also known as a petition) fee $750 or $1500; anti-fraud fee $500; premium processing fee $1000 and visa fees.
The basic fee is an employer's business expense.
The training and scholarship (petition) fee is not only an employer's business expense, but the law requires that an employer may never pass any portion of this fee onto you or a third party. This means that neither you nor a third party can pay or reimburse the H-1B employer for any part of this fee, whether directly or indirectly, voluntarily or involuntarily. Furthermore, if the H-1B employer seeks any damages from you or a third party, the employer must not include any portion of this fee in the damages, including liquidated damages.
The fraud prevention and detection fee is an employer's business expense. Similar to the training and scholarship fee, the employer may never pass any portion of this fee onto you or a third party.
The premium processing fee is an optional employer business expense where the employer requests that its petition be expedited and processed within 15 days. In rare instances, an employer may be able to demonstrate to the satisfaction of the Wage and Hour Division that the premium processing was requested specifically at your request for compelling personal reasons.
Visa fees and costs connected with obtaining your H-1B visa, including any necessary translation of credential materials that the U.S. consulate requires are your personal obligation and do not constitute employer business expenses.
Employer business expenses cannot be recouped from you if it results in reducing your wages below the required wage.
Now, you have the official answer from the U.S. Department of Labor.
I found one more example to be useful from an attorney's website.
As per this attorney, H4 Visa fees, Attorney Fee's and other expenses could be paid by the Employee.
If your employer is asking you to pay the fees that are to be paid by the employer, then you could file a complaint with DOL or USCIS or both Departments.