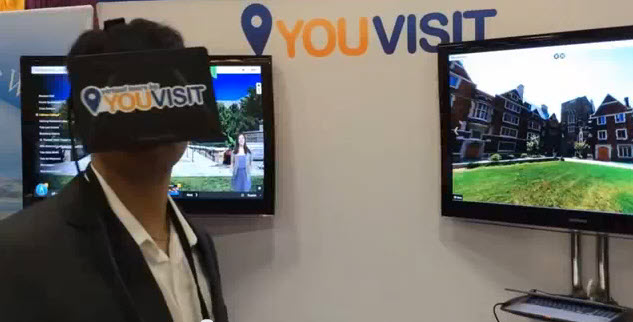 While I was walking in the expo hall in NAFSA Annual Conference, I saw the booth for YouVisit.com
I have been to their site sometime back. I walk to their booth and introduced myself.
There had couple of large TV's displaying a virtual campus tour and walking tour of a campus. I was curious to know about the product.
Since, the expo hall opened, I have been interviewing companies and exhibitors in the hall.
I was going to interview the CEO of this company and then I realized, why shouldn't I take a test drive of this virtual campus tour to write a YouVist review.
Plus, I can take a virtual tour using Oculus rift.
Do you know, Facebook acquired Oculus rift for 2 Billion Dollars couple of months back? If not, now you know. You can see me wearing one in the video below.
So, I take my tripod out with iPhone mounted to it. I have this crazy looking tripod that fits in my pocket. I gave the camera to the Abi (Founder and CEO)
Then, I wear this this oculus rift and tour starts!
I ask, "Which school is this?"
He replied " This is Yale University Campus."
Here's link to Yale University Virtual Campus Tour.
Watch the video now.
Here's the cool part of this video :
I was in a concert hall and standing on the stage.
Guess what?
I can see 360 degree view from where I was standing.
I just keep looking up and couldn't twist and turn my head beyond certain point.
Can you imagine this amazing HD quality virtual tour in 3D in front of your eyes?
It was mesmerizing.
To change to different part of the campus or select a new building, I had to look down, then focus (look) at one of the options, and I will be taken to new location.
Well, my comment at end of the demo say it all. WOW!
That's a quick YouVist.com virtual college campus tours review.
What do you guys think? Isn't that cool technology?
Let me know your thoughts.