5 Reasons Why You Are Not Finding a Full Time Job on OPT (or CPT Internship).
How to find a Full-Time Job on OPT or even an Internship on CPT? It's tough. As an International student, things are getting desperate these days to find a job. First is 24 months STEM OPT, then comes H1B Visa Lottery. [highlight]When odds are stacked against you, how do would you find a Full-Time Job after college on OPT?[/highlight]
Yes , getting a full time will definitely help, just go apply for one. Only if getting a full time would be that easy, no body would want to get into consulting jobs. (Comment from a Reader)
Yes. He said it right. It's not easy. Here's another comment to prove that it's tough.
Hello Raghu sir,

I am basically done my undergraduate in Aeronautical Engineering and presently am doing my Masters in Mechanical Engineering.

I would like to know what companies can hire international students for these Streams. I have applied some companies to get an Internship but it was no use.

Every company needs US citizenship. As a F-1 student how can he search a job or Internship? Are there any Web Links to know? Please Reply.
So, the first person said, it's tough. The second person showed why it was tough. But, why? Why do students find it tough to find a full-time job or direct hire job on OPT? I know the answer. Let look at this graphics.
---
1. The person who is looking for links to apply for jobs would perfectly fit this category. Applying for some random jobs with a resume would typically give no results. No Interviews or no job offers.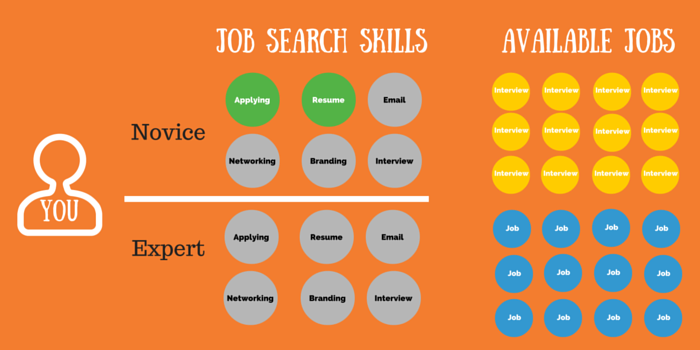 ---
2. If you have a basic understanding some aspects or some aspects of how to search and apply for jobs, you may get one or two interviews calls. Did I say, when employers hear H1B Sponsorship, they could trash your Resume. Game Over.
---
3. Now we are moving into experts territory. You probably spend 20 to 30 hours of deep work learning how and where to apply for jobs. You are not posting questions in the blogs asking for links to apply for jobs. Maybe have a professional write your resume. You would start to see more interview calls. Yay! Progress.
---
4. Now, we are talking baby. When it rains, it pours. You can pick can choose from competing offers. You can have employer compete for you. You can now negotiate your terms. Well, it takes time and effort to be an expert job seeker. Whoo Whoo. How do I become an expert job seeker?
---
5. If you get sick, you will go to a Doctor. If you want a degree, you will go to a college. If you want a job, you assume you are the expert. That's the problem with International Students. But, now you know why your job search is not yielding any results.
Where can you learn some of those strategies?