I797A vs I797B vs I797C, I-797D, I797E vs I-797F – Differences?
USCIS uses the form I-797 to announce results and decision for a petition submitted for processing. It can be H1B, H1B1 or I-40, etc. Let's use an H1B Visa as an example in this article.
An H-1B visa approval notice form is called an I-797. It has 4 different types – I797, I797A, I797B and I797C.
So, what is the difference between these H1B visa approval notices – I-797, I-797A, I-797B and I-797C?
But, in fact, there are few more types issued by USCIS: I-797D, I797E vs I-797F.
Sample I797 Form
Here's a sample I797 for petition type I-129 (H1B Visa Application).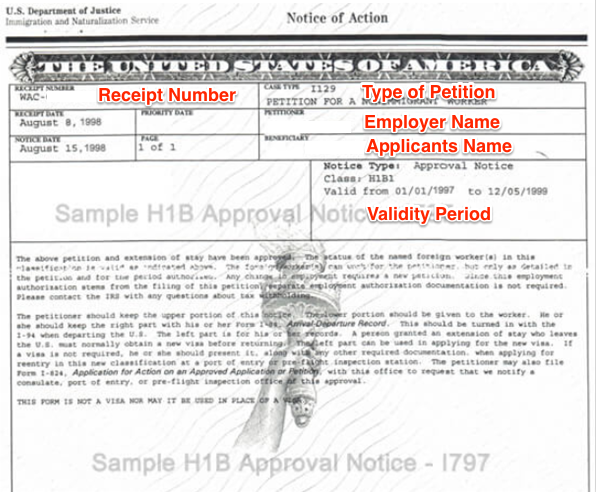 I797A vs -797B
An I-797A is an original approval notice with the I-94 attached.
An I-1797B is an original approval notice with no I-94 attached.
If you have received an I-797B, this means that the petition is approved, but the COS/Extension of Stay is not approved.
COS – Change of Status (example F1 Visa to H-1B or H4 Visa to H-1B)
If COS is not approved, the applicant would have to do the following:
Depart the Univet States
Schedule Visa Interview
Attend the Visa Interview
Get Visa Stamp
Reenter the U.S. with new visa status
If the Change of Status application is approved, your status would automatically change to new visa status from the start date of validity period mentioned.
And if you are applied for H1B from outside the U.S.A, then USCIS would issue I-797B.
You can stay in the country until the date written on your most recent I-94. The date on the I-94 is what determines the expiration of your stay in the US.
I797A vs I797B vs I797C
Form I-797A: Is issued ONLY to people who are currently in the U.S. and are undergoing a change of status (F-1-H-1, H-1-H-1, l-1-H-1, etc.).
The "A" is for the change of status approved, which means the applicant can continue to remain in the U.S. and work. Hence, I-797A will have an I-94 attached to it to endorse the status approved.
Form I-797B: Is issued to those who had never been to the U.S. or to those whose change of status cannot be approved.
This means that you are qualified for the job but your change of status cannot be approved. So you cannot stay and work in the U.S. for two reasons:
You are NOT currently in the U.S.A.
You may have committed an immigration violation; the documents submitted during filing did not provide enough evidence that you were legally employed at all times; you had never been out of status as a student, etc.
Hence, such applicants, if they're still staying in the USA must leave and apply for the visa at a U.S. consular post.
The officer will determine if you are eligible for re-entry based on the evidence you'll provide during the interview.
Form I-797C
This is a copy of the approved petition. This is usually given to the employers for their reference file.
Hence, Forms I-797A or I-797B are given to applicants, while I-797C is given to employers.
For instance, if you didn't receive the approval notice, then a copy of the original will be provided.
Here are few more scenarios when I-797c is issued:
Issued to communicate receipt of payments, rejection of applications, transfer of files, fingerprint biometric, interview and re-scheduled appointments, and re-open cases.
What About I-797D, E and F?
| | |
| --- | --- |
| I-797D | Accompanies benefit cards. |
| I-797E, Notice of Action | Issued to request evidence. |
| I-797F, Transportation Letter | Issued overseas to allow applicants to travel. |