IELTS Academic vs General Test Format
IELTS -International English Language Testing System is offered in 2 formats.
IELTS Academic and IELTS General Training.
Before deciding to take IELTs, you have to figure out which IELTS Academic vs General are you planning to take.
Typically, for admission to Universities, students would take IELTS Academic test.
If you are applying for immigration to Canada, Australia, etc IELTS General test is required.
IELTS Academic vs General
Following figure (from IETLS site) shows the differences between IELTS General test and Academic Test.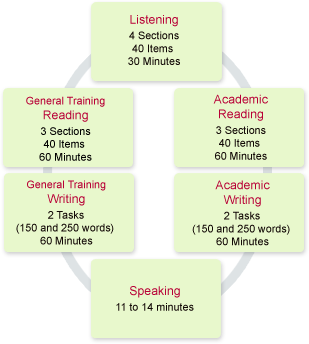 So, the difference between IELTS Academic and General modules is that Reading and Writing tests are different.
Listening and the Speaking sections are the same for both Academic and General format.
IELTS Reading
Academic – Read 3 longer and complex passages. One per section
General – 4 or 5 Short passage and 1 long passage.
IELTS Writing
IELTS Academic Writing

Task 1 – Describe a graph or chart or diagram.
Task 2 – write an essay in response to a point of view, argument or problem

IELTS General Writing

Task 1 – Write a letter requesting information or explaining a situation.
Task 2 – Write an essay in response to a point of view, argument or problem.
Checkout 30 Universities in USA accepting IELTS.