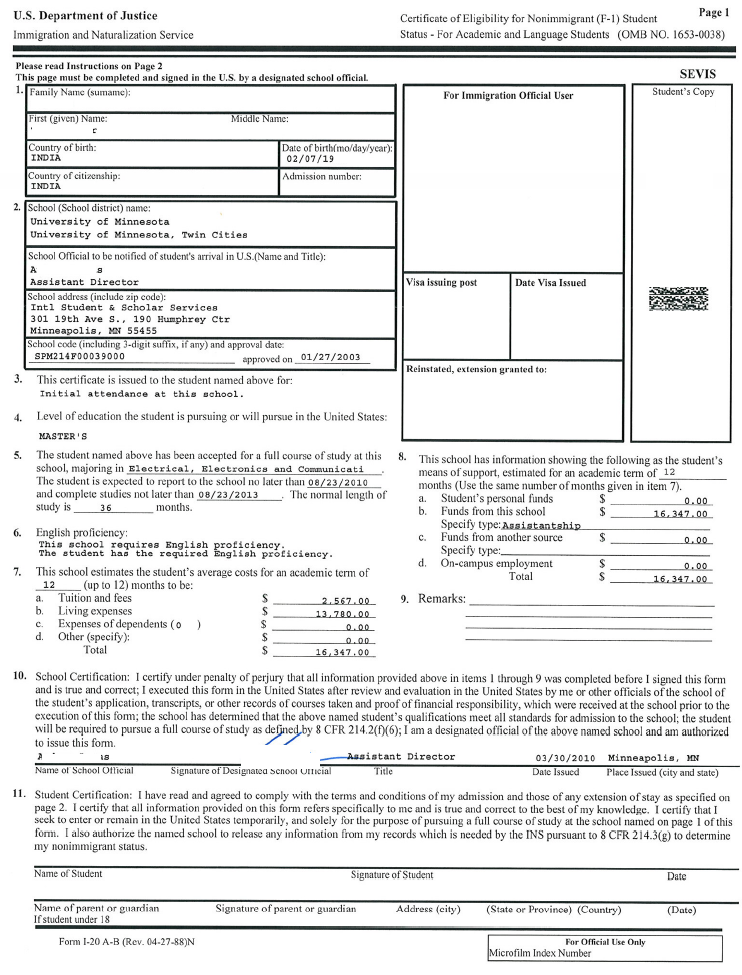 This What Happens If I-20 is Missing at Port of Entry in USA
This post is what about the experience (Lost I20 form )my friend (Prashanth) has faced during his journey to USA.
He lost of his I-20 at the Delhi airport, when he actually took out the folder from his baggage because he needed to show the docs but the original I-20 was missing from the folder.
He thought how did he misplace his I-20 which was in the folder, he recalled that he took out the original documents when he was greeting his colleague who was boarding the flight. At that point of time he lost his original and didn't notice. He didn't lose coolness but approached the officials and reported the loss.
He showed his copy of I20 in port of entry to department of Homeland Security & Immigration. They took his fingerprints and processed for an hour.
They gave 1 month permission in the name of SVEP( Student Visa Exchange Program) to him. In which the period was changed to 1 month and the period of SEVIS was not stamped. He has to mail the original I-20 within the stipulated period to CIS or else he will be deported back to INDIA. He will be treated as a SVEP student in the interim.
At the NY, officials asked the reason of the loss of I-20 and then processed him for further inquiry to check whether he is genuine or not and generated arrival form.
He was issued I 94 and I 515 in the NY. He was told to contact ISS staff member as he was issued I515
He contacted the International Student Services in the university to issue a new I20 such that he can mail it to the SEVIS office in Washington. The officials at the SEVIS stamped and mailed to ISS of the university.
He got his new I-20 with all formalities completed in the span of one month. During this tenure, he had no opportunity to avail the on-campus job.
Moral : Don't ever take out the original documents, the xerox copies of those are sufficient at the INDIAN Airports.
[youtube http://www.youtube.com/watch?v=vRGUaSKtEg8]