New SEVP Policy: Direct Relationship Between Employment and Area of Study to be Determined by DSO
On Sept. 30, 2019, SEVP published new policy guidance – "Practical Training: Determining a Direct Relationship Between Employment and a Student's Major Area of Study."
This new SEVP policy was published on Sep 30, 2019. Not many DSO's will be aware of this new guidance yet.
Please share this page with your DSO and ask how your school is implementing the new policy and if you have to do anything at this time.
Who's Impacted:
What's New:
DSO's are required to determine if the student's employment is directly related to their major area of study
Students are required to provide documentation to prove the job duties are related to their major area of study
A brief description describing how your job is related to the major area of study is added to the SEVIS portal.
DSO's are required to maintain the documentation for direct relationship for both OPT & STEM OPT
What has Changed:
OPT students who are reporting new employment in SEVP Portal by themselves or via DSO used to provide the following data:
Employer Name
Start Date
Type of Employment (Full/Part-Time)
Employer Address
A new free text input field as added in December 2015. Where DSO's or students can describe how the job is related to the Major area of study.
So, I asked a DSO on how they have been handing this to date and here's what they have to say.
There is a statement we are required to put in during stem opt when reporting employment changes, i.e. new employer not site address changes. I have that written in my office and then the box asks, basically, how is the position related to the field of study. I require my students to submit a 4 sentence statement showing how position is related field of study referencing specific courses to specific job duties. I provide that information in their SEVIS record. I require the statement of ALL students, regardless of field of study or degree level. I am not an expert in their fields of study so how can I be sure that it is related? That's why I put the responsibility on the student to prove that information.
And as you can see, DSO raised a valid concern: How can they determine if the significant area of study is related to job duties?
With the New Policy Guidance, DSO's are required to collect the documentation from the student for both OPT & STEM OPT.
Here's what the new SEVP guidance has to say about that.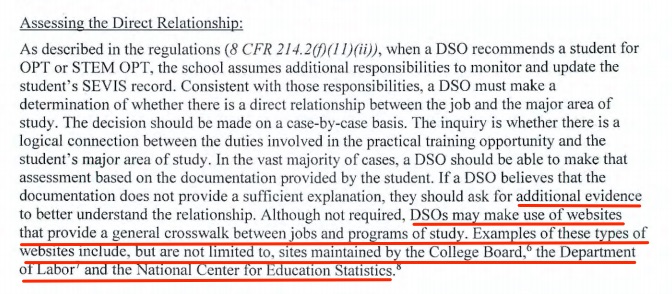 STEM OPT – I983 form would contain these details. But, for OPT students would not provide job duties to DSO (as of today).
Going forward, students have to send additional documentation to the DSO, and they would have to maintain those documents in the student's file.
Pending Questions & Concerns
DSO now has to do additional work to review job duties, but are they qualified to do that?
If DSO's are not qualified, how will they get trained on those skills?
What is DSO's did make a mistake and deny the employment or approve when a job is not related?
What if the student directly reports the employment in SEVP Portal, how will DSO handle the verification and gathering documentation?
Sample Job Duties
New SEVP policy guidance provides a few samples for reference.
Summary:
OPT students are now required to enter the job duties
New job duties have to send to DSO
DSO should agree that your job is related to the field of study
Your school and DSO will determine how to implement this new SEVO policy.
Immediate Impact is for OPT students than STEM OPT (so watch out).