True Story : It's Not Easy To Be a Class Topper in Grad School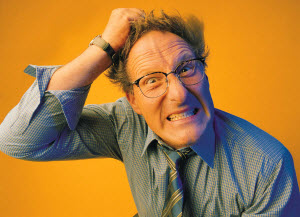 Do you know what it takes to be a class topper in Grad School here in USA?
Students who are attending college in USA can speak volumes about that and it's not easy.
I was attending Information Session in Duke University last week. As part of the information session I attended a class.
While in the class, professor gave the grades of the test for Corporate Finance.
Class Top Score : 90
Average Score : 40
Think about that for a second. Ok a class of some 100 students average of 40 shows wide score range.
I'm writing this topic in response to an email for Happy Schools Reader who converted from H4 visa to F1 to attend school. Reader who sent me the email thought, it would be easy to be an A Grade Student in B grade university based on the past academic profile, work experience and credentials.
You can read the emails and college experience below.
First Email
I follow your blog posts regularly and find them very helpful. I started checking your blog from my GRE days. I scored well in my GRE (314), profile was also good (8.14/10 undergrad GPA, 3 years of work experience in IBM, 1.2 years as an officer in Govt of India bank).
Had admits from good schools in Computer Science, but had to settle down for a B grade university (California State University, Sacramento) as my husband stay nearby and tuition fee was also less.
My perception was : I will score very good and my university name won't matter much. But I am in my first semester, first midterm already done and I'm nowhere near the topper's.
The most important paper Algorithm is taught by a Chinese professor in our university and I lost all interest in it and did not understand half the topics.
In other subjects also I did so many silly mistakes and what I find that I have some problems in the concepts as well.
I really want to score good and I have no other option than to continue with this university.
Please let me know what routine I should follow to be a top grade student. I don't want to mug up things.I really want to be good at my subjects, build concepts and then score well. How should I progress?
Follow-up Email
When I wrote you the earlier email, I was really in a turmoil. I was not liking the school, professors and got bad grades.
But currently I am in a slightly better position with my class performance. The main reason of my bad grades – I was not interacting with the professors and did not grow interest in the subjects.
But I started following their lecture and started finding them much interesting.
I have relational data models, algorithm and networking this semester. Being more attentive and spending more time with my subject.
I even started finding my algorithm professor very good. He is actually. But my perception was wrong.
Still I have a long way to go. It's kinda challenge for me to be among the toppers.
I did my bachelors 6 years back and it's taking some time for me to get back into the flow. Even though my university is not a top-notch, the professor's are really interested in answering any query I have. So, communication is a big part which helps to grow interest in the subjects.
My finals will start in less than a month. I really want to score good in all papers. I know I have the potential, but need to utilize it methodically.
My other admits were ASU, University of Utah, UC – Riverside. Though I missed my opportunity, I really don't want to keep regretting on them and lose any more time.
My reason for not being among the toppers is definitely I'm not studying as much and as in detail required. But I am trying hard to get into the flow.
I am currently on F1, was in H4 before.
Why H4 to F1?
I changed to F1 before coming to US this time as my school asked to change the status.
And we can also do internships in F1 which we can't in H4 visa. Eventually all people in H4 do a change of status from H4 to F1 while studying.
I thought my H-1B processing later will be easier if I'm in F1 and I will get OPT as well.
About college life
MS is much different from Bachelors in India.
We really don't make enough friends here. All are busy looking for opportunities whatever it may be. And I stay bit far from college, so I cannot take all essence of it., like sports and other clubs.
But I strongly feel, we should be part of at least one club and mingle with people from other countries and culture.
Raghu, please help me out with how to concentrate more and if you have any study guide/chart or the measures you took to do the best.
//
Now, that's the true story which often not said to students who are planning to study in USA.
Here's why its tough to be a topper when you compare your current academic credentials with US education system.
Back in India and probably in other countries education is based on gaining knowledge. But, here in USA, you education is based on acquiring skills.
Knowledge and skills are two different entities.
Best Example : Swimming.
It's easy to gain the knowledge about how to swim. You can watch videos and read books about breathing techniques, floating and free style swimming.
But, when you jump into the water, all the knowledge is not going to help you right?
As the reader stated in the email "I don't want to just memorize things."
You can be an academic super star by memorizing and rote learning back in India. But, to be an academic topper here in USA you need to have knowledge and skills.
When you actually learn to swim, you get the skills that are required to swim and at the same time you are gaining the knowledge as well.
There will a period of transition when you go from Knowledge based education system to skills based system. You have to break down you old habits and learn new learning habits. It's going to take time. Sooner you make-up your mind, easier for you to get used to the system.
When I came here for MS, first piece of advise from my seniors "don't take told hard-core programming courses in first semester."
Folks who are not comfortable with programming, should ease their way into programming based courses.
If you are forced to take programming courses ( for Computer Science Majors), then take 1 hard course and 2 easy courses in the first semester.
Next, life is busy. You need to adjust to fast paced environment. Get used to making to do list, set priorities and don't procrastinate. When it's time to get some work done, get it done right away.
Related : American Lifestyle in 1500 Words