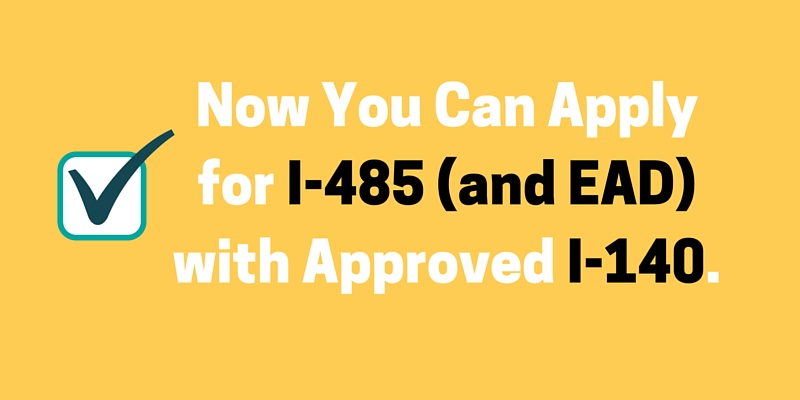 [Updated] Are You Ready to Apply for EAD with Approved I-140?
Updated (Nov 20, 2015): EAD FOR I140 rule is now submitted for OMB approval on Nov 19. Here's summary of the Rule.
Updated (Sep 25, 2015): Early Filing Dates Moved Back from July 1, 2011 to July 1, 2009 for India and Jan 1, 2013 for China.
Upated (Nov 6, 2015) – EAD for I-140 rule should be published shortly.
Impact: People who were getting ready to apply for EAD with Early Filing Dates have to wait longer.
[x_alert type="info"]This article is about getting EAD by filing I-485 via Visa Bulletin changes which included new Acceptance Date. EAD for approved I-140 is a separate proposal, which is part of President Obama's Executive Immigration Action. Rule Making is expected to being for EAD for I140 sometime in October 2015, but there's no news on that yet. Last Updated Oct 28, 2015[/x_alert]
---
EAD for I140 is a Go. October 2015 Visa Bulletin has some Big News. I mean this is CRAZY and BIG news for Employment Based (EB) community. Here's Video Summary of the what has happened so far.
Breaking News: EAD for I140
New changes from October 2015 Visa Bulletin
New Cut Off Dates – Acceptance Cut Off Date
Apply for EAD with approved I140 based on Acceptance Cut Off Date
Acceptance Cut Off Date is much earlier than Priority date
[x_alert type="success"]Watch the latest video interview with Immigration Murali About October Visa bulletin 2015. [/x_alert]
New Acceptance Cut Off Date
Brand New Acceptance Cut is introduced for Employment Based Green Category (like EB1, EB2, EB3 categories), where countries like China, India are retrogressed.
Employment-
Based
All Chargeability
Areas Except
Those Listed
CHINA-
mainland
born
INDIA
MEXICO
PHILIPPINES
1st
C
C
C
C
C
2nd
C
01MAY14

01JAN13

01JUL11

01JUL09

C
C
3rd
01SEP15
01OCT13
01JUL05
01SEP15
01JAN15

01JAN10

Other Workers
01SEP15
01JAN07
01JUL05
01SEP15
01JAN15

01JAN10

4th
C
C
C
C
C
Certain Religious
Workers
C
C
C
C
C
5th Targeted
Employment Areas/
Regional Centers
and Pilot Programs
C
01MAY15
C
C
C
Stay tuned for updates and analysis.
[Tweet "EAD for I-140 is Approved. #EADi140 http://bit.ly/1UHzoNT"]
Regular Priority Dates for Employment Based Visa Categories
This is regular visa bulletin table with Priority Date from October 2015. This table looks similar to any previous months Visa Bulletin.
Employment- Based
All Chargeability Areas Except Those Listed
CHINA – mainland born
INDIA
MEXICO
PHILIPPINES
1st
C
C
C
C
C
2nd
C
01JAN12
01MAY05
C
C
3rd
15AUG15
15OCT11
08MAR04
15AUG15
01JAN07
Other Workers
15AUG15
01JAN06
08MAR04
15AUG15
01JAN07
4th
C
C
C
C
C
Certain Religious Workers
U
U
U
U
U
5th
Targeted
EmploymentAreas/
Regional Centers
C
08OCT13
C
C
C
5th
Pilot
Programs
U
U
U
U
U
How to Read the Acceptance Cutoff Dates?
For example, Take EB2 India dates from above two tables.
Priority Date – May 1, 2005
Acceptance Cut Off Date – July 1, 2011 (July 1, 2009)
Big News: If your Priority Date is on or before July 1, 2011, then you can apply for I-1485 from October 1, 2015.
Your actual green card and change of status will be issued when you Priority Date becomes current.
As you can see from Green Card Steps for EB2 and EB3, it can take years before EB3 and EB2 applicants from retrogressed countries to be eligible to apply for EAD (via I-485).
Why is This big News?
You can apply for EAD much earlier. EAD gives lots of benefits.
Apply for I-485 if you qualify (based on earlier Acceptance Cut off Date)
Then Apply for EAD and AP concurrently with I-485.
Read more about wait times here – How Long Does it Take to Get Green Card in the USA for EB1, EB2, and EB3
This new October 2015 visa bulletin introduced the new process will bring a welcome change to Employment Based Green Card community. Massive Change.
What's Next:
Get ready to file I-1485 if your Acceptance Cut Off Date is earlier than the July 1, 20111.
Share this page and stay tuned for new updates.
Update 5: at Sep 25, 4:07 pm EST.
New Comments Policy
Please use the
Happy Schools Forums
to post your Questions. Use the Comments Section to add value or contriute to the Article, not for Q&A. Questions posted in the Comments section will be Deleted.