How Long Does it Take to Get Green Card in USA for EB1, EB2 and EB3?
Short Answer: Really long time. Several Years of Indian National on EB2 and EB3. And several years of wait time for Chine Nationals.
Some frequently asked questions
How long it will take to get green card in EB2?
How long does it take to get a green card through employment?
GC processing time for eb2
Green card wait time by country
Green card processing time for Indian citizens
Current wait time for eb2 green card
Green Card Wait time depends on your country of birth, not country of citizenship. So, the wait time for Green card to USA depends on your country of Birth.
Majority of the Green Card is issued through Employment Based or Family Based Category. In this article we will consider the Employment Based Category.
Green Card Categories
Every year 140,000 applicants are given US green card in employment based categories. Within that 140,000, each country can have cap, which is 7% of 140,000 green card (9,800).
They are further divided into five categories as follows
EB1 – Priority Workers
EB2 – Professionals with advanced degrees or persons with exceptional ability
EB3 – Skilled or professional workers
EB4 – Special Immigrants
EB5 – Investors (Employment Creation)
How Long to Get Green Card
According to May Visa Bulletin 2014
| | | | | | |
| --- | --- | --- | --- | --- | --- |
| Employment- Based | All Chargeability Areas Except Those Listed | China – mainland born | INDIA | MEXICO | PHILIPPINES |
| EB1 | C | C | C | C | C |
| EB2 | C | 15APR09 | 15NOV04 | C | C |
| EB3 | 01OCT12 | 01OCT12 | 01OCT03 | 01OCT12 | 01NOV07 |
The above table shows the priority dates for EB1, EB2 and EB3 categories for India and China.
If you apply for Green card in EB1 Category, you can get it in GC in less than one year.
C = Priority Date in Current
No PERM labor Process for EB1 category.
I-140 and I-485 applications can be filed concurrently.
For EB-2 Green Card submitted on November 15, 2004 is being processed for Indian Nationals ( born in India).
That's about 10 years wait. But, in theory, it takes about 4 to 6 years.
Pending Green Card Applications for EB2 – India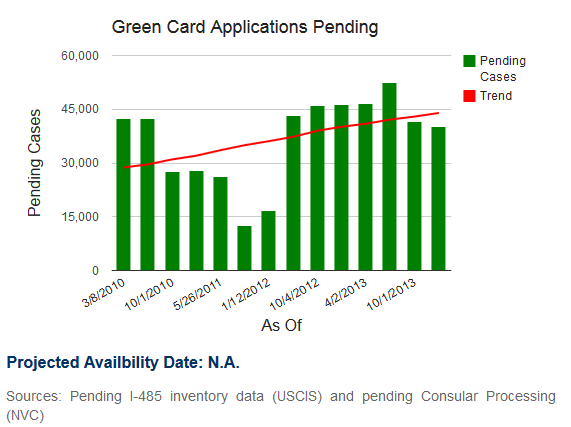 Example Processing Time EB3
Start Masters Degree from Fall 2014
Complete Masters in Summer 2016 ( 2 years)
Employer apply for your Green Card in 2020 in EB2
Add 20 or maybe more years to the wait time from 2020
You can expect to get US Permanent Residency in 2030.
For EB3, unless the law changes, wait times is unbelievably long.
Pending Green Card Applications for EB3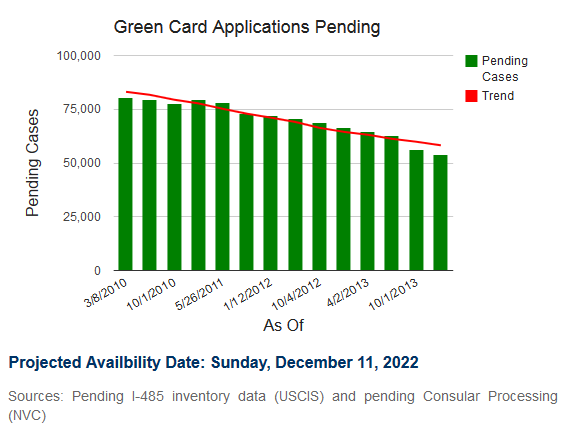 Above case figures and examples should give an idea on how long it would take for you to get the Green Card.
Image Source – ilw.com
If you think getting H1B Visa via lottery is complex, then you would realize the pain and long wait times for India and China is much more painful.
Why long Wait Times?
You might be wondering why does it take so long for processing green card and why so many petitions are in pending state?
Read the articles in the Green Card Series :