3 Ways to Expedite Your OPT or H4 EAD Application with USCIS (with Case Study)
You want to know how to expedite EAD or OPT card from USCIS?
By the end of this article, you will learn the following
OPT Timeline with expedite request
How to file EAD expedite request
How to submit proof for financial loss
And, you will see real examples and step by step process.
You may be on F1 Visa and applied for Initial OPT Card.
Perhaps, you are on H4 Visa and applied for H4 EAD with USCIS.
Your OPT application (I-765 form) is pending for over 90 days.
Your employer can't wait any longer. They have given an ultimatum.
You got two weeks to start your new job or employer could rescind the offer.
And, you can't start working unless you have the OPT card with you (physical copy).
So, you want to know how to expedite EAD or OPT card from USCIS?
What's Covered in This article:
What is Expedite EAD application processing request?
Why request USCIS for faster processing
3 Days to Expedite OPT application processing

Request USCIS directly by Call or Chatting
Request via Your local congressman
Request via USCIS Ombudsman

Reason for Expedite Request
Expedite Request – Approved or Denied (sample USCIS Reply)
Sample OPT Timeline with Expedite Request
What is an OPT expedite request?
You are requesting USCIS to process your immigration benefit application faster.
Here are three key things you have to know about the expedite request.
Ideally, you can submit an expedite request whenever your case is pending, but you do need a strong reason and evidence in doing so.
First, you will place a request to expedite your OPT/EAD approval process.
Then USCIS would approve or reject your expedite request.
You don't immediately get case approval even if your expedite request is approved.
If approved, your case will be assigned to an officer and will hear back about the result faster than the average processing time.
How to submit an expedite request through USCIS?
There are three ways to request USCIS to expedite their OPT or EAD) application.
Remember – the USCIS determines the outcome of your request.
#1 – Call USCIS to Expedite OPT Card Processing
Call USCIS customer service center and say 'I want to submit an expedite request.'
The representative will read out the criteria for expediting (are listed on the USCIS website) and will let you choose one.
You will hear back in 5 days about the result.
USCIS might ask for more evidence, might approve it without asking, or might reject it.
The result of the expedite EAD request is sent via email or physical mail.
Alternatively, you can call USCIS and ask for the decision, and the representative will tell you.
When you want to talk to USCIS customer service center, you can either call them or live chat with them.
In my experience, the live chat takes so much less time. I
In the USCIS website, find 'Ask Emma' which is a Chatbot.
On the chat, type in 'live chat' and Emma will connect you to a live representative.
#2 – Expedite OPT Request Through Congressman
Three members of Congress represent you – Two Senators and One House Member.
You can choose to submit the expedite request via your Senator or House Member.
To find your House Representative – Click Here and Enter Your Zip Code.
Then, if you go to his website, there will be a place for you to write their office an e-mail.
You can also directly call him, but e-mail is fine.
There, you can explain your situation and ask for help.
A few days later, you will either get an email or a call back from the immigration liaison of the office, and you can proceed from there.
If you contact congressman, you will fill up a form provided by them. The form will ask you for reason for expedition. To support you can attach letter from employer stating the financial loss to the company due to the card being delayed. Otherwise, if you just mention the personal financial reason for expedition, it might work sometimes.
Different congress members have different ways of processing these things. Some will be very willing to help you out immediately, while some will straight up say that it wouldn't work. Just keep that in mind when contacting them.
#3 Expedite Request Through USCIS Ombudsman
The Office of the Citizenship and Immigration Services Ombudsman (Ombudsman) is dedicated to improving the quality of citizenship and immigration services delivered to the public by providing individual case assistance, as well as making recommendations to improve the administration of immigration benefits by U.S. Citizenship and Immigration Services (USCIS).
To submit the request via Ombudsman, you have to complete and submit the form 7001.
This is the online form that you submit to the ombudsman, where you will explain your situation.
In my experience, ombudsman takes a bit longer to respond to you than your local congressman, probably because they are getting so many inquiries. But, it wouldn't hurt to try if you have a valid reason.
See the example below for an OPT timeline with request submitted via Ombudsman office.
Reason for Requestion Expedite Request for OPT Processing
According to the USCIS, the applicant is required to provide a basis for requesting faster processing of your application.
USCIS is at the sole discretion to approve or deny that request.
USCIS may consider an expedite request if it meets one or more of the following criteria:
Severe financial loss to a company or person provided that the need for urgent action is not the result of the petitioner's or applicant's failure to:

File the benefit request or the expedite request in a reasonable time frame, or
Respond to any requests for additional evidence in a reasonably timely manner
Urgent humanitarian reasons;

Compelling U.S. government interests (such as urgent cases for the Department of Defense or DHS, or other public safety or national security interests); or
Clear USCIS error.
Majority of F1 Visa applicants or H4 visa holders would select reason #1 – Financial Loss to you.
Here's what one student had to say about selecting the reason:
As F-1 students, you are most likely to use 'financial loss to self/company' criterion when submitting an expedite request.

Just know that 'financial loss to self' is highly likely to get rejected because of student's status (we submit a proof that we have enough money to stay here when applying for visa).

The 'Financial loss to the company' has a higher chance of getting accepted, but you will need more than just a job offer letter as evidence.

To put it simply, a job offer letter merely supports that you yourself will lose a job if you don't get your EAD (thus falls under financial loss to self category).

Normally, you will need to get a statement from your employer specifying how your EAD delay is affecting them financially.
Here is the official language from USCIS about financial loss:
And, here is an example from F1 student's requesting to expedite OPT application due to personal financial loss is denied.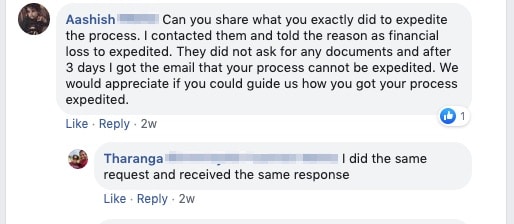 So, USCIS need rock-solid proof to approve the request.
Here what you will be asking:
What kind of proof does USCIS want/accept?
Where to get a document to prove financial loss?
What should be included in the document?
Worry Not!
Answer to the above questions are in the following thread and please read them carefully.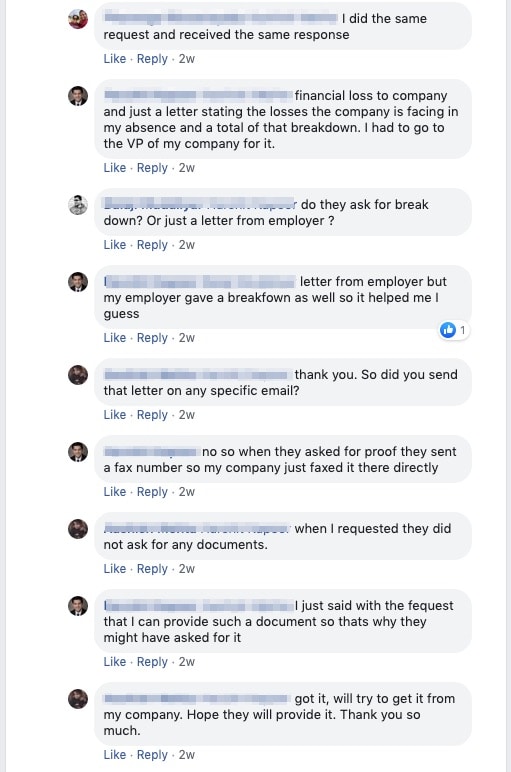 Here's what this student did
Called USCIS to Expedite OPT application processing
USCIS Sent an email asking for proof.
Got a letter from the VP of the company about the financial loss to the company
The letter included the breakdown of the financial loss for the company
Here's another part of the same discussion
However, USCIS has the full right to approve/reject the expedite request, no matter how substantial your evidence is.
Neither the congressman nor the ombudsman nor you have any control over that request process.
USCIS Expedite Request – Approval and Denial?
So, how can you find out if the USCIS approves your Expedite Request?
Once you submit the request, there will be status update in your USCIS Case Tracker Account (you must create an account and log in)
You will find something following status update under the Case History.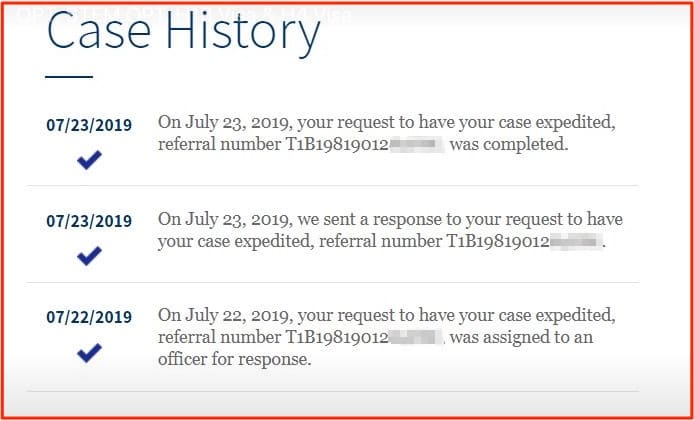 As you can see the most recent update says
On July 23, 2019, your request to have your case expedited, referral number .., was completed.
Completed doesn't mean they have approved the request. Here's how you should read the above case history.
Update 1: This is just information that your request to expedite the initial 12 months OPT application was received.
Update 2: USCIS has decided on your EAD Expedite request (Approval or Denial)
Update 3: Your ticket is marked as complete, and notification was sent out
So, how can you find the status of your request?
You can call them with the Referral Number
Wait for an Email (sample below)
Wait for a physical copy of the decision (example below)
Sample, USCIS Reply received via Email, after denying the OPT Expedite Request Due to Financial Hardship for F1 Student.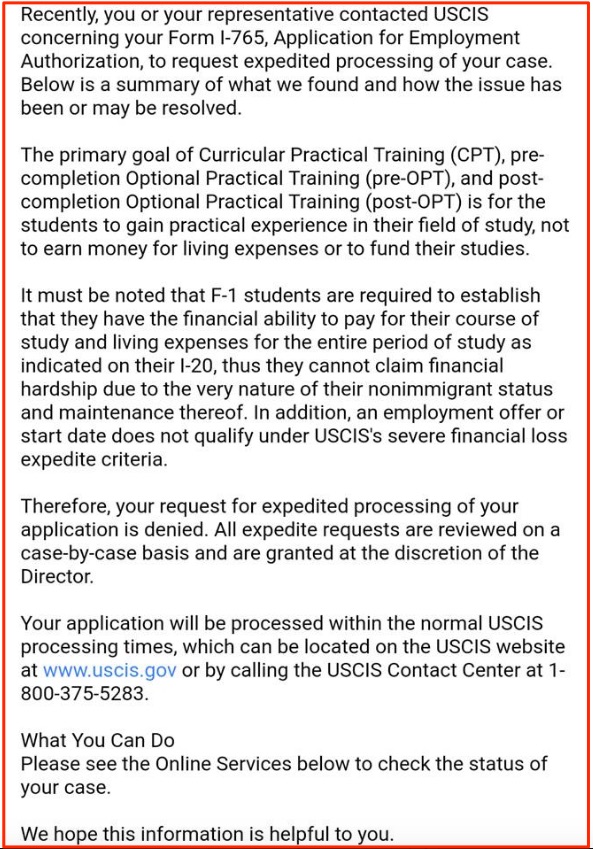 Here's the sample letter from USIS Potomac Service center approving the Expedite Request for OPT application via USPS mail.
Here's another sample letter from USCIS for approving the request: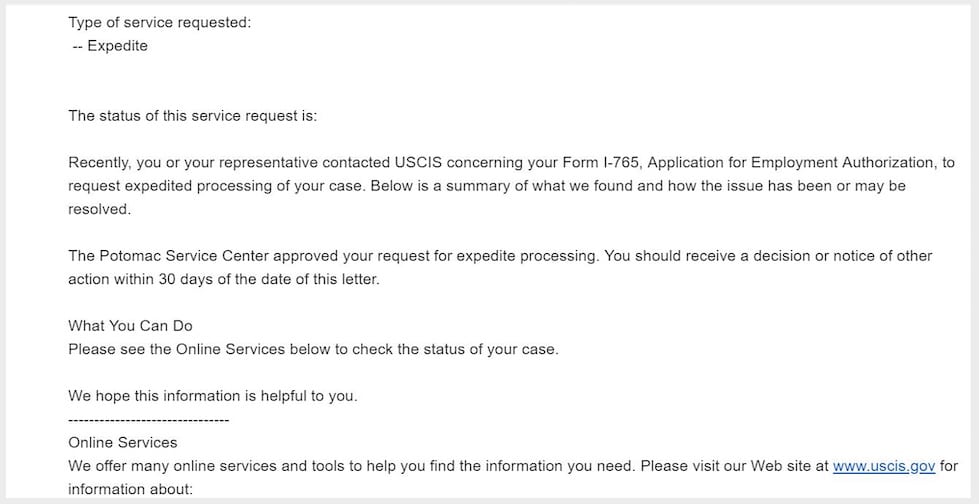 Sample OPT Processing Timeline with Expedite Request
There are several OPT processing timeline posted in the F1 Visa OPT Facebook group.
Example 1: Initial OPT Timeline (Expedite Request)
Case Received: March 29 (242 series-Potomac)
Expedite request by calling USCIS: June 18 (denied on June 20)
Expedite request submitted by Congressman: June 28
Expedite request submitted by Ombudsman: July 1
Expedite request approved: July 9 (after I got an e-mail from the congressman that his request was forwarded to the senior adjudications division)
Heard back from ombudsman that my case is with the officer: July 12
New Card is being produced: July 15
The case was approved: July 16
The OPT card was mailed to me: July 18
Called USCIS and got the tracking number: July 19
Received approval notice by mail: July 19
Received my EAD card: July 20
The card was delivered to me by the post office: July 20
Example 2: Initial OPT (Expedite Request)
Received: April 1st
Expected: July 10th
Request to Expedite: 16th July
New Card Is Being Produced: 23rd July
Wait time:113 days.
Example 3: Initial OPT (No Expedite Request)
Initial Non-STEM OPT
Received: April 5
Requested Start date: Aug 25
Case approved: July 24

Total Days: 109 days


No expedite request
Summary: Expedite OPT Processing
There are 3 ways to request USCIS to expedite the OPT processing
USCIS may approve or deny the request
USCIS may ask for documentation for expedite request
If the request is approved, applicants typically get the approval and card in 1 to 2 weeks time
If the expedite request is denied, then regular processing time would apply
Average OPT Processing time is about 115 days (now).