Impact of College Major on Career Path
Do you want to know the impact of College Majors on Career Paths?
You will hardly find someone who has Engineering and Law degree or Engineering and Doctor Degree in several countries around the world.
We all know USA is land of opportunities and education system is flexible. You don't have to be stuck to a filed, if you don't like the it.
I got permission to reproduce this visualization – Impact of Major on Career Path from Professor Satyam Devadoss – Associate Professor of Mathematics at William College.
His students Hayley Brooks '12 and Kaison Tanabe '13 using the CIRCOS visualization software.
College Majors vs Career Path
The left side of the circle is broken into 15 parts, each representing a grouping of all majors available at Williams College.
For example -Cultural Studies includes such majors as Anthropology, Sociology, and Asian Studies.
The right side of the circle is similarly broken into 15 parts, each representing a grouping of possible careers chosen by Williams alums.
Each of the 15600 alums has an arc going from the left side of the circle to the right.
Those with double-majors have two arcs on the left (one from each of their majors, each arc of 1/2 thickness) that combine into one resulting career choice.
< Click On the Image to Expand >
Art Music
Students who graduated with Art Music as college major have taken following career path – Law, Sales, Banking, Insurance, Health, Medicine, Technology, Engineering.
Biology
Majority of Biology Majors have gone into Medical field.
Chemistry
Computer Science
I think majority of the folks with CS major have gone to Technology fields and spread among other options seem to be less.
Culture Studies
Cultural Studies Majors have gone to 15 different fields.
Economics
Majors have gone to 15 different fields.
English Literature
Geosciences
Looks like not a lot of students opted for GeoSciences Major.
History
Quite a lot of students graduated with History as one of their Major.
Languages
Math
In Math, unlike other majors, you don't see concentration on one specific career path.
Philosophy Religion
Thickness of the line from Major to Career Path reflects the number of people opted to study this specific major.
Philosophy Religion
Political Sciences
I wonder why Political Sciences students have double majors?
Psychology
Division 1
Division 1 shows upper Division College Majors and their career paths.
Division 2
Division 2 implies that majority of Graduates from Williams College had Majors located within this Division 2. Most of them had double Majors.
Division 3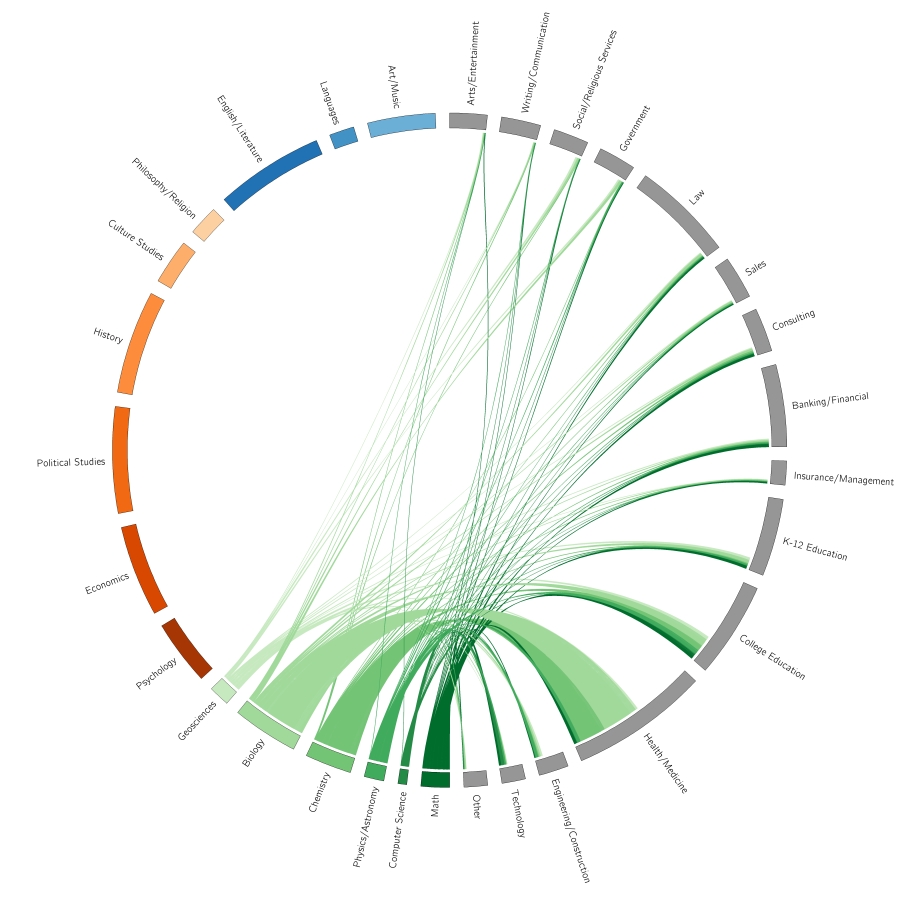 Compilation of All Majors and Career Path
Lessons Learned
I have witnessed the power of flexibility on education system in USA.
For instance, my Primary care doctor was a a Software Engineer. I was surprised to see when he spoke about C and Java programming.
He went to medical school after completing Bachelors in Computer Science and Engineering.
In India, I believe there is an age limit on when one can enter into Medical College. Even if there is a possibility, I doubt parents will let their kids enter into Medical degree after completing engineering.
If you are stuck at doing something you don't love and don't see an opportunity to switch your field, USA is the best place to do what you always wanted to do.
I see several non computer science majors switching to Masters in Computer Science. Most of them switch due to higher salary.
Likewise, its is possible go from Engineering to Arts, Law, Management, Medicine, etc.
What do you think about this visualization Impact of Major on Career Path?
Share you comments on how this pictures have changed your thinking, prespective about US Education?