A Comparison Chart – CPT vs OPT vs STEM OPT
So, do you want to know the difference between CPT, OPT and STEM OPT?
Let's start with the acronyms, OPT and STEM first, Ok?
CPT – Curricular Practical Training
OPT – Optional Practical Training
STEM – Science, Technology, Engineering, and Mathematics.
EAD – Employment Authorization Document (it looks like more a credit card)
OPT and STEM OPT is available for International Students studying in the USA on F-1 Student Visa.
OPT vs STEM OPT
[wpdatatable id=1]
That's the main set of differences between OPT vs STEM OPT. Did I miss anything? Please let me know in the comments section.
CPT vs OPT vs STEM OPT
CPT is a different beast altogether. And there's no commonality with OPT or STEM OPT to be included in the above table. So, including some of the key points in a separate section.
CPT is typically used for doing an Internship while in School
For instance, some courses require CPT as part of the Curriculum.
It can be Full Time or Part-Time
Schools set their own rules when it comes to approving CPT
PS: I typically don't recommend a university, if they have a policy to not allow CPT during the Fall or Spring Semester or Full-Time CPT.
Key Dates to Remember for OPT and STEM OPT
The Study in States site has a really useful tool for OPT Dates.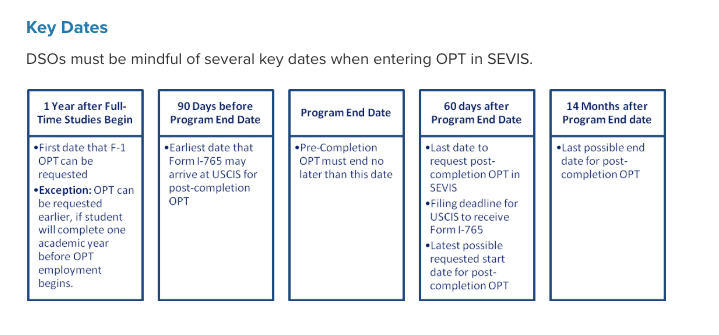 Please pay close attention to the Key OPT and STEM OPT application dates.
I have a quick question and it is an emergency. Today is the last day for USCIS to receive my initial 12 months OPT package. I have mailed them my the OPT package today. Today will be the 60th day. Will my opt application gets rejected?
I can't think of any reason why someone could mail the Initial 12 Months OPT on the 60th day of their Grace Period.