Day 1 CPT Universities – Here's Why I Don't Recommend Them
You are attending a Day 1 CPT university for second Masters degree and your fiancee got H1B visa this year. And your fiancee has to attend the H1B interview. Your parents want to complete the marriage by end of the year. To add another layer of complexity, you are working as 3rd party placement on CPT as a contractor. And to top it up your F1 Visa stamp on the passport has expired!
Every year around this time of the year – May to September, the student's on F1 Visa, OPT or STEM OPT who are not selected in the H1B Visa lottery with expiring OPT or STEM OPT are scrambling to find ways to find how to maintain their legal status and continue with their employment.
Just a quick glance at forums and groups shows several questions like "Can you recommend Day 1 CPT colleges around Texas or New York".
To sum up, students are looking for the following two things.
How to stay employed with their current job
How to stay in the USA after OPT or STEM OPT period is expires
That's where Day 1 CPT universities come into the picture that solves both the problems.
CPT, OPT and STEM OPT
CPT provides work authorization while students are enrolled in college for up to 364 days
OPT provides post-graduation work authorization for 12 months
STEM OPT provides work authorization for STEM graduates for 24 months following the OPT period
A typical F1 Visa student's journey:
Start graduate school on F1 visa
Eligible for CPT after completing two semesters
Find an internship and get CPT to work before graduation
Graduate from their program and apply for OPT
Apply for STEM OPT to continue the employment
While working on OPT or STEM OPT employer applies for H1B Visa lottery
Most students apply for H1B visa for one to three times (36 months in OPT)
OPT and STEM OPT provided work authorization for a maximum of 3 years. To continue working in the US beyond 3 years, the work visa is required. Majority of the OPT students apply for H1B work visa. In a given fiscal year, the number of H1B visa applicants far exceed the available visas (65,000 + 20,000).
In this process, what happens someone doesn't get selected in the H1B Visa lottery and OPT and/or STEM OPT expires. If the OPT or STEM OPT period expires, student's legal status ends and they have to depart the USA.
What options are available to stay in the US legally and also maintain the employment with their current employer?
Why Day 1 CPT Universities?
Most universities in the USA don't allow F1 students to work on an internship during the first semester or second semester unless the program requires practical training as part of the curriculum from the first semester. Here are the regulations about this policy from the USCIS manual.
Practical training may be authorized to an F-1 student who has been lawfully enrolled on a full-time basis, in a Service-approved college, university, conservatory, or seminary for one full academic year. This provision also includes students who, during their course of study, were enrolled in a study abroad program, if the student had spent at least one full academic term enrolled in a full course of study in the United States prior to studying abroad.
Here's the screenshot from UC Berkeley about CPT eligibility.
As per the F-1 Visa regulations, if the curriculum requires practical training, then students are eligible for CPT from the day 1 of the first semester. I think some universities are designing programs to allow practical training from the first day of their classes. They are called as "Day 1 CPT Universities" or "Day 1 CPT Colleges".
Exceptions to the one academic year requirement are provided for students enrolled in graduate studies that require immediate participation in curricular practical training.
Are Day 1 CPT Universities legal?
I'm not here to discuss if Day 1 CPT universities are legal or illegal. I'm writing this to provide my views on what's next for students enrolled in Day 1 CPT schools now or planning to enroll in one such program. If you like to know if it's legal, then read the arguments here.
What's Next for Day 1 CPT Universities
You may have noticed some reports of USCIS denying the Change of Status (COS) for F1 to H1B Visa applicants applying for H-1B visa while on Day 1 CPT school.
But now, a new interpretation of the regulations by USCIS suggests that CPT cannot be authorized AT ALL if the student is at the same degree level. This is based on an existing regulation which states:
"A student may be authorized 12 months of practical training, and becomes eligible for another 12 months of practical training when he or she changes to a higher educational level." 8 CFR 214.2(f)(10).
This has historically been interpreted only to apply to OPT, not CPT. However, the regulation itself just refers to "practical training" and does not specify which types of practical training it applies to.
What happens when Oct 1 comes around after your H1B Visa is approved? In order to change your status to H-1B, you would have to attend H-1B Visa interview and enter the US on H-1B Visa.
Or you could delay the stamping until OPT or STEM OPT expires (but this can lead to trouble if you get laid-off or H1B Visa is withdrawn)
During your visa interview, what if the consular officer deciphers the reason for denial of F1 to H1B COS petition? Then they notice your I-20 with CPT authorization since the beginning of the program. What happens next is not in your control.
I'm sure you have seen cases among your friends or in social networks about someone successfully attending the H1B interview. Unfortunately, you can't compare the outcome of immigration applications, visa interview based on your friend's results. Does it matter and does it apply to you? Absolutely not.
When your H1B Visa is not selected in the lottery and your back is against the wall, you may be taking the Day 1 CPT university route.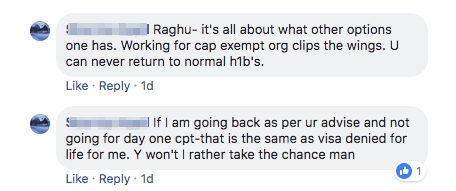 But, what if the visa is denied at the H1B visa stage? You will have double the loan and VO could think you violated the status.
USCIS and Department of State are just one question away from wreaking havoc among the Day 1 CPT university route students community.
Fact: Students with expiring OPT or STEM OPT can get admission in Day 1 CPT schools
Fact: CPT from Day 1 at Masters Degree is allowed by the law if the program requires it.
Fact: Students attending such program could be granted CPT as required by the program
Fact: Students can continue to hold the same job while on OPT and after starting Day 1 CPT university
Question: If the graduate degree is designed to provide practical training from the Day 1 of the second masters degree for a specific program, how can the grad students from different academic background get admitted to a program offered by Day 1 CPT university and continue to work on the same job as they had while on OPT or STEM OPT?
In addition, the students attending Day 1 CPT school have already complete 12 to 36 months of training (or work) before joining this program.
Question: You have submitted I-983, completed by your employer describing how the training and the job during STEM OPT are related to the major from your first master's degree. How can the same training (or job) be related to the second masters specific training requirements for every day 1 CPT students?
This sounds like fitting a round peg in a square hole. Wouldn't you agree?
But, thousands of students have taken this route and received H1B Visa and successfully attended visa interviews. And, I think USCIS have figured out something is not right here. That's why they are probably denying the change of status applications. It's just a matter of time for the Department of State to act.
Look at the policies from USCIS with respect to interpretations of rules and the law that's published recently. All gray areas are converted to black and white. It's not good to be in the gray area under these circumstances. Day 1 CPT options is a gray area.
I don't know what's going to happen, but I do get a sense that headwind is about to gets stronger for students taking Day 1 CPT route. Just like how things are getting tough with how unlawful presence for students will be counted, 3rd party employment on STEM OPT, I think "Day 1 CPT" could be next in the line.
While you are deciding between options after OPT, and if you are considering Day 1 CPT as an option, I want you to think carefully and be prepared for what lies ahead. You may not feel the impact today.
DSO issues your I-20 and CPT I-20. USCIS is not involved in this process. Your chokepoints are at
Visa Interviews
Port of Entry
Applications at USCIS
When you have to deal with any of the above departments, you may feel the impact.
I started out with a scenario about marriage between H1B Visa holder and F1 Visa holder attending Day 1 CPT university.
You are attending a Day 1 CPT college for second Masters and your fiancee got H1B visa this year. You have traveled to India for your marriage. Your fiancee has to attend the H1B interview to enter the US. To add another layer of complexity, you are working on CPT as a contractor. And you have to attend F1 Visa interview as well.
While marriage is a life event and something you should enjoy and have a blast. But, there's going to be a certain degree of uncertainty until you can enter the USA. Right? Here are some questions that would run in your mind:
Is one port entry better than other?
When should I attend F1 Visa interview?
Do we even have to get married outside the USA?
Should we both go to CBP officer at the same time as a couple?
What should I answer about my employment and CPT to CBP officer?
Should my fiancee attend the H1B interview before or after the marriage?
Now, you ate thinking that these are events that could happen and one can get into trouble. I don't have other options after OPT is expired to stay in the USA. And you may think that you are the luckiest person on the earth and you will be just fine. And you may just fine too. Only time can tell.
Summary: Day 1 CPT Universities
How you are interpreting my views about the Day 1 CPT universities and this article depends on how you view things
I'm taking a risk and I will be fine
I'm taking a risk and I will be prepared
OMG! I don't have other options the sky is falling
These are just bunch of BS and there's no truth behind it
Choice in life comes as a package with multiple outcomes. At end of the day, decide what is the best for you and live with the outcomes. In the end, I don't recommend Day 1 CPT University route.
Note: Since publishing this post, I came across additional information. Stay tuned for more details in the follow-up blog post.