This is How Your H1B Visa Lottery Selection Notice Looks (Screenshots)
H1B Visa Registration System lottery is complete. The H1B Visa Lottery Results is Ready.
Employers and Authorized Representative will be notified of Selection status before March 31, 2020.
If the H1B Visa applicant is selected in the lottery, they will be issued a notice with Case Type – H-1BR – H1B Registration.
Note – This notice is not the same as USCIS Receipt Notice. Additional details about the receipt notices are below.
So, how does the H1B Visa Lottery Selection Notice look like?
H1B Visa Lottery Registration Selection I-797C Notice – Page 1
Here's the Page 1 of H1B Visa Lottery Selection Notice (Without Personal Identification) for obvious reasons.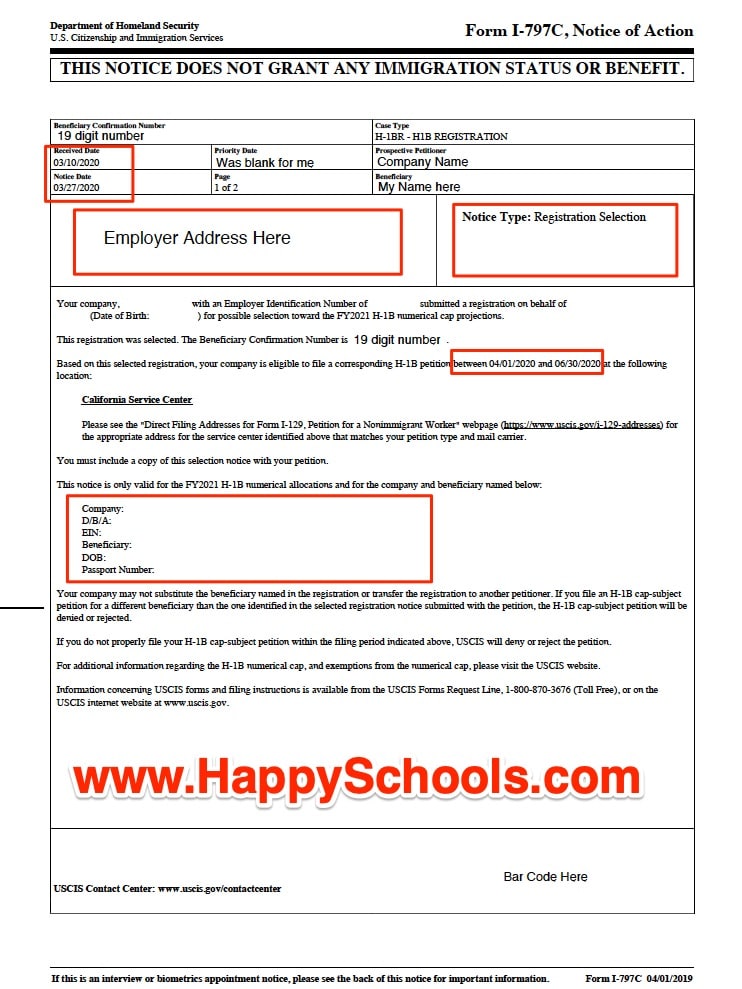 H1B Visa Lottery Registration Selection I-797C Notice – Page 2
Here is Page 2 of H1B Visa Selection Notice.
Fields of H1B Visa Selection Notice:
Section 1:
Beneficiary Confirmation Number
Case Type: H1BR – H1B Registration
Received Date
Priority date (applies to Green Card application)
Prospective Petitioner
Notice Date
Page
Beneficiary
Employer Address
Notice Type
Section 2
Company Name
Employer Identification Number
Applicant Name
Date of Birth
19 Digit Beneficiary Confirmation Number
Deadline to Date to File the H1B Petition (in this case – June 30, 2020) – 90 Days from April 1, 2020
Service Center: California Service Center
Additional Details About the Company and Beneficiary:

Company Name
D/B/A (Doing Business As)
EIN
Beneficiary
DOB:
Passport Number
Plus, there's this warning:
Your company may not substitute the beneficiary named in the registration or transfer the registration to another petitioner. If you file an H-1B cap-subject petition for a different beneficiary than the one identified in the selected registration notice submitted with the Petition, the H-1B cap-subject petition will be denied or rejected.
If you do not properly file your H-1B cap-subject Petition within the filing period indicated above, USCIS will deny or reject the Petition.
For additional information regarding the H-1B numerical cap, and exemptions from the numerical cap, please visit the USCIS website.
Information concerning USCIS forms and filing instructions is available from the USCIS Forms Request Line, 1-800-870-3676 (Toll-Free), or on theUSCIS internet website at www.uscis.gov.
If you received the H1B Visa Selection Notice, I'm so happy for you and the effort you had to put in just to get selected.
Remember, USCIS still have to approve your H1B Visa Petition, once your employer files the Petition.
Q1. I got Selected in the H1B Lottery, What happens next?
Pay close attention to the deadline to file the H1B Visa petition with USCIS.
Please make sure your attorney will file the Petition before that deadline.
Q2. What if my OPT or STEM OPT is going to expire before that H1b Visa Filing deadline?
WARNING!
If your STEM OPT or OPT is going to expire before the deadline listed above, please notify your attorney.
Your Immigration Attorney should already have plans to file your Petition before the filing deadline.
We don't know if USCIS will extend this deadline due to Coronavirus. Better to be safe than missing the deadline.
Q3. Why do you have to file the H1B Petition before STEM OPT Expires?
One word – Cap-Gap!
To be eligible for Cap-Gap, you have to meet two requirements.
Example:
H1b Visa Filing deadline as per Notice – June 30, 2020
STEM OPT Expires: April 30, 2020
To get Cap-Gap benefits and continue working, your employer has to file your H1B Visa petition with USCIS before the OPT or STEM OPT Expires.
Even though the deadline is June 30, your application should be filed before April 20.
Q4. When will USCIS send Receipt Notice?
Receipt Notice will be sent after H1B Visa application package is sent to USCIS.
Selection notice should be included with the H1b Visa application package.
I'm sure you have a ton of other questions like:
My Petition is picked in the lottery with two different employers. What should I do now?
I'm stuck in India due to Coronavirus. How can I apply for H1B Visa?
I got selected in the lottery, and I don't have a project anymore. Can my employer still apply for H1B Visa?
Do you have H1B Visa Questions?
Free consulting during Attorney Office hours for Premium Members.