Top 5 F1 Visa Approved Schools in USA
So, you like to know the Top 5 F1 Visa Approved Schools?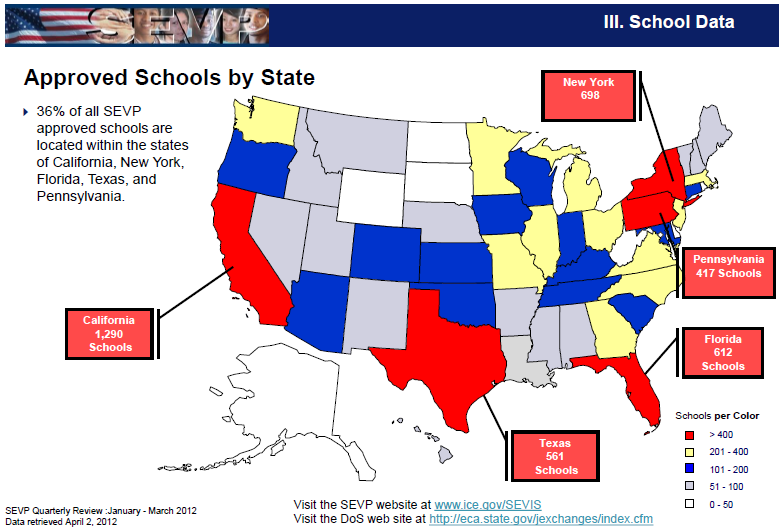 Before I give out that information, here are some interesting facts about International Students in USA in F1 and M1 Visa.
Together, California, New York, Texas, Massachusetts, Illinois, Florida, and Pennsylvania host 55% of all active students.
China has 202,003 active students; more than any other country.
177,730 international students major in Business; more than any other major.
Second leading major is Engineering with 118,749 students.
There are currently 1,189,037 records of active non-immigrant students, exchange visitors, and their dependents.
The total number of records for all F-1, M-1, and J-1 visa holders has increased to approximately 8.8 million.
SEVIS Students Data
Total Number of SEVIS Certified Schools in USA – 9,888
Active Students (F1 and M1) – 879,005
Dependents – 85,073
Completed – 1,613,815
Top 5 F1 Visa Approved Schools
City University of New York – 10,079
USC – 8,505
Purdue University – 8,447
University of Illinois – 7,648
Columbia University – 7,018
SEVIS by State
Following Image schools students (F1 and M1) distribution by various states.
7 States in USA hosts 55% of International students in USA.
What is SEVIS?
SEVIS certified Schools issue I-20 to admitted students.
The Student and Exchange Visitor Program (SEVP) is a part of the National Security Investigations Division and acts as a bridge for government organizations that have an interest in information on non-immigrants whose primary reason for coming to the United States is to be students.
On behalf of the Department of Homeland Security (DHS), SEVP manages schools, nonimmigrant students in the F and M visa classifications and their dependents. The Department of State (DoS) manages Exchange Visitor Programs, non-immigrant exchange visitors in the J visa classification and their dependents.
Both SEVP and DoS use the Student and Exchange Visitor Information System (SEVIS) to track and monitor schools; exchange visitor programs; and F, M and J non-immigrants while they visit the United States and participate in the U.S. education system.