USCIS Resumes Premium Processing from June 1, 2020
USCIS announced today that it will resume Premium Processing in three phases starting June 8, 2020.
USCIS timeline of Premium Processing Suspension
Mar 16, 2020 – H1B Visa 2021 Premium Processing is Suspended
June 1, 2020 – Resumes Premium Processing for I-140 petitions
June 8, 2020 – Pending petitions, Extensions, Transfers
June 15, 2020 – Cap-Exempt Petitions and Conrad/IGA
June 22, 2020 – H1B Visa 2021 and other I-129 petitions
Note – These Dates in June could change as per the announcement.
Here's the USCIS announcement: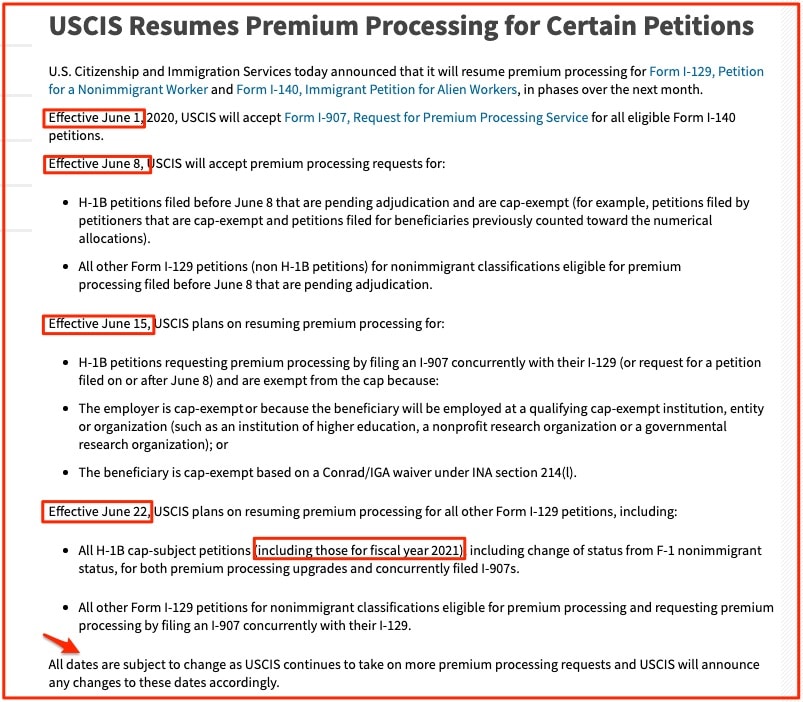 You may have read the news that USCIS requested 1.2 billion in funding from Congress, to continue its operations beyond summer.
Resuming PremiumProcessing will give the much need capital to continue its operations.
I hope USCIS employees are staying safe while they accepting the new Form I-907 for Premium Processing.
USCIS resuming premium processing is such welcome news for following folks:
OPT or STEM OPT to expire before Sep 30, 2020
Stuck in outside the USA and Lost Job Due to Travel Restrictions
Petitions pending for over 240 days (& lost work authorization)
Since the dates could change depending on the number of Petitions USCIS can process, plus the availability of staff members and safe working conditions. If you qualify for Premium Processing, don't wait it out. Assume they could suspend Premium again.
And those who really don't need Premium Processing, please wait it out!
Like folks who have STEM OPT for 1 or 2 more years can afford to wait in Regula processing.
Q1. So, if my employer already filed the application as normal processing would they have to send in a new request for premium processing?
Your employer will send a new form I-907 along with the Premium Processing Fee. Once USCIS receives the form and the fee, along with your receipt number, the 15-day clock will start.
What questions do you have about Premium Processing?