These Mistakes Can Affect Your Legal Status in USA
I can't understand why this happens to folks who are in Non-Immigrant Status in the USA. Especially when it comes to matters related to Legal Immigration affecting one's status.
First, let me explain the difference between Visa and status. Then one of the biggest mistakes done non-immigrants when it comes to seeking legal help.
You will often hear people say, "I got F1 visa stamping for 5 years". Here's the thing, 5 years F1 Visa stamping doesn't allow you to live in the USA for 5 years. Visa is different from status. Remember Visa and Status are two different things.
Visa stamp on the passport merely allows you to travel to the USA till Port of Entry (the first destination you will arrive). Following is the definition of What is U.S Visa.
CBP officer at the port of entry will stamp your status on your passport.
Here's an Example Status:
American Citizen
Permanent Resident
F-1 Student
H-1B Worker
J-1 Exchange Scholar
Example of F-1 Student will look like this with D/S. D/S stands for Duration of Status.
April 29, 2011 that you see was the date that person entered the U.S.A. D/S is asking to refer to complete the course by Date listed on I-20. Which is the date in which the student has to graduate.
If you stay past that date, then you are out of status.
Likewise, the H-1B worker will have date based on the validity of H-1B Approval Notice. Your Status is Valid and legal in the U.S.A. until the date listed on your I-94 form. You can get a copy of the I-94 from online CBP site.
If you stay past that date, without submitting the new application, then you are Out of Status.
Now, you know the difference between Visa and Status. Next, let me explain the biggest mistake done by those folks who are staying in the USA in F1, H1B, H4, etc.
The Biggest Mistake
You have to Ask right questions at right time to the right people.
Right Questions = Question about your immigration and legal issues.
Right Time = The moment you learn about the problem and expecting problems
Right People = Attorney (Immigration in this case) to answer your legal status questions.
Here's What I have observed about some people with legal immigration questions.
They make mistakes.
They make timely mistakes.
Their mistakes have a long-lasting impact.
Impact in terms of losing their legal status (or going out of status) and moving back to their home country. I think you know exactly what I'm talking about right?
Let me be specific.
Folks who make those mistakes I'm referring are as follows
F-1 Visa students
H-1B Visa holders
H4 visa holders
L1 Visa Holders
L2 Visa Holders
J1 Visa students and scholars
First, you should recognize the severity of the situation when it comes to legal status.
I repeat.
Forums and Blogs are not your sources for answers to your legal counsel.
Why do you think all the blogs and forums have a disclaimer that says, there's no attorney-client relationship is established and use the details only for your information purpose. Including Happy Schools.
What does consultation mean?
You have a PROBLEM. An Expert knows the Solution. You pay them for the exchange of information that will help you solve your problem.
With respect to Immigration scenario, problems can be of the following nature
You need help to file a petition
You need guidance to answer a query about status.
You need help with issues related to your employer.
You need information to understand the finer aspects of legal and immigration laws.
And So on..
I have replied to several comments and emails from readers asking them to consult an attorney. Guess, what?
These Highly Educated folks don't want to spend a DIME to seek professional legal help. There are finer aspects of your situation that can't be answered by friends or forums.
Example: H1B Visa Employee
Let's take an H-1B Employee for example.
You are working for an employer.
Your employer hired an attorney to represent them and you. If you are going for H1B stamping and say, you are issued Administrative processing – 221(g) and the Consular post is asking for financial documents about your employer.
In this case, you can contact your employer's attorney and have them help you. In this scenario, it is your employer's responsibility to sort out and answer queries about the 221(g) process.
Now, if you have a passive ownership interest in another company. If during H1B visa interview, if there's 221(g) about that second company's and your involvement in day to day operations. Can you ask that question to your employer's attorney?
Probably not. Attorney's hired by your employer works for your employer. Not you. In such scenario, where do you seek help?
Guess what?
People will head straight to forums, blogs to seek a legal opinion. Desperately searching for someone who could have faced a similar situation and provided an answer.
I would go straight to an attorney that I trust to seek help. I would pay their required fees for consultation.
Here's one such Example:
I have got H1B this year and have received petition from my employer for client A, but now last month my client merged with client B and formed new tax entity with name AB company. So can I work at same client office, same location on same petition, or do I have to amend petition with AB company client name. Please share your views.
Do you see what I'm talking about? You should be asking this question to your employer's attorney. Not in the blog or in the forums. This directly impacts your legal status due to the company merger.
Example: A Student in F-1 Visa
Now take F-1 Visa student. I see the following scenarios quite often.
Student competed Masters Degree
Applies for OPT
Works for an employer during OPT for 12 months.
Then the student will apply for STEM OPT extension.
Guess what?
USCIS sends an RFE during OPT STEM extension application processing.
RFE would be like:
Prove your employment is related to your Degree
Prove Employer-Employee relationship exists
Send pay stubs to prove you were not unemployed for over 90 days.
Plus, they would ask for several documents from employer and client.
This brilliant student will spend day and night searching for answers in Forums, Facebook Groups, and Blogs.
Why?
He or she doesn't want to spend that $20or $30 or $50 in consulting fees. Some friends, friend's friend will give an answer. He would he respond to RFE.
Guess what?
He would get another follow-up RFE or OPT Extension denial. They would find a blog (say Happy Schools). Then, I would receive an email crying for help.
I would bang my head on the table and respond.
What did you learn after going to school in America?
Why couldn't you identify the severity of the situation?
Why didn't you consult an attorney before responding to RFE?
You spent $50,000 for Graduate Degree. But, you are unwilling to spend $50 for seeking legal help that will let you stay in the USA.
Educated People Make Mistakes
I mean, why do educated people make such mistakes?
Do you know when this student should have asked for help?
A consultation with an immigration attorney could have saved YOUR CAREER and Future.
Be Smart. Ask the right questions about your legal status to right people.
Trust me when I say people make dumb mistakes!
Here is the conversation I had with a student on OPT and STEM OPT.
After few months, we continued the following conversation:
This person is referring to Attorney Jack Sung through Ask an Immigration Attorney service. This is just a couple of examples. There are 1000's more I have come across where seeking legal help you have saved them a lot of trouble.
People who get impacted ate not going to be posting in forums and groups about their screw-ups. You can find only less complicated problems and solutions.
Who to Ask for Help?
There are so many attorneys and they all charge varying amount for consulting fees.
For someone who is seeking legal immigration questions help for the first time, I know it can be overwhelming. But, it's all part of the learning process.
You can here – Ask An Attorney (via email or phone) or Do you know another attorney, then ask them. There's so many Immigration Attorney's who can help you. The most important thing here to seek help when it matters.
Some folks commented that this article is an ad promoting Ask An Attorney service. Trust Me. So many members have used this and now you can see the actual questions asked by the members using Ask an Immigration service.
It really doesn't matter if you think this as a promotional or informational resource. You will feel the pain only when immigration problem impacts you.
Here's another proof where people are posting in blogs without seeking Legal help after their application is denied by USCIS.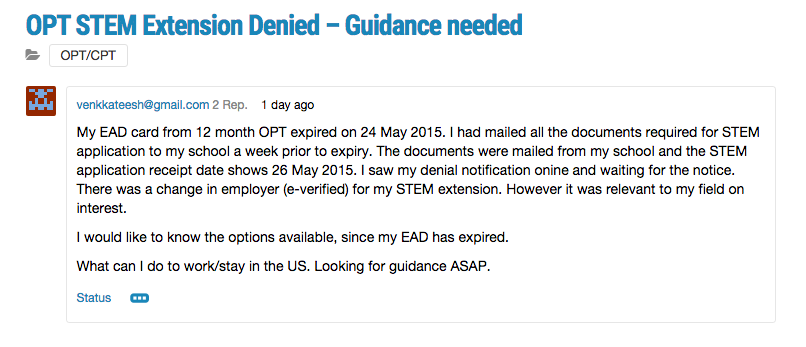 Please seek Legal help from an Immigration Attorney if you need help. Your friends and blogs are not your legal counsel. I have gone through same process and situations when it comes to Immigration.
For someone like F1 students, the biggest challenge is finding the right and affordable Attorney who have experience helping F-1 OPT and STEM OPT students. I'm bridging that gap via Ask an Immigration Attorney service.