Types of Financial Aid – Assistantships, Fellowships, Scholarships vs Grants
Let start with a few simple questions.
What's the difference between Financial Aid and Scholarship?
What's the difference between Fellowships and Scholarship and a Grant?
You probably don't know the exact answer.
You may tell Scholarship is a type of financial aid.
But, the experts will not agree to that.
In order to understand the differences, let's look at where the money is coming from and if the money has to repay.
Domestic students have different options to pay for college.
An international student has a different set of options.
But, what are they?
Domestic Students
Financial Aid
Scholarships
International Students
Scholarships
Assistantships
Take a look at the following Financial Aid types from High School in NJ.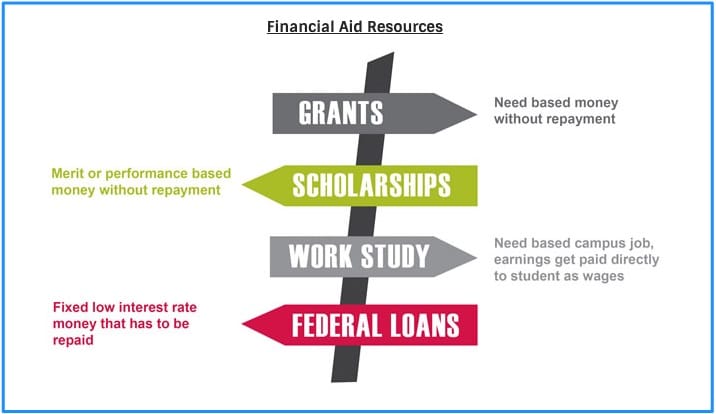 Financial Aid is a Term that is used to represent all forms of Financial Instruments given to a student to pay for college expenses
Grants
Scholarships
Fellowships
Work-Study
Federal Loans
Heer's a key difference – Assistantships are missing.
And some experts say that money that comes from Federal or State Government falls under Financial Aid.
Money given to students from Private companies are called scholarships.
Don't go finding the exact definition. As long as you can get free money to pay for college, you are all set.
They can call it Grants, Scholarships or Fellowships!
Do you agree?
As you look at the above image, read the description for Grants.
Grants – Need-based money without repayment.
What is Need-Based?
Need–based financial aid is awarded based on the financial need of the student. (from Wiki)
When a High School student in the US is applying for College, the need-based college calculations come into the picture.
Students will submit the FAFSA Form to be eligible to receive Financial Aid.
International students are not eligible to apply for FAFSA.
There's No Need-Based Financial Aid for International student.
Now, you know why Universities ask for the bank statement to issue the I-20.
If the cost of attending the first-year Bachelor's Degree is $25,000 and the family's expected contribution is $15,000, then there $10,000 gap.
Now, the college can choose to step in to fill the gap as follows:
$10,000 in Grants
$5,000 in Scholarship and $5,000 in Grants
$3,000 Grant and $7,000 via Work-Study
$5,000 on Grant and $5,000 in Federal Loan (with interest)
When it comes to an international student, there are no grants or work-study or federal loans.
Financial Aid is awarded to international students in two different forms.
Assistantships
Fellowships (or Scholarships)
Read this- Difference between Teaching, Research, and Graduate Assistantships learn about different ways to get Assistanshiprs and their differences.
Assistantships
Generally, Graduate degree students (Ph.D. and Master's ) students are awarded assistantships, which fall into four general categories:
Teaching Assistant (TA)
Research Assistant (RA)
Graduate Assistant (GA)
Graduate Research Assistant (GRA)
The departments typically administer these awards.
To get assistantships, generally, students will work as a teaching assistant or take part in the research.
Students with assistantships typically receive the following benefits
Monthly Pay
Tuition Fee Waiver (or In-State Fees)
Health Insurance Coverage
Teaching Assistants (TA)
A teaching assistant is an academic appointment in support of the teaching of a course. Teaching assistants may assist in the learning a section of a class, lead discussions, and lead laboratory sections.
For International Students High TOEFL Scores of TSE (or equivalent) scores is required to get apply for TA's.
Graduate Research Assistantship (GRA)
A GRA is an academic appointment focused on the thesis or other degree-related research of a type that is required from all candidates for the degree. The research project for a GRA directly supports the student's thesis or dissertation.
Because a student devotes considerable time to thesis or dissertation research, the time dedicated to the graduate research assistantship is expected to be significant.
Research Assistantships (RAs):
An RA is an academic appointment for research that is not directly thesis-related, 15 to 20 hours per week, averaging no more than 15 hours per week. For example, an RA appointment might include data analysis on a faculty research project not directly related to the student's dissertation topic. As with other assistantships, there is no separate application. Students are appointed by departments, fields, or individual faculty.
Graduate Assistantships (GAs):
A GA also can be related to doing work in other departments not related to thesis or projects for your course work.
Example – Data analysis on a faculty research project not directly related to the student's dissertation topic.
Working in Computer Labs of other departments.
Fellowships
Fellowships are generally merit-based awards intended to support a student in a full-time course of study.
This includes stipend and Tuition Waiver.
Students are not required to work as TA's and GA's in this case.
Students are not required to pay back the money.
Fellowships and Scholarships sometimes refer the same, but there could be subtle distinctions between them.
Comparing this to a student loan, where it has to pay back with interest, with fellowships, there is no obligation for students to pay back the money.
Fellowships vs. Scholarships
Scholarships – Financial Aid given for Bachelors Degree students
Fellowships – Financial Aid is given to Post Bachelors degree students.
But, you can use the term interchangeably. Here's the difference from UW Bothell.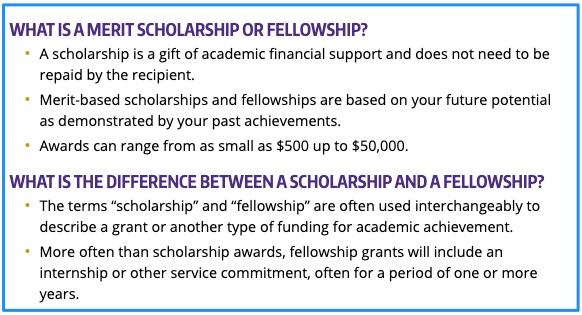 Summary: Types of Financial Aid
Domestic (Us) students applying for College wold have to know about FAFSA and Need-Based
International students can get Mert Based scholarships or assistantships
Scholarships and grants are free money.
Loan require repayments with low interest for US students.
Students would have to work under work-study or assistantships
Related Articles About Financial Aid