How Much Does it Cost for WES Transcripts Evaluation?
Have you ever wondered why Universities require the Transcripts Evaluation or what is the cost of Transcripts Evaluation?
You have come to the right place.
What you'll learn here.
Types of Transcripts Evaluation
The Cost of WES Transcripts Evaluation
Why Universities or immigration ask for Transcripts Evaluation
Sample Evaluated Transcripts Report
Should you apply to schools that require Transcripts Evaluation?
Types of Transcripts Evaluation
There are two kinds of Transcripts Evaluation.
Document by Document
Course by Course
For College admissions, Colleges and Universities would be required to provide Course by Course report.
Every course you have taken during your college will be converted into an equivalent GPA and Grade Scale. (See the sample report below).
Document by Document is typically used for Immigration purposes.
For instance, if you want to immigrate to Canada, they assign points for Bachelors, Masters, and Ph.D. But, the degree should be equivalent to Degree awarded in Canada.
Bachelors Degree in USA = 4 Years
Bachelors Degree in India = 3 or 4 Years.
If an applicants from India with 3 year Bachelors Degree apply for Canada, do they get the full point?
Is 3 years bachelors degree from India equivalent to 4 years bachelors degree from Canada?
When Document by Document evaluation is done, it will provide tell the applicant the Immigration agency if the Applicants degree is equivalent to Canadain Degree.
Question from a Grad School Applicant
I have submitted all my college application documents to the Graduate school in the USA.

Recently, I got an email from Graduate School and they ask me to submit Official WES (or similar) evaluation of all international transcripts (must include GPA calculation).

And when I checked the WES website, I saw they need a huge amount of money for the transcripts evaluation process. Is there a way around?
The Cost of WES Transcripts Evaluation
The defacto service recommended by Colleges and Universities for Transcripts is World Education Services (WES).
Cost for Course by Course Evaluation for College Applications
I'm pretty sure you would pick WES ICAP for $205. Because you can use the stored report to be resent to additional colleges if required.
$205 could put a dent in someone savings. Plus, if you apply for 10 Universities that require the reports, that's additional $70 for reporting.
See how the cost of transcripts evaluation fits within the total expenses to study a Masters Degree in the USA.
Cost for Course by Course Evaluation for College Applications
Why Transcripts Evaluation is Required?
Some Universities require transcripts to be evaluated along with the equivalent GPA when foreign marksheets are submitted as part of the application package.
Universities will be receiving marksheets (aka transcripts) from students around the world.
US Universities follow Credit Hours and Semester system.
Along with the Credit Hours, they follow the GPA system.
When your Transcripts uses a different academic calendar and Grading standards, it makes it difficult for the University to compare the applicants.
For instance, tests like GRE, GMAT, TOEFL, IELTS, SAT, ACT are standardized tests.
It's easy for colleges to compare the applicants.
In addition to Standardized test scores, how can they compare and evaluate the academics achievements?
That's why universities want to convert your mark sheets into U.S. Equivalent transcripts.
During the evaluation, process the Grades will be also converted to the scale of 4.0 (GPA).
Sample WES Course by Course Transcripts Evaluation Report
See the following sample report provided by WES Transcripts after transcripts from India have been Evaluated and converted to U.S. Equivalent Transcripts.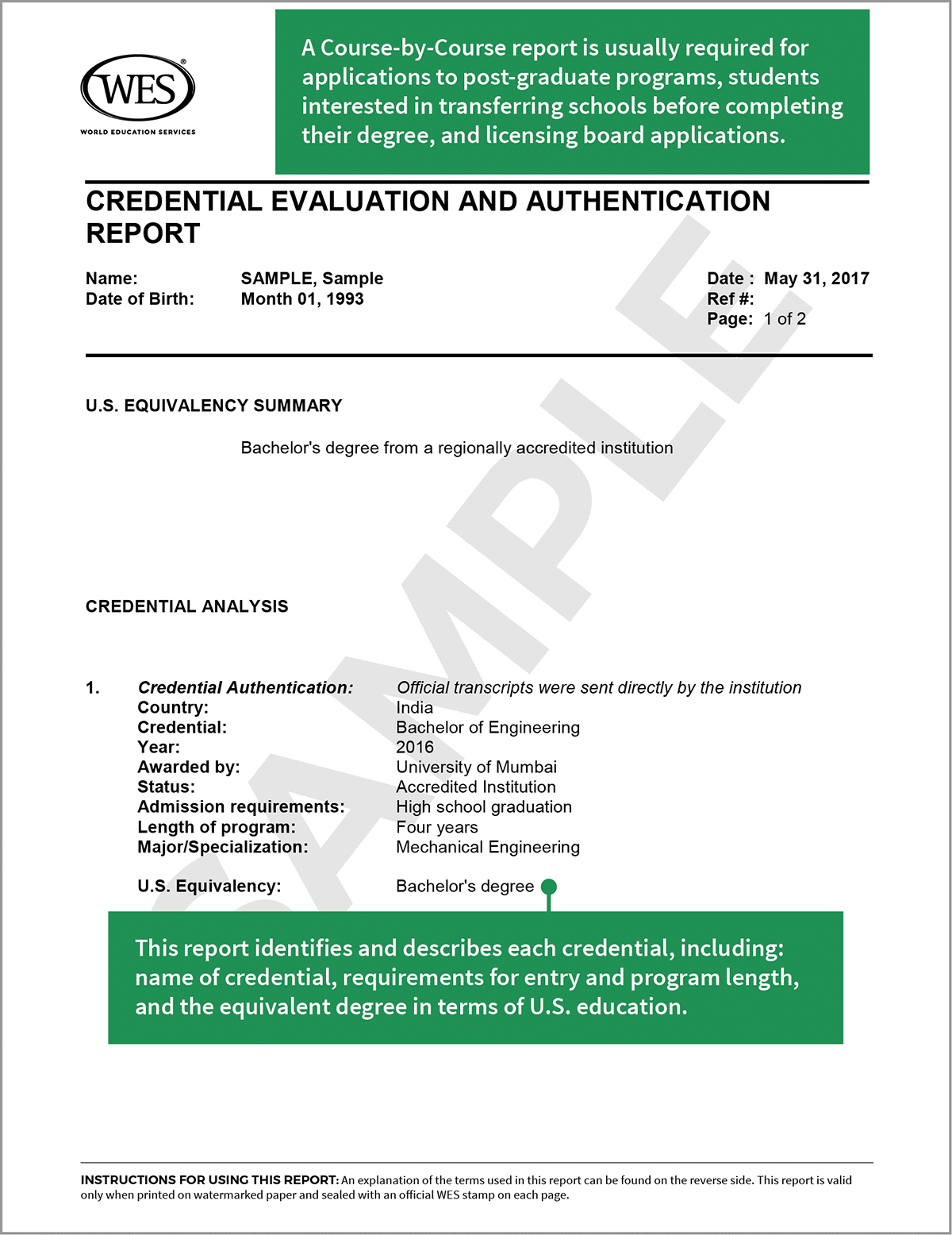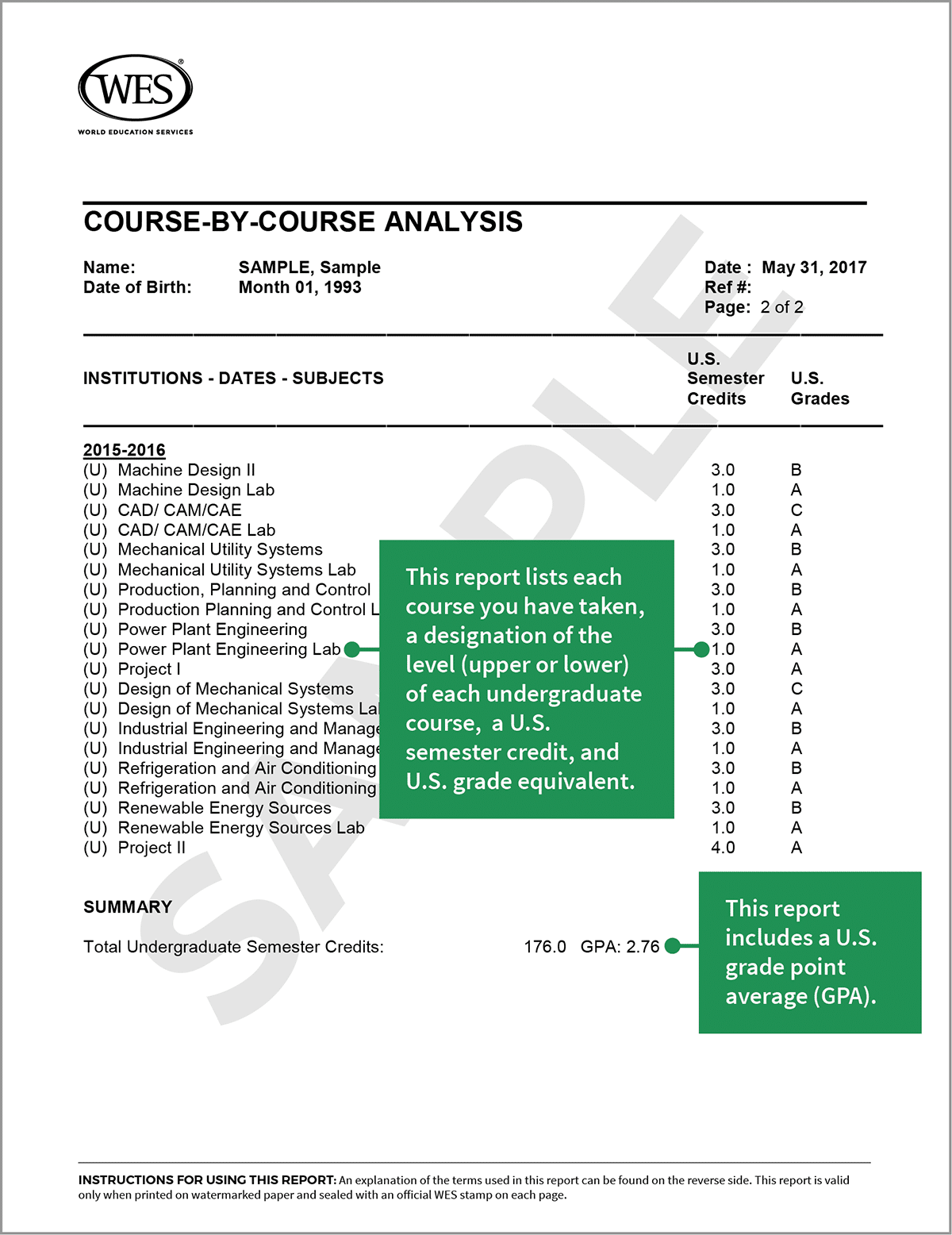 When universities don't understand the scoring and academic equivalent of your degree from home country, they would require the applicants for Transcripts to be evaluated.
Sample Document by Document Transcript Evaluation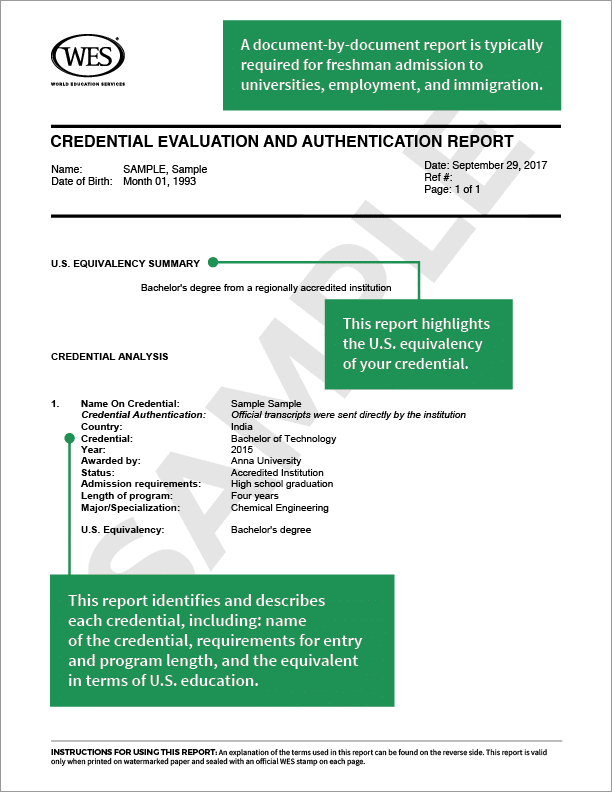 Should you Apply for Universities That Require Transcripts Evaluation?
There are several Universities where transcripts evaluation is not required.
Why spend additional $205 for Evaluation and $7 per University for sending the reports, when you can find another university that would process your application without evaluation?
This transcripts evaluation cost that should have been identified during the university selection process.
I would recommend applying to Universities that require transcript evaluation if you and only under the following conditions:
Admission with Scholarship is a real possibility
You really don't have a choice (you find that out late in the process)
This is your dream school.
If you can't afford to spend extra money, then try to avoid applying to schools that require transcripts evaluation.
Here's an example from The University of Texas at Arlington, where they are charging $15 extra if you send mark sheets from different country. Which is much better than asking the student to spend $205 + $7.
Related Articles in Total Cost of Education in USA