4 Types of Assistantships – Teaching, Research and Graduate Assistantships Explained and Compared
Funding is on topmost priority in every international student's list.
Funding = Scholarships or Assistantships
In this article, we will discuss different types of Assistantships
Teaching Assistant (TA)
Research Assistant (RA)
Graduate Assistant (GA)
Graders
In some universities like Cornell, you will see – Graduate Research Assistant.
Teaching Assistant
Work
The TA experience can be an outstanding way to learn the art of teaching and to have a positive influence on many students. As a TA, you are the key link between professor and students. This gives you the opportunity to observe and influence higher-level decisions about course design and content, as well as the opportunity to maintain daily, close interactions with students. If you keep this perspective, you may find TAing to be one of the most rewarding experiences you have in your education at Stanford. In most cases, you will have to take some initiative to make sure that your TA experience provides both the mentorship you hope for and a set of responsibilities you can handle. Clear conversations with the professor you are TAing for can set the stage for both.

Source – Teaching Assistant Role – Stanford
Assisting a professor in managing a class during the semester.
Some of the responsibilities may include office hours to answers student's questions, grading the exams, and invigilation during the exam.
Sometimes Teaching Assistants have to teach a class for undergraduates.
Compensation
Decent compensation.
They pay for 9 credits per semester.
And also $700 to $1500 per month for living expenses (way more than what you need to survive).
Compensation may change for half-TAs (half everything).
How to get Teaching Assistantship?
No specific criteria for this type of funding.
Program director generally allots it at the time of admission or during the beginning of the semester.
Most of the TAs are allotted with admitting letter with one year of the contract.
High GRE scores, relevant experience, research profile, and GPA are used to decide if a TA will be awarded before the student arrives on campus.
Very few TAs are given after admission letter, but there's still a possibility.
Any professor in your department will be teaching Bachelors, Masters, and Ph.D. students.
Masters degree students could get TA for classes taught for Bachelors Students.
Ph.D. student could get TA for classes taught for Masters Students.
If there are 50 courses offered in your department pr Semester, there could be 50 Teaching Positions offered that semester.
My opinion
Financially, it's a chill job but doesn't add to your resume as relevant work experience.
TAship is like a surprise package; it may come when you least expect it or may never come. For students who need funding can not rely on TAship.
Graduate Research Assistant
Work
You get to work on a funded project (funded by organizations such as NSF).
You work under a professor to help him complete the project.
In my opinion, this is the best type of assistantship.
Because you get to add the experience to your resume.
It helps with your job search.
Plus, in-state fees as well.
Here's a screenshot from The University of Illinois Springfield about GA.
Experience gained while working on a research project is very valuable. And there is a good chance that professor might fund you for the entire duration of the project which is usually more than three semesters.
Compensation
Compensation is more than decent, equivalent to or even more than that of TA (9 credits, health insurance, 1400 stipend).
How to get a Research Assistant position?
In my opinion, this is the most logical and assured way of getting funding, provided that you work hard.
Search for Research Assistantship should start even before you reach the university (Graduate School).
As soon as you get admitted, start reading about the research work are done by professors.
If you find something relevant to your previous work or something that interests you, email that professor regarding that.
Meet him as soon as you reach the campus.
Remember, he might ask you to work for him for free for the first semester to test your dedication and skills.
You should work hard to impress him, and you will most likely get funding in a semester or two.
One alternative way is to take independent study under a professor who you know has funding (check their web page for that).
Read: Sample College Admission Letter with Research Assistantship & Graduate Assistantship
Perform well in independent study, ask for funding after 2-3 months of work (patience is the key here).
My opinion
Of all the funding types, Research Assistantship is the only one which is directly related to the effort you put in.
If you do hard work, you will get it Research Assistant position.
Even if you get this position for a semester, start looking for RAs or better opportunities because they are usually given for a semester only. So you might lose it I second semester.
Graduate Assistantships
Work
The work as a Graduate Assistant is probably not at all related to your course work.
You will probably do some office activities or lab maintenance work.
Compensation
It's very decent. They may also fund you for nine credits plus more than $1000 per month in of stipend.
You may also get In-State Fees.
How to get?
Look for openings on graduate student association board in your school.
Keep your eyes, ears, nose everything open, and apply as soon as there is an opening.
You will need to have to establish contacts with someone who is working as a Graduate Assistant, who is going to graduate in a semester or two. They could refer you to fill the position.
My opinion
Doesn't add to your resume but compensation is excellent.

Note from Raghu: You can add this to your resume as part of research or work experience. Even though it doesn't count as work experience, but its good to list a couple of semesters of GA experience in resume. If GA is different from your thesis, then you should include in your resume.
For instance, if GA is from a different department as a webmaster, then you can add it to your resume.
If GA is part of your Thesis, then include a section for Thesis/Project in your resume.
Graders
Work
Correct and grade exam papers for your professor.
Being a grader is lower-level work in comparison to the Teaching Assistant.
Some professor would want a Grader, and they will handle other students related work with the class.
Here's an example Course Grade position from Cornell for Math Courses.
Compensation
In most universities, graders are hourly jobs.
You will not get In-State fee waiver. It will pay like $10 per hour for 5 to 20 hours per week.
At the max, they can make your tuition instate, which is like half of the original tuition fees.
Pay is like $1200 per month. But, you have to find a school where Graders jobs are treated like Teaching Assistant.
How to get?
They are given randomly like TAs. Don't rely on this.
Here's an example Grader Job ad from Purdue University.
Now, you know the difference between Teaching Assistantship, Research Assistantships, and Graduate Assistant position along with Grader role in a University.
Most Research and Teaching assistant position is awarded to Graduate Students.
Some professors do accept Undergraduate Research Assistant positions. If you are a studying Bachelors Degree and want to be part of research work, then talk to your Professor who is involved in Research work.
RA vs. TA vs. GA vs. GRA
To sum it up, look at this comparison table from Cornell University for four types of assistant positions and their salary.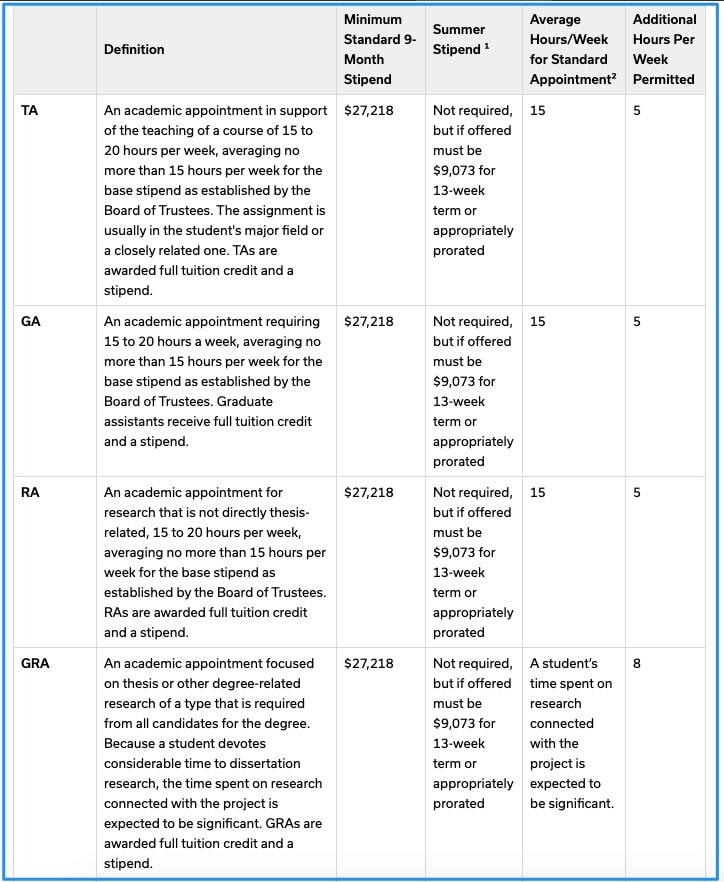 Summary: Types of Assistantships
Tyes of Assistantships can be broadly classified into Teaching and Research
Compensation and Types of work varies with each university
In general Assistantships positions will save you a ton of money in Public Universities
Private Universities will not waive the tuition fees, but stipend will cover parts of it
Learn how to find assistantships by interacting with your Seniors
Sometimes, you may have to work for free (volunteer) to get the foot in the door
Related Articles in Financial Aid