This is How I Got Discover Student Credit Card Without Credit History
Guest Blog post by Karthik.
After I had received my Social Security Number as well as my SSN card, I wanted to build my credit history. One of the ways of building a credit history is through a Credit Card. So I planned on applying for a student credit card.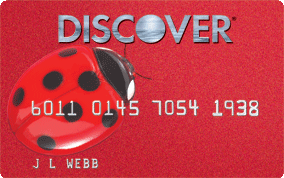 In my school (Missouri S&T, Rolla), F1 visa students to apply for a SSN, you must be atleast working part time job.
Ok, when I started surfing, it was really confusing for me to decide which credit card company should we apply to? Then, after some references from seniors, I finally narrowed my options to Discover Student More Credit Card and Citi Credit Card.
Both are equally good for students. You are free to choose either one of the two. My choice was Discover Student Credit Card. If you're too planning for Discover card, then hear me out.
A very important note : Apply for a credit card only in that company's site. If you are applying through some other sites because of some added discount/reward, you might land in trouble as they may not be authenticated. Your personal information might be misused. So be very careful as to where you give out your personal information.
Discover Student More Credit Card – Application
Following documents is required when I applied for the credit card.
For Proof of Identity:
Passport
SSN card
Enrollment letter from your university
State Driver's License (if you have one)
For Proof of Address
Two month's bank statements (Any bank inside the US but should be near your location) (Or)
Two month's utility Bill
After applying for the Discover Student credit card through their site, representatives from the company will call you to verify your application.
So when they call you make yourself available or tell them when you are available to speak (in case you are in a class/lab).
At the end of the call they will probably ask you to send some documents for verification either through mail, e-mail or fax. Ask for the deadline.
Scan all your documents, back and forth and send them in either one of the choices. The best way to fax them is through the university. GO INQUIRE YOUR UNIVERSITY'S LIBRARY FOR MORE OPTIONS.
When you send a fax to someone, there will be an index sheet where you fill out your name, the receiver's name, their fax number etc. Make sure that the index sheet has your university's authenticated head. In this way, the company knows you better as you satisfy both proof of identity as well as proof of address.
When you are ready with all your stuff, arrange them and fax it along with the index sheet before the deadline and you will be very happy to see that your application decision will be done within a week. You will receive your credit card through mail in about 10-15 days.
As Raghu has already said, don't get carried away by the attractive rewards offered by several credit card companies.
If you are a beginner just as me, apply only for the basic "Discover Student More Credit Card" because it's the best way to start building a credit history.
Once you have built a good credit score and you are in a safe routine of using a credit card, you will understand it better.
Be safe & be responsible 🙂