F1 Visa Rejected for Second Masters Degree – Need Answers
Do you have a Masters Degree?
Are you planning to study a second Masters Degree in the US?
Then get ready to answer "Why do you want to study a second Masters Degree in the USA?"
If your answer is not convincing enough to the visa officer, then your F1 Visa would likely be Rejected!
That's what happened with this student's F1 Visa Interview.
F1 Visa Rejected Second Masters Degree
I received this email from a reader who sent her F1 Visa Interview Experience for a second Masters degree.
I got F1 visa rejection for second masters degree. I have already completed my M.Sc. in Biotechnology and have applied for MS Biochemistry.

The VO asked me why do you want to do MS again?

I explained that Biochemistry is a concentrated field and specialized subject. While Biotechnology was applied and wide subject. So I want to add core set of Biochemistry skills to my knowledge.

VO: Can you be more specific? How will second masters degree help you?

I said I want to work as Sr. Research Scientist.

But he wasn't convinced.

Please help me what can I do or what should I have to improve in this case?
Possible Reasons for F1 Visa Rejection
Looks like your answers weren't convincing enough to the Visa Officer to approve your F1 Visa.
And I think anyone reading your answer would agree. Right?
From what you have written in the email, you should have given a clear cut answer.
Look at the choice of words:
Concentrated field
Wide subject
Applied subject
Add Core Skills
Those words don't necessarily convey your true intentions. And not strong enough to convince the Visa Office to approve the F1 Visa for second masters.
I have said several time before about the same question.
If you are applying for a second Masters degree, you should expect this question:
Why do you want to second another Masters Degree?
Unless, you have well prepared and rehearsed answers, you are making it easy for the VO to reject your student F1 Visa.
Here's an email from F1 Visa applicant with another layer of complexity in addition to Second Masters Degree.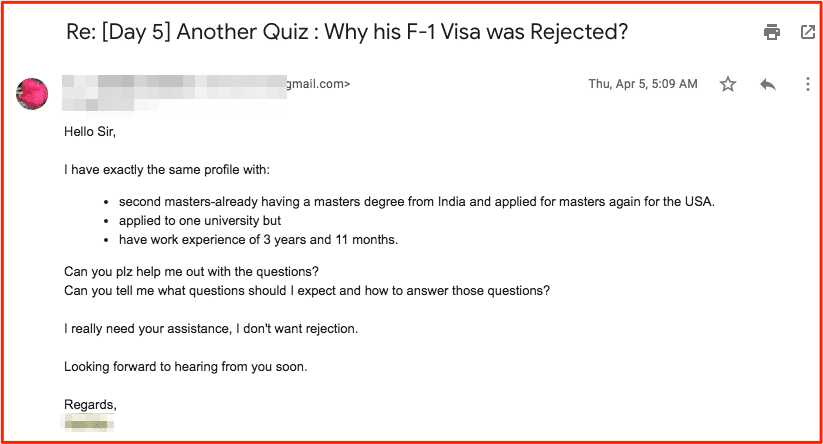 For an unprepared applicant, tackling the answers to "Why do you want to study Masters again?" is a challenge.
Now, add another scenario: Applied to just one university!
second masters-already having a masters degree from India and applied for masters again for the USA.
applied to one university but
have work experience of 3 years and 11 months
Why Second Masters in the USA?
We all know that 2+2 = 4.
But, there's no magic formula or format to answer this question.
In fact, you don't a formula at all.
The answer to this question is actually within yourself. You have to take a piece of paper and a pen.
Find a place to sit and write down the answers.
You decided to Study in the USA.
You decided to study a second masters degree.
You are spending so much money to study.
You can't expect another person to write an answer for you.
You are the lead character in your movie. So, think to find the real reason and motivation to study in the USA.
And speak up that answer.