5 Bitter Facts About Unambitious Students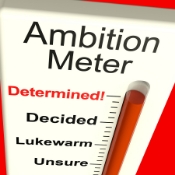 I started thinking about when readers feel based about not reaching target test score. This post is inspired after reading multiple emails in past few days about students being not able to get higher score in GRE or TOEFL or IELTS (or any other test per se). Something like "what should I do to improve my GRE score and I don't have time to study for GRE, since I have a full time job".
Those students had one common goal about higher studies – Admission in good university with financial aid.
Here is my advise to such students – Don't expect miracles during your GRE Test. If you are scoring 300 in Practice test, then its highly unlikely for you to score 320 in actual GRE or even 310 is going to be a stretch.
Lesson : Output depends on your input.
Output = GRE Test Score
Input = Honest hard work, Dedication, Targeted GRE Preparation
If your first mock test score is 280, then you have to know your true skill level. Which is low and way below Average.
Next, ask the following questions to yourself.
Do you think you are better than what your mock test score reflects?
Answer maybe yes, or reluctant yes or maybe.
But if the mock test scores doesn't reflect your that, then you have understand and agree to the reality.
But, if you seriously think, you can do better in GRE Test, then you have to work. That's where tatgeted practice comes into picture.
Studying for the sake of studying is not going to give you improved results.
What's the point of studying for 3 months to get a score improvement of 5 points to 285?
If you have a target semester to attend (Fall 2014), then you have to know
Your current GRE skill level (from mock test)
Target Test score
Deadline to apply to schools
Deadlines based on your target schools and interests ( not random)
Approach and plan to reach your target score
Ambitious students always

have a plan
have a target
measure their progress towards target
Unambitious students

don't have big goals.
don't have a plan
can't measure progress
blame failures on lack of luck
believe that goals and actions are not related
If you have a plan, then you wouldn't have to ask a questions like
My GRE is 293 and I'm full time software developer. I don't have time to study to retake GRE. What can I do to get admission in best universities with financial aid.
Does the above question sound familiar? Maybe you are a student and have the same situation.
Are you willing to take the blame on yourself if you have high ambition, but efforts doesn't match it.
Ambitious people know their true weakness, talent and skill level. Plus they have a plan to overcome the weakness.
If you want to get better and improve yourself – Test Scores and academic skills, you need to have a plan – A Targeted plan, that can be measured.
If your input is less that what expected to reach your target output, then be ready to blame yourself and feel disappointed at the end.
If you are in the state of denial after failing to reach your target, then you have to realize your weakness.
Big Goals + Lack of Effort = Expect Failure
If this article made you realize you have a weakness, then take steps to overcome the weakness.
There's no point in having a huge target when your weakens is preventing you from getting there?
You must allocate time to create a plan and way to track your progress.
That's it for today.
Who are you? Ambitious Student or unambitious student?
Now, go write down your goals, come-up with a plan and start working towards your goal, one step at a time.