Is it Worth Studying in America When Indian Rupee is Diving?
Indian Rupees continues it's free fall and this puts current students and prospective in huge dilemma, confusion, anger and frustration. Here are some of the question I received about USDINR in recent few days
Sagar Solanki: What about those students who are planning for next year…? tough time ahead. Please come up with a post which can help us to reduce SOME cost.
Abhishant Guleria : Students with job can pay their loan anyways. What about who started this fall or will start in spring 2014?
As you can see impact of falling Indian Rupees against US Dollars has its advantages and disadvantages.
The Good
USD have raised about 40% compared to 2011. Which is great news for students who came to USA in Spring, Fall 2011 semester. Why?
With 40% increase, it should take 40% less time to pay off the loan. Plus 40% less money. I'm sure lot of students and investors are happy about raising USD and falling Indian rupees.
USD have gone up by 12% in last 30 days or so.
Also, for folks like me who have invested in India are happy about raising USD against INR. That's the common feeling among my friends here.
So, I have listed 2 advantages about raising U.S. dollars against Indian Rupees.
The Bad
What about students who came to USA in Fall 2013 or prospective students who are planning to com in Spring 2014 and later.
It is going to be difficult to manage your education expenses.
American eduction expense is directly proportional to falling Indian rupees.
For students who came to USA in Fall 2013 (August 2013), your education expenses just went up by close to 12% in just 30 days. You will feel the pain and your parents and sponsors will feel the pain.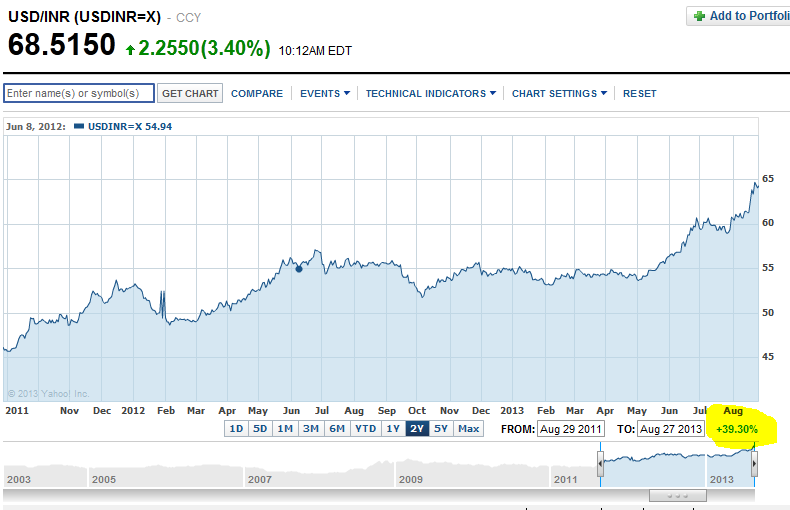 Falling Indian rupees against the USD will affect several prospective students. For middle class family, planning to spend 10 to 25% more on education is not an easy task.
This put tremendous pressure/sponsors finance. Some of you might even drop the idea about studying in USA.
Are you still considering not to come to USA with falling rupees.
I'm sure most of you are looking at USDINR exchange rate several times a day.
My thoughts
Amount of money you are going to spend on education is for a span for 2 years. You have a lifetime to earn that money back.
Indian parents ask the following question about higher education in USA.
How long would it take to pay off the loan?
Is it possible to get a job in USA after graduation?
If the answer to the second question is doubtful or no, there will be huge drop in number of students coming from India to USA. Indian students are sensitive to economic changes which affects the decision to study abroad.
I was just like any other student. My parents had the same questions.
But, living in USA changed the way I think about investment and education.
Education is an investment.
American education possibly the best investment option available to an international student.
American education shouldn't be measured based on expenses for 2 years for M.S. or 4 years for B.S.
ROI from American education is much higher and lasts a lifetime.
Your hope shouldn't fall due to falling Indian Rupees against U.S. Dollars.
If you are a student, keep dreaming about American education.
If you are parents, think in long term returns, not short term expenses.
Your son and daughter will be much better person after studying in USA. ( Watch this interview with Nitesh )
I understand that education will be more expensive than what you have initially planned, but on the other hand, that is only for few years.
If the Dollar falls, it will take extra time to pay off the loan. It might take 4 years instead of 2 years to pay off the loan. But, what if your son or daughter can start a business (like Happy Schools Blog)?
During my recent trip to India, I was talking to my uncle. I gave him several business ideas. After listening to my ideas, he said the exact same words.
All your ideas are based on how to make money are without investing lot of money. But, here in India, I ( and several others) think about making money by investing money. We think in terms of investing 20 lakhs to make 10 lakhs in profit. But, you are thinking how to make the same 10 lakhs profit without investing 2 or 5 lakhs.
I think, what he said is absolutely true and American education made me think BIG.
I'm not the same person when I left India. I have ZERO ides about business. All I cared was to get educated and get a job. Now, I think in terms of self-sustaining lifestyle business. That is made possible only because of investment in American Education and exposure to ideas and connecting with people who have done that.
Back in India, I used to hear, read success stories. But, here in USA, I was able to meet and talk to real people who have done that. Not stories, but real people with real inspiring stories of both success and failures with lessons.
This raising U.S. Dollars and falling Indian rupees shouldn't deter you or parents from gaining the same kind of experience, exposure and inspiration.
Over to you?
I have made my argument about why falling Indian rupees shouldn't stop making progress towards your dream. I like to hear your counter argument, comments and feedback.