Trip Report from Geneva, Bern, Swiss Alps (Day 1 and 2)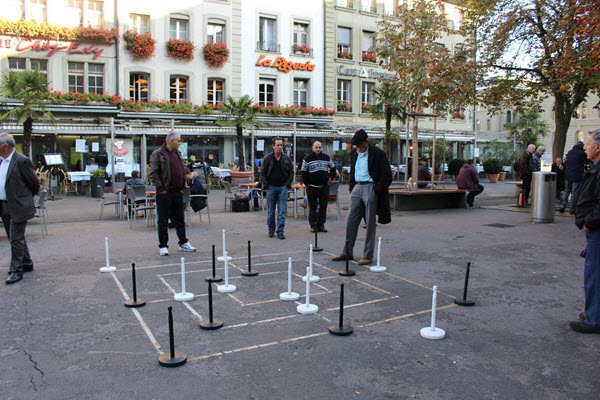 Ok. I wrote this article last week while in France. I'm editing and publishing this from Brussels, Belgium.
I hope you are following me on Instagram for my travel photos.
It's been a s mind-blowing experience with travel around Europe ( total 24 days trip + work in between).
Overview of this Trip
Days – 9 Days ( Saturday to Monday )
Countries Visited – France, Switzerland and Italy ( France was the starting, ending point)
Cities Stayed – 4 Cities ( Geneva, Venice, Florence, Rome)
Cities, Towns, Villages Visited – 11
Red Line – Train Travel
Black Line – Air Travel
Miles Walked – About 20 Miles
USA to France
For Madhu, trip began from Aix-en-Provence, France. For me trip began in Raleigh, USA on Friday evening.
I flew via Delta Airlines from Raleigh to Boston to Amsterdam to Marseilles, France.
From Marseilles, Madhu's home is about 30 minutes by Bus and then 20 minutes walk through the narrow streets.
Departed : 3 PM in USA
Arrival : 11:30 AM in France
Then we packed our stuffs right after I reached her place. I purchased special backpacks from CabinZero.com. They are expensive, but wonderful backpacks for travel in Europe.
Travelling in Europe is all about planning. Dragging a 50 pounds suitcase on the streets of old cities is a big no-no. So, backpack is more convenient.
That's when I found CabinZero bags ( made in UK). Of-course I had to buy an Orange Bag for myself. They are light weight, flexible and easy to carry.
Day 1 : France to Switzerland
It took a couple of hours to pack the backpacks. Packing cubes was life saver. Without packing cubes, our backpacks would have been a mess.
Clothes for 9 days of trip fit in just a large and medium packing cubes. It gave us lot more space .
Tip : Just take 60% of clothes you plan to take with you for a long trip.
Travel Plan
From : Aix-En-Provence, France
To : Geneva ( via Lyon)
How : High Speed TGV train.
So, we had 15 minutes to get to the bus to train station from home.
We ran on the streets to get on the bus that will take us to the train station.
We arrived at train station and had about 10 minutes for the train.
This next 1o minutes was one of exciting parts of our trip.
I had to collect the tickets from a kiosk. It was all in French. After trying multiple times, we weren't successful printing the tickets.
We asked at the rail office and they printed it out. Then it took a couple of minutes to figure out the platform ( Voitre ).
While looking at tickets I realized, we need to know the platform and the carriage with seat numbers. Our tickets are reserved and I should have looked at it first thing.
While trying to figure out the details, the train arrived in the platform. Our Carriage was 18 and were standing near Carriage 1. We started running to board 18 and one of the conductor asked us to board any compartment. We got into Carriage #11.
We walked from 11 to 18 and they were all inter connected. We learned a good lesson to read the Carriage and stand close to it. That's what we do in India, but when folks around you don't talk English and we had a minute to figure out the info, it didn't do any good.
When we went to the same train station to go to Paris, I figured out the layout. They had the following displayed in the station.
Red Circle – You are Here
18th Carriage – Go and stand near X on the Platform.
Back to our journey…
We settled down for 1.5 hours train ride to Lyon, France. I slept for about 30 minutes.
Next – We want to know which stop to get out. Well, station had names marked in big Letters.
After arriving in Lyon, we ate in Subway. Announcements were made in french and we couldn't figure out the name of the station from the speaker.
So, we used Google Maps to find the station in Lyon.
Lyon to Geneva
Then next train to Geneva was bit easier to navigate. We changed the train from Lyon to Geneva.
After 2.5 hours of travel we arrived in Geneva. I had been warned plenty of times about pickpockets in Geneva Train Station.
I knew we will not have internet connection in Geneva and can't buy the SIM card at 10 PM in train station. So, I had saved the directions in offline mode in Google Maps. It was about 10 minutes walk to the hotel from the train station.
As we checked into the hotel, the receptionist warned us enough about pickpockets in the train station and another Indian guest in the hotel who was sitting next to him had lost his laptop.
We're upgraded to Suite. Sweet. Suite, looked like two start hotel compared to US hotel standards.
That's was my fist taste of an expensive Switzerland.
Day 2 : Geneva, Switzerland
Our plan was to go to Bern, Switzerland in the morning from Geneva. But, we decided to walk around the old city for couple of hours.
It was Sunday. United Nations and CERN was closed for visitors.
But, we saw the famous, breathtaking Water Fountain and world-famous Flower Clock (below).
You can see the fountain in the background of the above picture.
Then we walked around the streets of old city with high fashion and watch shops. I'm still convincing my wife to let me buy a Tag Huger watch.
It was good two hours walk around the city and we're ready to go to Bern, the Capital of Switzerland to meet with my cousin brother and his wife.
We got out traditional magnet as Souvenir for the Fridge for Geneva. The came back to the hotel to check out and collect our backpacks.
Travel Plan :
From : Geneva, Switzerland
To : Bern, Switzerland
Mode : Swiss Railways
Time : About 1 Hour.
From the hotel, we walked to train station, picked-up food from Sub Way (again).
Then, we had to validate the Swiss Rail Pass (more on that later) before getting on the train. Before that, I purchased a SIM card from Orange ( 1 GB Data for 10 CHF ).
Geneva to Bern is about 1 hour train ride. We go to experience the Swiss Efficiency with train times. I took the following pic right when train was leaving the Geneva Station.
Day 2 : Bern, Switzerland
Wow. What a beautiful town to visit. After spending 30 minutes in my brothers Swiss chalet style home ( built in 1920's), they took us around the town of Bern. We spent about 6 hours in Bern, walking around the old part of the city. Here's some photos from Bern.
Parliament Building in Bern.
View of Alps in the distance. We spend 3 days on the mountain and even went to the top of 2 peaks ( world famous peaks).
The Famous Clock Tower in Bern.
And this is where Albert Einstein lived and discovered the Theory of Relativity
After walking around the City for few hours, we had dinner in an interesting restaurant. Food was out of the world. It was buffet, but dishes were from all around the world. You can pickup the food on the plate, pay by weight the food.
Boy-o-Boy. It was expensive. About 20 Euros for a plate.
My brother and his wife took very good care of us in the few hours we spent. Without their help it would have taken more than a day to see the city. Plus, we learned so much about Swiss, culture and their efficiency.
Day 2 : Bern to Wengen, Switzerland
Now, it was time take the next trains (3) to Swiss mountain town of Wengen in Alps.
Travel Plan
Train 1: Bern to Interlaken OST ( 50 minutes)
Train 2 : Interlaken OST to Lauterbrunnen ( 20 minutes)
Train 3 : Lauterbrunnen to Wengen ( 20 minutes)
We had about 8 minutes between Train 1 and Train 2. About 10 minutes between train 2 and 3. And Train 2 runs hourly.
We got out of Train 1 and started looking for Train 2 in platform 2A. But, there was no Train 2 and no platform 2A ot be found.
If we miss the train 2, we had to wait one more hour to get on the next train. Our final destination is Wengen (Population is 1300 ).
Hotel check-in is based on appointment. So, we had to get on the Train 2 to reach the hotel at 9 PM.
How are we supposed to get on train 2 when the departure schedule for the station didn't list that train.
I looked at the name of the station, and it read Interlaken West. We have to change the train at Interlaken. So, that's the right station.
At 8 PM on Sunday, there's non one in the station to ask for help.
So, it was 10 minutes past the Train 2 time. We had no clue on what's going on. There were 2 platforms 1 and 2. We can't fin Platform No 2A nor the Train 2.
Guess what?
Train 1 stopped at Interlaken. We got out of the train.
But, there's two Interlaken stations.
Interlaken West
Interlaken Ost
Our next train is from Interlaken OST and were are at Interlaken West.
We waited for 20 minutes to get on the next train to Interlaken OST. Then found the Train 2 from platform 2A.
There's no one at this stations at 9 PM.
But, we reached Wengan at 10 PM instead of 9 PM.
I'm so glad we decided to stay in Wengen, instead of Murren ( another Swiss Mountain town with a population of 450). It would have been another adventure getting to that town at 9 PM ( via a bus and a mountain cable car).
24 Hours in My Life
This is how my life looked in 24 hours time span
Lunch in North Carolina
Dinner in Boston
Breakfast in Amsterdam
Lunch in France
Dinner in France
Slept in Switzerland
That was Day 1 and 2 of our 9 days Trip. It was an interesting experience to be a traveler in new country.
I figured, life in Europe revolves around the train times. It took us 3 hours to have dinner one night when stayed in Wengen.
This first 2 days of my trip gave me new lessons on travel, culture, trains, cost of living, people, Swiss efficiency and pickpocket.
Lessons from this First 2 Days on the Trip
I was anxious before the trip.
I was anxious because things can go wrong.
I was anxious due to the fear of unknown in a new country, travel, food, trains, etc.
I'm so used to lifestyle in America. But, Europe, different in several ways.
Life in Europe, puts backs the focus on basics how we have taken things for granted in U.S.A.
Like, you don't pay for drinking water in restaurants or plastic bags in America.
That's the beauty of travelling. It opens up your mind to new thinking and possibilities. Without a car to drive around, life is so different in Europe.
We learned to navigate the trains in France and Switzerland.
If you love to travel, then you should find a way to over come anxiousness to explore new places. We are so glad that we did/doing this trip.
I will continue share our Europe experience. This is just for Day 1 and 2. We have 7 more days to go and 2 more trips on the way (Paris and Belgium).
Next – Highlights ( More details from Switzerland Alps) post.
Chao.
Europe Trip Report Series
Highlights from out Trip – Day 1, 2 – France, Switzerland ( this article)