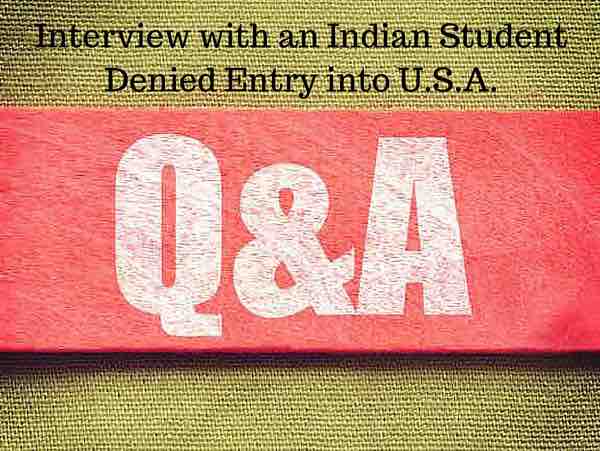 Denied Entry into USA for Attending SVU (blacklisted) – Interview
Listen to this exclusive interview with an Indian female student. CBP officer denied entry into USA at Abu Dhabi Airpot. Here's her background:
University: Silicon Valley University (SVU)
Semester: Spring 2016
Airline: Jet Airways and Etihad
Port of Entry: Abu Dhabi
Status: Denied Entry into U.S.A. ( Issued Application for Withdrawl )
You must be aware of Indian students deported from U.S.A. due to Blacklisted Universities. In this interview, you can get deeper insights into what happened at the Port of Entry when a student travelling to the USA to attend SVU.
Watch and Listen to the Interview
Interview Summary:
Multiple CBP officers interview this student traveller on F1 Visa in Abu Dhabi Airport.
They later denied entry into USA.
She was asked to voluntarily withdraw the application to enter into U.S.A.
Waited for over 24 hours to book the return Flight to India.
Return flight to India on 3rd day after landing in Abu Dhabi
Student's passport was returned to them (18 students) only in Hyderabad.
Questions Asked at Port of Entry to Students
Here's list of questions CBP officer's asked her at the port of entry.
Where are you going to stay in the U.SA?

Which University?

Why did you apply to Silicon Valley University?

What do you know about SVU?

Did you know SVU is "not a good university"?

How much money do you have with you?

What's your Tuition Fee?

Which consultancy did use to apply for Admission?
Can you show the bank transactions (not the bank statement)?
Here's some frequently asked questions surrounding this interview.
1. Do CBP Officers have the right to search the mobile phone?
CBP have the authority to search your belongings including electronics items and their contents. CBP officers can search every person ( including full pat down), baggage and merchandise arriving in the Customs territory of the United States from places outside thereof are liable to inspection by a CBP officer.
We are especially aware of how inconvenient and stressful the inspection process may be to those selected for inspection. In such cases we rely heavily on the patience, understanding, and cooperation of the traveler.
2. Why do DBP denied entry without a valid reason?
CBP officers decide who steps into U.S. soil. For students entering America on F-1 visa, they are making sure you are going to an established college or university (DHS approved) and have to travel for the intended reason as per the approved visa.
3. Why now, how did they let thousands of students go to SVU and NPU in the past?
I spoke to a couple of students at NPU. Some students were caught working illegally at off-campus. My guess is that they would have thought that most of them coming to SVU and NPU:
Can't afford to pay to for their education expenses
Intention is to work and earn than education
Now, if you are DHS, what will you be thinking? What would you do?
CBP officers are doing their job. They think this student (among others) weren't qualified and they denied entry into USA.
4. Looks like this student answered all the questions, why did they deny entry?
Here's few possible reasons (posted by commenter in YouTube)
The Problem here is with the student.
Can't speak English correctly.
Not carrying documents for convincing proof of Funds.
Evidence of family background and financial worthiness.
Proof of enough credit cards and debit cards.
Proof of hiring of the intended place of residence.
Do you want to share your experience?
Were you denied entry into U.S.A. I like to hear from you and interview you. Your experience should help create awareness and future students should know what to expect when they travel. Please leave a comment in this blog (below). I will get back to schedule an interview.
Next >> Interview with Students going to Wright State University