Magoosh GRE Reviews – Online GRE Test Prep Course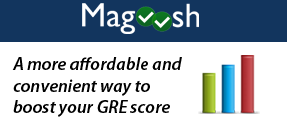 Today, I'm excited do Magoosh GRE review – Online GRE Test prep course.
There are several GRE test prep software, but Magoosh GRE is very unique. As always, I don't recommend a product unless it is of very high value. I saw that wow-factor with Magoosh GRE.
Above all it was founded by students at UC Berkley Business School.
Magoosh GRE Reviews
I created an account in Magoosh and took a test drive. I was very much impressed with
Interface simplicity (dashboard, review and practice)
Powerful features
Ability to create custom GRE study plan
Practice and Quiz mode
Select question difficult level ( adaptive, below 400 to above 700)
Webinar with Chris from Magoosh
I did a webinar with Chris from Magoosh GRE on GRE Test Prep Tips. You can listen to the Webinar audio.
Magoosh GRE vs Books
Using Magoosh GRE for test prep an interactive way of GRE test prep. For each question, there is a video explanation on how to solve the problem. When someone is explaining how to solve a problem, its like having a personal tutor. Above all, there is text version as well as video explaining how the problem is solved.
Highlight of Magoosh GRE – It provides Quick Problem Solving strategies for each problem displayed in GRE math section. All of us have learned basic geometry, algebra, .. but there are so many short problem solving techniques that are available. After solving a problem right, when I saw the explanation, I realized, there is way to solve the same problem within few seconds, instead of minutes.
For GRE Verbal – Reading comprehension there is video explanation. One of the most difficult part in GRE verbal is reading comprehension. You will learn how to tackle a passage (quick way to summarize the passage) and how to relate the questions to passage and solve them.
Target Score – You can set-up target score and also create customized test plan. If you are taking GRE practice tests using books, it will definitely take lot more of your time than online test prep.
Score Range Questions: You can practice questions in various score range. For instance you can select Verbal Antonyms – Difficulty Level 700+ or 550 to 700. This will create a customized study plan for you.
Simple interface, powerful features, questions were prepared by GRE test experts.
If you were to attend courses conducted by GRE experts you have to spend like few thousand dollars. But, Magoosh GRE is available to you for fraction of that cost.
Magoosh GRE Coupons
No Magoosh GRE Coupons are available at this time. If any coupons become available, I will update it in this page.
Click here to sign-up for 7 days free trail and check the course for yourself.
Magoosh GRE Reviews Video
List to Sri Harsha talk about his experience with Magoosh (starts at 43 Minutes to 48 Minutes)
New Comments Policy
Please use the
Happy Schools Forums
to post your Questions. Use the Comments Section to add value or contriute to the Article, not for Q&A. Questions posted in the Comments section will be Deleted.