How to Get No Co Signer Student Loans for International Students in USA
Looking for No Co Signer Student Loans as an International Student? Welcome to the club. You are not alone. Thousands of students have asked the same question. Here's one such question from an International student on F1 Visa.
Reader 1:
I wish to know how prudent would it be to consider taking out a education loan from any of the US banks?

I was curious about the possibility of no cosigner student loans for international students and the various terms, packages, what-have-you available for incoming international students?
Reader 2:
I want to know about getting loan. As my profile is good and I can get good colleges (not best as Harvard). And these colleges has very large tuition fees. I will apply for all the possible scholarships and RA/TA-On campus jobs. But I think even these things can not cover this large tuition fees. So I have to go with a loan. Can I get loan from USA banks without cosigner? If not how to get a cosigner getting loan from USA banks will affect my chances for getting F1 visa?

What about getting educational loan from indian banks?
Student Loans from US Banks
Co Signer is required to get Education Loan from US Banks for an International student. PERIOD.
A majority of International student on F1 or J1 visa wouldn't find a co-signer to get a Studnet Loan for low-interest rate with banks in America.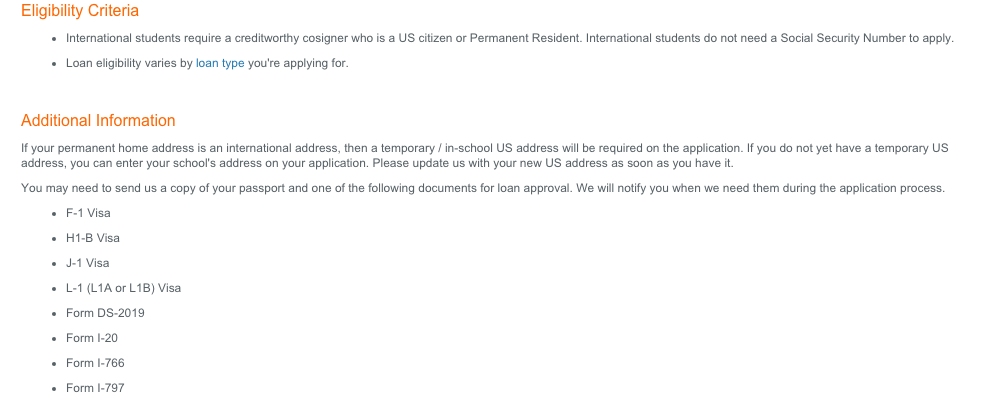 But, if you know someone who can c0-sign for your education loan, then you can get education loan from US Banks. Like, your brother, sister, aunt or uncle. They have to be a Permanent Resident or Citizen. I don't think H1B or other visa holders can be eligible to co-sign an education loan.
Why Co-Signer is Required?
If you default on education loan, then co-signer is responsible for the loan balance. An F1 student can go back to your country at any time. There's no guarantee that you can pay back the loan.
If you have close relatives, brothers or sisters who can co-sign for you a student loan, then you can get a student loan.
Internet rates are around 8% for student loans in the USA. Compared that to 14% in India.
If you have a Co-Signer?
As a student and loan applicant, you need to have SSN or Tax ID (ITIN). If you are not eligible to apply for SSN, you can apply for ITIN number via IRS.gov.
Smart Option Student Loan from Sallie Mae
Rates from LIBOR + 2.00% (2.25% APR) to 9.875% (9.37% APR)
No origination fees and no prepayment penalties
Borrow up to 100% of your school-certified costs of education (minimum $1,000)
International students are eligible with a creditworthy cosigner (who must be a U.S. citizen or permanent resident) and appropriate U.S. Citizenship and Immigration Service documentation.
Applying with a creditworthy cosigner could help you get approved for the loan, and could substantially reduce your total loan cost. Choose a cosigner such as a family member with excellent credit history and the ability to repay the loan if necessary
No Co Signer Student Loans for International Students
Few Top MBA programs have an agreement with banks to provide student loan for International students (Harvard, Yale, etc.)
Harvard University has partnered with the Harvard University Employees Credit Union (HUECU) to provide private educational lines of credit to International Business School students for 2011-2012. There may be other private educational loans for international students, and we urge all students to investigate their home country and country of residence loan options.
The Yale School of Management announced the details of this year's Yale International Student Loan program today. To ensure that international students have access to loans with terms comparable to those offered to U.S. students, Yale SOM assembles a program each year that allows international students to secure private loans without requiring a co-signer.
In addition to Harvard and Yale, following schools have no co-signer loans for International students
Darden School of Business at the University of Virginia at Charlottesville:
Fuqua School of Business at Duke University:
Stern School of Business at New York University:
Ross School of Business at the University of Michigan at Ann Arbor:
Stanford Graduate School of Business:
Tuck School of Business at Dartmouth College:
University of Chicago Booth School of Business:
Wharton School at the University of Pennsylvania
F1 Visa Interview and Student Loan
You have to consider how much bank balance you have as cash for F1 visa interview. If you don't have sufficient funds, then you may have to get Student loan approval from India to use during the visa interview. After you come to the USA, apply for the student loan with a co-signer.
Do you plan to apply for the student loan in the USA with a co-signer?
What was your experience like? Please do share them in the comments section.