Mind Blowing Statistics About Optional Practical Training and STEM OPT Extension
OPT is an Acronym for Optional Practical Training. For an F1 Student studying in America, OPT period provides Employment Authorization Document (EAD) to work in the USA during the course of study or after graduation. F1 students can make use of Initial 12 months OPT Period post Graduation. Qualified students can get an additional 17 months of OPT period via STEM OPT Extension.
Following Infographics explains some of the FAQ's about OPT, STEM OPT, OPT Period, statistics from USCIS.
Types of Optional Practical Training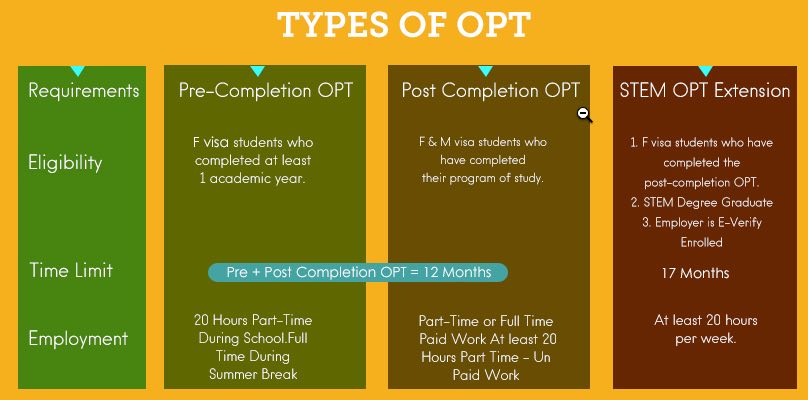 There are three types of OPT
Pre-Completion OPT: Student should have completed 1 Academic Year in the school.
Post-Completion OPT: Available after student graduates. Only once per degree level. (Student with double Masters can get Only One OPT)
STEM OPT Extension: 17 months OPT for STEM Graduates. STEM OPT Extension Rule was Revoked by Federal Couts on Aug 12, 2015.
Pre-Completion OPT provides an Option to work before Graduation at times when CPT can't be utilized. Above graphics shows the difference between the 2 Types of OPT.
OPT Approval Process
Here's a timeline of Entire I-20 Generation to OPT Approval process.
Here's the description of OPT Approval Process and Timeline
DSO Issues I-20: This is the first step of an F1 student's journey to the USA. After the student is accepted into a college, DSO will generate I-20 using the SEVIS system.
Visa Interview: Students then attends F1 Visa Interview to get Approval to enter U.S.A.
Port of Entry: CBP officer at the Port of Entry approves student's Entry into USA and student is now officially on F1 Visa Status until the Duration of Stay (or I-20 Expires)
School Begins: Students registers at the College and Semester begins
Pre-Completion OPT: After 1 Academic year, student in F-1 Visa is eligible for Pre-Completion OPT
Post-Completion OPT: After Graduation, student is eligible for Post-Completion OPT period of 12 months
STEM OPT Extension: Qualifies STEM students can apply for additional 17 months STEM OPT Extension
OPT Statistics: 2008 to 2013
Here's some key Optional Practical Training Statistics from 2008 to 2013 including a total number of applications received by USCIS, Approval, Denials and Revocations.
It should be fairly straightforward to estimate the OPT Applications for 2014 and 2015 based on the above trend. If you are applying for H1B Visa, above OPT numbers give an estimate of expected number of H1B Visa applications that would come from graduates from U.S. Colleges and Universities. Next chart shows the total number of STEM OPT Graduates in USA as of FY 2013 (that's the latest data available).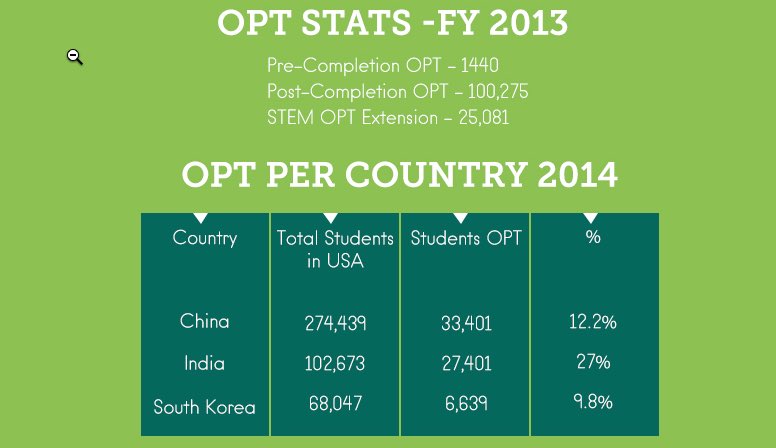 You can assume that in FY 2013 at least 25,000 H1B Visa applications should be filed under Advanced Degree Cap based on the above statistics.
One Big OPT Infographics:
[x_code]
Share this Image On Your Site
[/x_code]