This is What You Should Do Get STEM OPT Extension Rule Implemented. #DoYourPart
We need 18,000 more signatures by September 13, 2015 to get an official response from White Hosue. Federal Judge Revoked STEM OPT Extension Rule on August 12, 2015. But, DHS was given an opportunity to fix the STEM OPT extension rule via notice and comment rule making process. You have to sign STEM OPT Extension White House petition today.
There's no official word from DHS or ICE or USCIS on how they are going to respond to this Rule. But, you the people have power to make things happen.
There are over 800,000 International Students studying in America.
There are over 100,000 Students on OPT Period
There are over 25,000 students on STEM OPT Extension
USCIS would approve over 100,000 new OPT this year
Sign STEM OPT Extension White House Petition
We have enough students in the USA to sign the White House Petition for STEM OPT to reach 100,000 signatures. Do Your Part.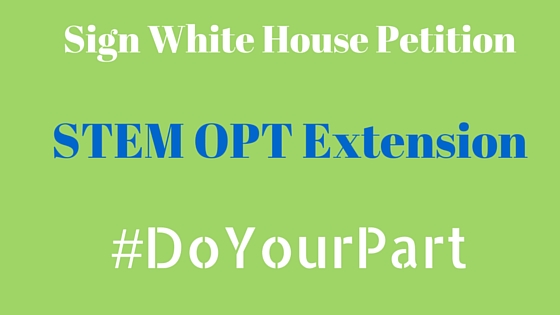 If you want to walk door to door to have your friends sign it, then do it.
Ask yourself – What's Next for me?
What's the Pain I have to endure, if this STEM OPT Rule is not extended?
Think about the impact to your and your family and career.
Act Now.
Let's get to 100,000 signatures within next 10 Days. Without 17 months STEM OPT Extension, you will have just one chance to apply for H-1B Visa. With lottery that's not enough to get H1B to work here in the America.
[Tweet "#STEMOPT Extension Rule is your problem. Act Now. Act Fast. Sign White House Petition."]
Don't wait for someone else will take care of this problem. This is your problem. Make sure your voice is heard.
Once, we reach 100,00 signatures, if DHS does the Rule Making, you have to comment on the proposed rule. That comes next. But, let's take care of the problem at hand. Let's get an official reply from the White House.
[x_callout type="center" title="STEM OPT Extension Petition" message="Target is 100,000 Signatures by Sep 13, 2015″ button_text="Click Here to Sign the White House Petition" button_icon="align-center" circle="true" href="https://petitions.whitehouse.gov/petition/propose-proper-regulation-extending-stem-opt-022016-avoid-expected-shock-both-firms-and-students" target="blank"]