Trip Report – Banff to Whistler, Vancouver and Seattle
Hello Fans. I'm writing this post from small, beautiful town called Cranbrook, British Columbia. We spent total of 9 days on this trip.
At end of this article, you will know how go to fly for free and stay for free in hotels.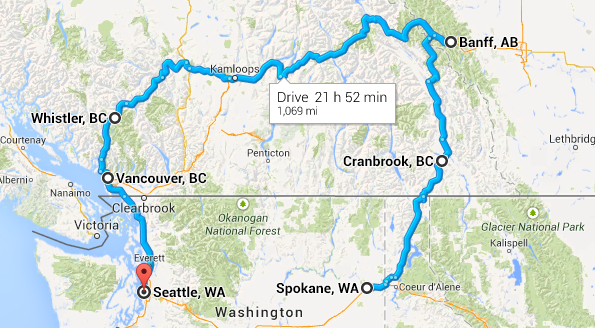 We drove to Washington, DC from our home. Then flew from Washington DC. Came back to Washington DC. Then drove back to home in North Carolina.
Day 1 : Flying to Spokane, WA
Got up at 3 AM to to board 6 AM Southwest Flight from Washington Dulles airport to Spokane, Washington State.
PS : Total cost per ticket $2.50 for one way ticket. So, we paid $5 for 2 tickets.
Do you want to know how to hack you can fly free? Read this – Introduction to Travel Hacking for Students
IAD to Spokane is about 7 Hours Flight.
Flight had stop over in Denver for 45 minutes. Then 2.30 hours of flight to Spokane.
We landed around 10 AM in Spokane, by the time it was 1 PM in EST.
After arriving in Spokane, we rented Ford Escape SUV at Budget Car Rental.
Took us about 30 minutes to freshen-up and rent the car.
We were crazy hungry. Found an Indian restaurant (Taste of India) using Yelp App.
After lunch, we started driving to Cranbrook ( about 3 1/1 hours in British Columbia).
Drive was AMAZING. From snow-capped mountains and frozen lakes.
After driving for about 2 and half hours, we were at Canadian Border Crossing.
Friendly officer asked bunch of questions. Stamped out passport's and that's it. We were in Canada.
Pre-Paid Data Plan for iPhone
After arriving in Cranbrook, I was searching for a Pre-Paid data card for my iPhone. Found a nice who helped us get the right Pre-Paid Card from Target.
I went to Target to get Pre-Paid 500 MB Data Plan with 30 days validity for $30. It took about 1 hour to get the card and activate. If I had known, it will take 1 hour, I would have signed-up for ATT international Data Package. But, in the end, that additional 1 hour was worked out in our favor. We e
nd up staying in Cranboork, Canada for the night.
Hotel was free.
Day 2: Cranbrook, Canada to Banff National Park.
Drive was breath-taking and unbelievable.
During the 6 hours drive, we were completely surrounded by snow covered mountains and roads.
So, we reached Town of Banff. Parked our car and restaurant was a 5 minutes walk from the Parking Lot. We walked out without gloves and think jacket. Within 2 minutes, we couldn't feel our ears. It was so cold and snowing. Ran back to the care, bundled-up with 3 more layers of jackets.
Lunch at Masala Indian Restaurant. My wife found 2 hairs in the chicken curry. Couldn't eat after that. As expected, we weren't asked to pay for the food.
Then walked to the Visitors Information Center, to learn about the area and got a map. Then we check-in at cozy Rundle Stone Lodge for 3 nights. Yes, gain hotel was free. Paid using the points.
After unwinding in the room, we did 3 activities for the day.
Short drive to frozen water falls
Did a Gondola Ride to top of the mountains (Banff)
Soaked in Hot Spring ( water temperature was 38C and air temperature was below zero with light snow)
Day 3 : Banff National Park
Day 3 was one of the best days of the trip. From Banff, we drove to Lake Louise (about 45 minutes one way drive).
First stop was at Ski Louise. We did snow tubing, had nice hot chocolate mocha with the view of the mountains.
Then about 10 minutes drive to Lake Louise. It was frozen lake surrounded by completely now covered mountains. Short hike to the lake, took use straight on to the top of the lake.
We walked on the lake for about 20 minutes. At some places, we can see the water below. It was scary, fun and memorable.
Then spent another 1 hour drive to Lake Minnewanka ( Red Arrow in the image below)
Day 4 : Banff to Whistler Drive
Day 4 is the day to remember for rest of our life. Here's what is in cards for use on Day 4 drive. Here's how route looked like.
After reading several forums, tripadvisor , etc very few people recommended to drive the entire stretch in single day. We decided to drive 979 kms in one day.
That was one of the best and riskiest decision we have ever made.
Here's why Banff to Whistler is amazing and risky
Road till Kamlloops was Trans Canadian High Way. Entire stretch till Kamloops was surrounded by snow-capped mountains.
After Kamloops, it was totally different landscape. It looked we were in middle of the desert. You will see that we you see the pictures in my Google Plus Profile.
Road 97 and 99 was unbelievable.
Highway 99 is called as Sea to Sky Highway. Since it goes from the sea to high mountains.
Some people call it Sea to Die Highway.
For almost 2 hours, it was a dangerous road. Several Avalanche zone's and deep valley on one side of the road without median.
We took 1 Hour Break for Lunch in Kamloops downtown.
It took us just over 11 Hours for Banff to Whistler Drive in Total.
Started at 7:45 AM and reached around 6:55 PM.
Day 5 : Whistler, British Columbia
Experienced a piece of History. It was an amazing feeling to be standing in the Olympic village.
Walked around the Olympic Village (Winter Olympics 2010)
Took photos at the Olympic Ring
Took Peak 2 Peak Glass Bottom Gondola
Zip Lining in several centuries old Rain Forest
Shopping in Whistler Village
This place was beautiful.
Wish we spent another day here in Whistler for Skiing.
Tip : Take the Zip lining tour towards end of the day of extra discount.
Day 6 and 7 : Vancouver.
I'm writing this update sitting in Best Western Hotel in Downtown. Beautiful Views from 10th floor.
Spent 3 night here in Vancouver.
I'm not a fan of Vancouver.
Visited University of British Columbia Campus
Stanley Park walk was peaceful.
Ate at Famous Vij's Resturant and Vij's Railway Express
Walked around downtown Vancouver. It's good way to explore the city.
I was expecting a high end city in Vancouver similar to New york, but it didn't just feel the same.
If we had to this trip again, I wouldn't spend 3 nights in Vancouver.
Day 8, 9 : U.S. Border Crossing, Skagit Valley and Seattle
U.S and Canada Border is about 20 minutes south of Vancourver.
Waited for about 30 minutes for Immigration
Then drove to Skagit Valley for Tulip Festival.
Then another hour long drive to meet my Microsoft friends.
Stay overnight at my friend's place.
Then took the over night flight back home the next day.
Overall it was fun and wonderful trip.
If you were following me and Happy Schools, you should know by know about my love for travel.
Visiting new country and places gives me perspective about life, time to reflect on life itself. It bring calmness to mind.
After going to Canada twice (spent about 10 days in total ) from 2 trips, we came to know Canadian's are friendly people and Canada is expensive compared to USA for living.
Now, we have seen Toronto, Vancouver and driven a good stretch of Canada, we plan to visit 2 more cities ( Montreal and Quebec City sometime in next 2 years).
Here's the best part about the trip.
Remember, I talked about Travel Hacking and using points to book flights and getting free hotel stay.
Here's what we got for free (using travel points)
South West Flight to Spokane ( 2 Tickets) – $320
One Night Hotel in Cranboork, Canada – $125
3 Nights Hotel in Banff, Canada – $375
1 Night Hotel is Whistler, Canada – $120
3 Nights Hotel in Vancouver – $450
That's savings of $1390. Want to get started with travel Hacking, here's your first article : Introduction to Travel Hacking
We were unable to get return flight ticket with points due to timing and ticket availability.
More Photos from the trip : Google Plus Page for Rel Time Trip Report and Photos.
Travel Changes Minds
I have seen students who skip trips to save money. Your education in USA is all about experience, try to go on short trips based on how much you can afford.
When you get an opportunity, plan for a trip, enjoy the long weekends, summer, spring and fall break.
As a student, it's tough to have a allocate $1000 to spend for a trip, but you can spend $100 for a 3 days trip.
If you follow the tips here, you can get Free Hotel Night Stays for your weekend trips.
Have you been to any of the place I visited during my trip?
Travel Hacking Series