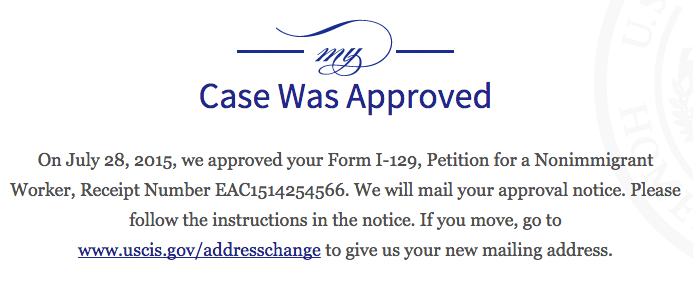 Next Steps After H1B Visa Approval – Change of Status or Stamping & Travel to USA
What do you do after H1B visa approval? I'm sure, it should be been a roller coaster ride from H1B Visa application, Lottery to receipt notice. Then comes H1B Visa approval after a long wait. Getting your H-1B visa approval is your first step of your journey to having a greater career, life in America.
Quick Introduction Video:
Question: What happens after your H1B Visa is approved?
Typically, after an H1B petition is approved by the USCIS, the agency will update the USCIS Online Case Status website. An H-1B visa approval message will look similar to this:
Here's Series of Steps to Expect After H-1B Visa Petition Approval by USCIS
Approval Notice will be Mailed to Your Attorney ( I-797 Approval Notice)
Attorney  will  send the Approval Notice and other documents to you
You can Schedule the Visa Interview at U.S. Embassy near your location (if required)
Get H1B Visa Stamp in your passport and then enter U.S.A. (after H1B Start Date).
Here's the communication process flowchart between you, your employer, Immigration Attorney and USCIS.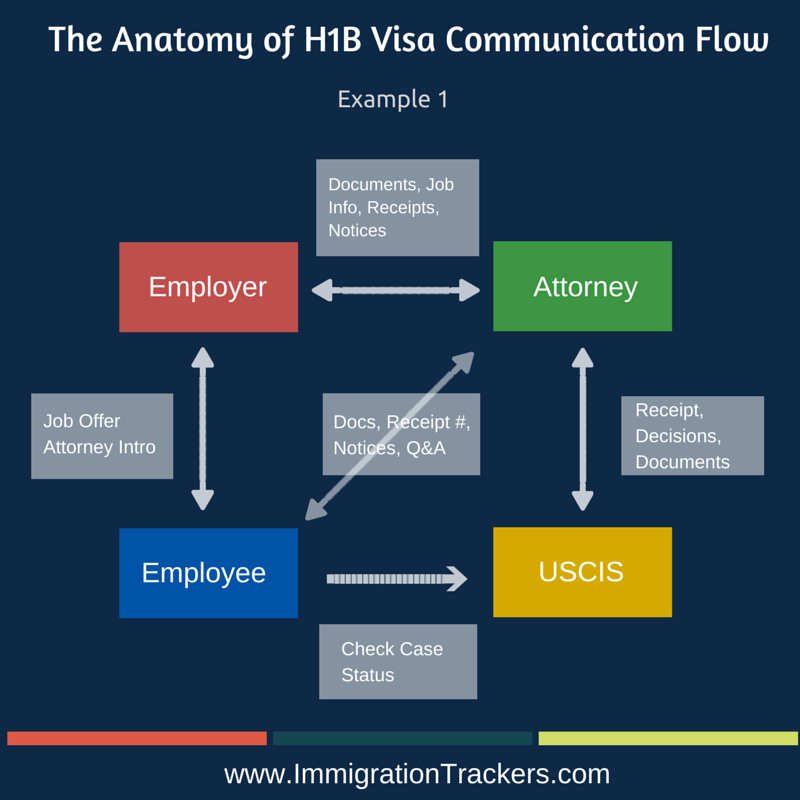 Immigration Trackers is a sister site of Happy Schools ( you can track your and others Immigration Case Status).
After your H1B Visa is approved, you have to follow the path back from USCIS.
After H1B Visa Approval Notice Sent
You have to understand the concept of H1B Visa and Change of Status.
H1B Visa petition can be approved with Change or Status or Without Change of Status.
This condition primarily applies if the applicants are located within the USA or outside the country at the time of H1B Visa petition.
Depending on your current visa status, if you're living in the U.S. or have applied for H-1B from outside the U.S., you may fall into any of the following categories:
H1B Petition Approved with Change of Status (COS) if you live within the U.S.
H1B Petition Approved without Change of Status, you live within the U.S. (this not a typical scenario)
H1B Approved and you live outside the United States
1. H1B Visa Approved with Change of Status
If your H-1B visa petition is approved with COS, and you live in the USA (F-1 visa to H-1B, L-1 to H-1B, L-2 to H-1B, H4 to H-1B, etc.), you can start working starting on or after H1B Visa start date as mentioned in the approval notice.
Typical H1B visa start date would be October 1st if the application was submitted during the month of April.
You will be required to get H-1B visa stamping ONLY when you travel outside the U.S.
F1 to H1B:  Your status will change to H-1B from the H-1B's start date, even if the OPT period is valid for a few more months.
H4 to H1B: Your status will change to H-1B from H4 on the H1B Start Date.
2. H-1B Approved within the US without COS
If H-1B visa approved without COS, and you live inside the U.S., you will have to travel outside the U.S. (to home country usually), get H-1B stamping in a U.S. consulate, and enter the U.S. up to 10 days before before October 1 if your Approval Date is on October 1.
You may have different questions with respect to this situation.
When can I get stamping?
Can I get stamping before October 1 and enter the U.S. on H-1B?
Can I get to continue to work with my current visa status (L1, L2 or OPT)?
You have to consult an immigration attorney to get all the necessary answers to your unique situation or for additional questions.
3. H-1B Approved while living outside the USA
This situation usually applies to those who had applied for H-1B visa from outside the U.S.A.
If you have your H-1B approved, have to get the H1B stamp before entering America. You can go for H-1B stamping to your nearby American consulate. Check with the US consulate on the earliest time and date to appear for your H-1B visa stamping interview.
However, each U.S. consulate will have varying rules. So it's always best to check with a consulate first before booking for visa interview date.  You don't have to wait until September or October to get Visa stamping for H1B.
If you have additional questions like:
I live in New Zealand, but I'm a citizen of UK; where should I apply for H-1B stamping?
I had my H-1B petition approved from last year, but my employer is asking me to wait since the job situation is not good in the U.S. What should I do?
Always consult an immigration attorney to get your questions clarified. If you have a unique situation, be willing to spend some money to get your questions answered by an immigration expert.
H1B Visa Stamping
If you live outside the United States, you can schedule your H1B visa interview. You must know that you just cannot go for stamping without the knowledge of your employer and receiving all supporting documents. Here's a list of documents required for H1B Stamping.
317 Comments
New Comments Policy
Please use the
Happy Schools Forums
to post your Questions. Use the Comments Section to add value or contriute to the Article, not for Q&A. Questions posted in the Comments section will be Deleted.