EB5 Visa Investment – $500,000 or $1,000,000? (or $900,000 or 1.8 Million)
As of now (at this time of writing), EB-5 Visa Investment Amount is at $500,000 or $1,000,000. But, how to find if a specific EB5 project qualifies for $500,000 or $1,000,000?
From Nov 21, investment amount would be $900,000 or $1.8 Million. Plus, USCIS takes over approving TEA designation for the Projects (not the State Government).
Simple!
The EB5 project should meet one or both criteria:
The project is located in the Rural Area and/or
The project is located in the TEA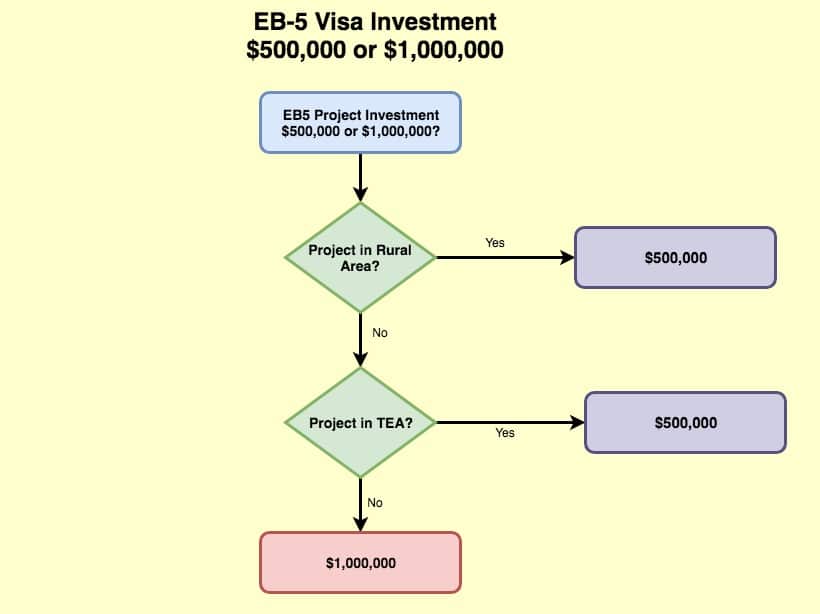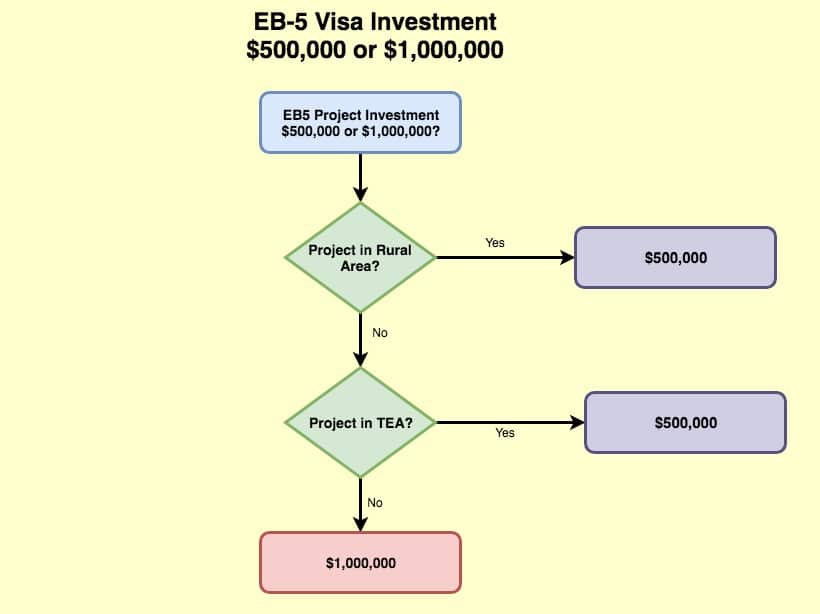 Definition of Rural Area in the USA
The U.S. Census Bureau defines rural as what is not urban—that is, after defining individual urban areas, rural is what is left. Can you find rural areas in the following map form U.S. Census?
The Census Bureau's rural definition is closely tied to the urban definition. To fully understand the Census Bureau's concept of rural, you need to first understand how the Census Bureau defines urban areas.
Today, "urban areas" consist of two types of geographies:
"Urbanized Areas" have a population of 50,000 or more.
"Urban Clusters" have a population of at least 2,500 and less than 50,000.
The Census Bureau delineated 3,573 urban areas after the 2010 Census for the United States:
486 Urbanized Areas
3,087 Urban Clusters
By now, you have a clear definition of Rural and Urban area in the US.
I think that's enough of the geography lesson. Let's go back to EB-5 Projects. Shall we?
Bottom line: If the EB5 Project is located in the Rural Area, then the investment amount would be $500,000.
Pop Quiz: How come there are EB5 projects in Manhattan, New York with $500,000 investment?
I agree. Clearly, as per the above definition of Rural and Urban, New York City doesn't come close to the definition of Rural area for an EB5 Project to qualify for $500,000 investment.
That's where the second criteria come into the picture.
Is the project located in Targeted Employment Area (or TEA)?
PS: In the green U.S. Map above, all the area in the Green color is Rural Area.
I think with New EB5 Rule, projects in major cities may not qualify for TEA designation. We have to see how this plays out for future projects.
EB5 Projects in TEA
TEA stands for Target Employment Area. Here's what qualifies a location to be a TEA
Located within an MSA and
Located in an area where the average unemployment rate is 150% of the national average.
MSA stands for Metropolitan Statistical Area or simply Metro Area.
The national unemployment rates are listed on the Bureau of Labor Statistics' website. Here is a graph showing the unemployment rate from 1980 to 2018 in the USA.
EB5 Project stakeholders would typically hire an Economist to perform a study and get the TEA certification (typically from State Government agencies).
If the EB5 project is located in an area of high unemployment within a metro area, then the project would qualify to get $500,000 per EB5 investor.
Unemployment Rate can be found from the Bureau of Labor Statistics.
For instance in North Carolina Department of Commerce has published a Statewide TEA Letter and a Map.
Likewise, one can find similar information for other U.S. States.
And the EB5 Investor can also request Rural Area and TEA details from the Project Developer or the EB5 Regional Center.
As part of the I-526 application (stages of EB5 Visa Process), EB5 Immigration Attorney would include the documentation about TEA and/or Rural Area qualification.
If EB5 Investor is starting their own business, then the investor would work with the EB5 Attorney and Economist to create the private placement memorandum (PPM) and other required documents like TEA Qualification or Rural Area certification.
Related EB5 Articles
EB5 Investment – $900,000 or 1.8 Million