USCIS Cancels 10-Year Old H1B Visa Memo – Impact & Analysis
U.S. Citizenship and Immigration Services is rescinding (canceling, revoking) two policy memos regarding the processing of certain H1B Visa petitions effective immediately.
What is a USCIS Policy Memo?
The Immigration and Nationality Act (INA) was enacted in 1952. The INA collected many provisions and reorganized the structure of immigration law. The INA has been amended many times over the years and contains many of the most important provisions of immigration law.
Within sections of the law, while USCIS officers are working on specific cases, they are given specific instructions on how to interpret certain aspects of the law. Those instructions are what's called Policy Memo.
So, policy and procedural memoranda give guidance to USCIS adjudicators in their work of processing applications and petitions for immigration benefits.
The Background:
USCIS had published two memos in the past that changed how USCIS adjudicated (process) the H-1B Visa petition.
Neufeld Memo – Published on Jan 8, 2010, about Employer-Employee Relationship when the worker is working at the third party site.
Contracts and Itineraries Requirements for H1B Visa workers working at the third party sites
As of June 17, 2020, those two memos have been rescinded (canceled) by USCIS.
USCIS officers can't use the instructions given as per those memos to process the following:
New H1B Petitions Requests (New, Transfer, Extensions, etc.)
Motions to Reconsider for H1B Denials
Administrative Appeals of H1B Denials
Why USCIS Cancelled Two H1B Visa Memos?
It was because of the lawsuit filed by ITServe Alliance against USCIS for erratic H1B Visa processing.
Since 2018, ITServe has been challenging the erratic H-1B adjudication pattern by USCIS for the last 10 years. We had a big win in court on Tuesday, March 10, 2020. The DC court invalidated the Neufeld Memo, and the Feb 22, 2018 Contracts and Itinerary Memo. The court gave the agency 60 days to take action on all pending petitions. ITServe expects them to be approved. (Source)
As part of this lawsuit, the court made four decisions.
USCIS interpretation of the Employer-Employee relationship requirement is illegal and cannot be enforced (Neufeld Memo from Jan 8, 2010)
For workers working at 3rd party sites, requirements for employers to provide proof of client work assignments for the duration of the H-1B period is unlawful and cannot be enforced. The court also ruled that these rules were also announced and applied without rulemaking and cannot be enforced. (Memo from Feb 22, 2018)
USCIS's Itinerary requirement is no longer enforceable because it was superseded by a later statute that permits employers to place H-1B visa holders in paid, non-productive status. This means, H-1B petitioners no longer need to provide the itinerary for H-1B applications.
USCIS must provide its reasoning behind any short-term approvals or denials, in whole or in part. It must now provide a written decision for any short term approval explaining its rationale.
Here's the link to actual Memo and the following screenshot shows the page 1 of the actual Memo.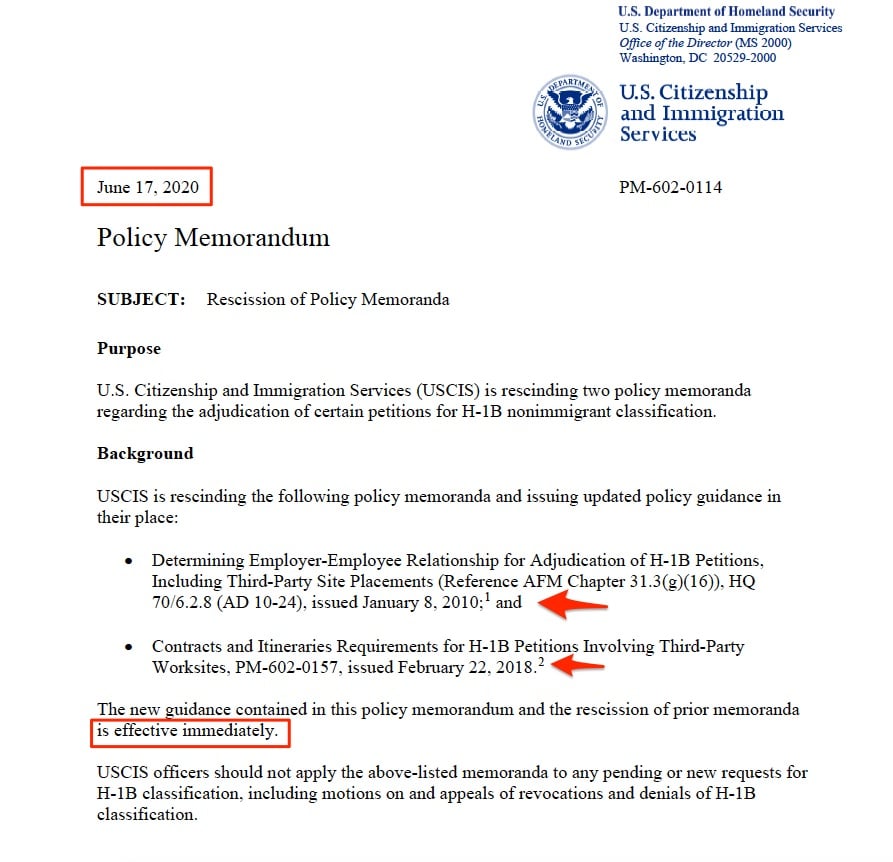 I'm sure you have a lot of questions about the impact of this cancellation of H1B Visa Memo by USCIS.
Here are some questions I can think about.
I filed an MTR for H1B visa denial, would USCIS approve my petition?
My H1B was denied after specialty occupation RFE. Would this Memo have an impact on pending Administrative appeal?
I'm working as a consultant and received H1B approval for just three months, if I apply for an extension, would USCIS give full three years? Approvals?
I'm not an attorney, and I don't know the answers. But, I will get an Attorney to answer these questions for you.
Here's some historical context:
When the first Neudeld Memo was published on Jan 8, 2010, Happy Schools published an article, and that brought in a ton of traffic. I vividly remember the articles and traffic it generated for that one article.
It's famously called a Neufeld Memo because it was from Donald Neufeld (Associate Director, Service Center Operations).
It took the H1B Visa world by a storm, and everyone thought it was the end of H1B Visa as such.
This resulted in an increase in RFE's to prove Employer-Employee Relationship when Vendors, Clients are involved.
Summary of H1B Visa Memo Cancellations
Overall this cancellation of two H1B Visa memo is good news for H1B Visa Applicants
No shorter H1B Visa approvals period (or given with explanation)
Employer-Employee Relationships will be determined by one of 3 factors (not many)
Contract workers are not required to give itinerary for the entire duration of H1B visa Request
This is a developing story.
I will be updating this article as I learn more about the impact of this New H1B Visa Memo cancellation.
Share this good news with your friends!
Enjoy the ITServe Alliance's hard-fought victory for now!