H4 to F1 Visa Interview Experience, Questions and Answers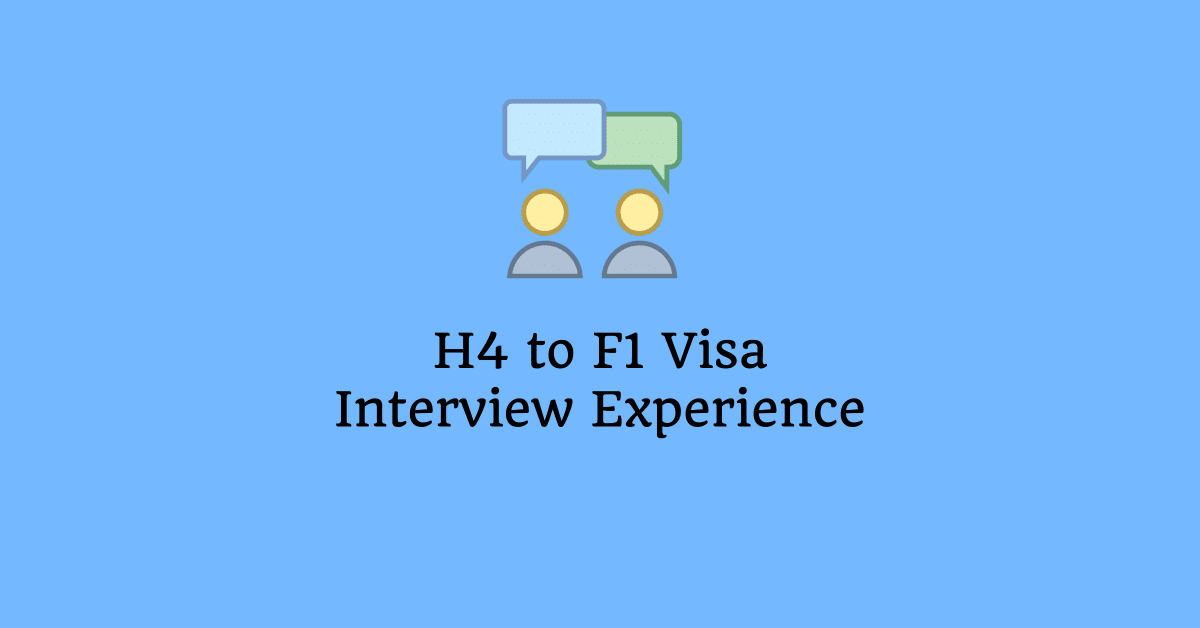 Are you ready to be taken on a roller-coaster ride with this H4 to F1 Visa Visa Interview experience?
US Visa interviews are a nervous, nerve-racking and nail-biting experience for the person attending the interview and family members living through it. For every interview, there's a story and journey behind it. For H4 to F1 Visa interview, it's not any different.
Partially completed courses of H4 Visa
What happens to classes and future plans if the H4 to F1 visa is denied?
How to prove strong ties to the country if Green Card is under processing?
For instance, this H4 to F1 Visa Visa Interview Experience is not any different.
Serie: H4 to F1 Visa Interview
H4 to F1 Visa Interview Experience
From the day I have decided to attend the H4 to F1 Visa consulate interview, I, started to come across many H4 Visa to F1 Visa rejection stories which made me nervous.
Even after listening to many success stories they didn't help me to ease up.
After carefully reviewing my profile, background work, my courses, colleges, and my presentation skills, I thought that chances of H4 to F1 Visa rejection are quite narrow, and if and only if I let the visa officer reject me for lack of quality answers.
I did several mock H4 Visa to F1 interviews with my wife. I was focussing to improve the quality of answers. I wanted to is to stay and look confident and speak my mind. But, it's easier said than done. I have to make sure my answer sound genuine and which proves my intent. And they were genuine.
My Interview was in Chennai US Consulate. And the story continues below.
The Day of the F1 Visa Interview:
On the day of the H4 to F1 Visa stamping, I was all cool and ready for the interview. I was cool on the outside, but definitely not on the inside.
On way to the consulate, I was just looking around and I can just hear only one thing "Your visa is rejected."
I felt fear and bone cracking nervousness.
My Interview was at 10.15 AM, but I have reached the US Consulate by 9.15 AM. I wanted to see if they would allow inside the US Consulate earlier than my allocated time.
On reaching the spot I have seen few guys holding a blue sheet, and coming across me, after letting few people walk past me, I have finally stopped and asked a guy what is that they are holding? And do I have to carry the one?
Sarcastically that guy said that it's 221(g) Administrative Processing form and you need not carry it. You will get one if the interviewer finds you were not fit for the getting the visa. Now with my inner voice of "Your visa is rejected" this blue page got added up to my imagination.
After waiting for two hours in the line, they let me in into the Consulate around 12.15 PM. Even though, my scheduled visa interview was at 10.15 AM!
Inside the US Consulate
After entering into the interview hall, there are several windows where the visa officers were asking the candidates with different questions.
In midst of this chaos, one window caught my attention, the interviewer was questioning the candidate, "What API's did you use in your code?"
My goodness, now I am dead. I have made up my mind to receive the 221(g) form or 241(b) form.
I was praying to not to let me go to that window. And to my surprise, I was allotted the same window!
H4 to F1 Visa Interview Experience
VO: Hello Sir, How are you?
Me: Good Morning, I am good thank you.
VO: So are you on H4 Visa?
Me: Yes
VO: When did you finish your undergraduate?
Me: 2010
VO: What did you do after that?
Me: I started working with an MNC for a couple of years and I have explained companies I have worked and, job duties. I wanted to make sure, I show them that I have the technical expertise.
VO: So, Which college are you applying for and where is it?
Me: Well, I have already cleared 4 courses with a GPA of 3.9 and left with 5 more subjects.
VO: What is the course and major you are interested to study?
ME: Computer Information Systems and Major Data Science I have made sure why am interested in that course and how it would help me in achieving my final goal.
VO: I think you can finish your course in H4, why do you want to change to F1 Visa?
Me: I have explained him my intent and clearly explained to him how securing F1 visa will help me in achieving my final goal.
Vo: Who is sponsoring your education?
Me: My spouse.
VO: Ok, all looks fine. your visa is approved. Have a safe journey to the US.
Me: Thank you.
After the Interview
All my nervousness just disappeared just listening to the interviewer approving the H4 to F1 visa. In the end, I walked out with F1 Visa approval.
I came out of the Consulate to call my wife, who was just as curious to find out the outcome of the interview.
She lifted my call within the first ring and on saying that my visa was approved she was just jumping and was shouting with happiness, our risk was well paid off.
Lessons Learned:
I think the confidence is and key and I wasn't confident walking into the interview and I walked out with a smile, feeling like an expert at attending the visa interview.
I have lived through two US Visa interview stamping experience:
H4 Visa Interview
H4 to F1 Visa Interview
It is easy to say that you should be confident. However, trying to look confident on the day of the interview was a challenge.
I wish all the best to the students and everyone who is waiting for their visa interviews.