The Breakdown: Tuition Fees + Living Expenses vs I-20 (9 and 12 Months)
My I-20 mentions that the total cost for the Masters is $35000 for 12 months. And the tuition fee is $22,000. I'm having a hard time to wrap my head around the finances. $350000 for just 12 months!! I don't understand this. Also, the credit system is going over my head. Could you please break it down for me? (From the Comments Below)
You are not alone Vaishnavi.
Things can get overwhelming when the student receives their I-20 on hand.
$35,000 is a lot of money when converted to Indian Rupees or your local currency.
Let me break things down for you.
Before that, here's another question from
I'm a little confused here with the fee system at Missouri University of Science and Technology, Rolla. It says $28,500 for 9 months.

Bank manager asked me this when he saw the $28,500 per yr in the I-20. He thinks that this is the fee for 1 year. How will I know the tuition fee for 2 year? Also, is it possible to finish the course in a year or not?
That's two questions from two different students.
Pay close attention to 12 Months and 9 Months.
Why do one I-20 list for 9 months and another list for 12 months?
I20: 9 Months vs 12 Months
Universities in the USA follow semester or quarter system.
Detailed Analysis – What is the Difference Between Semester vs Quarter System
To explain 9 vs 12 months on the I-20, I'm going to use the Semester System as an example.
Spring Semester: January to May (5 Months)
Summer Semester: June to August (3 Months – Optional)
Fall Semester: End of August to December (4 Months)
Now, let's do the math for 9 and 12 months.
9 Months: Spring + Fall Semester
12 Months: Spring + Summer + Fall
Note: Summer Semester is optional for International Students. You can skip those 3 months and travel around or work in summer or do an internship.
When the I-20 is issued, some schools make it for 9 months and another issue for 12 months.
9 Months = 2 Semesters = Fall and Spring
12 months = 3 Semesters = Fall, Spring and Summer
In above case, I-20 is issued for 9 months, with total fee of $28,500 ($15,992 Tuition + Living + Books + Insurance) for total of 18 credits.
Credits are Explained below.
For total tuition fees calculation just consider $15,992.
Living, Books fees will vary and most of the time Tuition and Others (Insurance).
What is the Total Fee for 2 years
Requirements to get a Masters from US universities will be listed on the department page. In the above case to complete M.S. student have to complete 30 credit hours.
18 credit will cost $15,992
Cost per credit = 15,992 / 18 = $888
Total Cost for 30 Credits = $888 x 30 = $26,650
Then you add the cost of living and other small fees to above total.
If you were to complete Masters by paying out of state fees, your total tuition fees will be $26,650.
In the first example, I-20 shows for 12 months.
If the student were to skip the summer, the Tuition Fees will be loess by a few thousand dollars.
What is the Duration of MS in USA – 1 or 2 Years?
Whereas in the USA, usually, the Master's degree will not take an exact 2 years to complete.
If you are from India, B.E. will take 4 years and each semester will have a fixed number of courses that you have to complete to get B.E. degree. But, that's not the case while studying in America.
Depending on how many credits you take and which semesters you take will determine the total time to complete M.S.
You will be required to take at least 9 credits per semester for Graduate School and 12 or 15 Credits per semester for Bachelors Degree.
You can take more, but it will be tough to manage workload with 9+ credits per semester.
Example time-line to complete 30 Credits
Fall 2020 – 9; Spring 2021 – 9; Summer – Break; Fall 2021 – 9; Spring 2022 – 3 (& Graduate)
Fall 2020 – 9; Spring 2021 – 9; Summer – Internship; Fall 2021 – Internship + 3 credits; Spring 2022 – 9
Fall 2020 – 12; Spring 2021 – 12; Summer 2021 – 6
Follow this Flowchart for Masters Degree Graduation – Course and Duration to understand how a typical Masters Student's Path would look like.
You have more flexibility to take courses you like and at the pace you like.
Total Tuition Fees vs Duration of your Degree
Your total expenses are split into two components
Tuition fees (Cost paid per Credit)
Living Expenses
Now, refer to the following table from the University of Minnesota Twin Cities.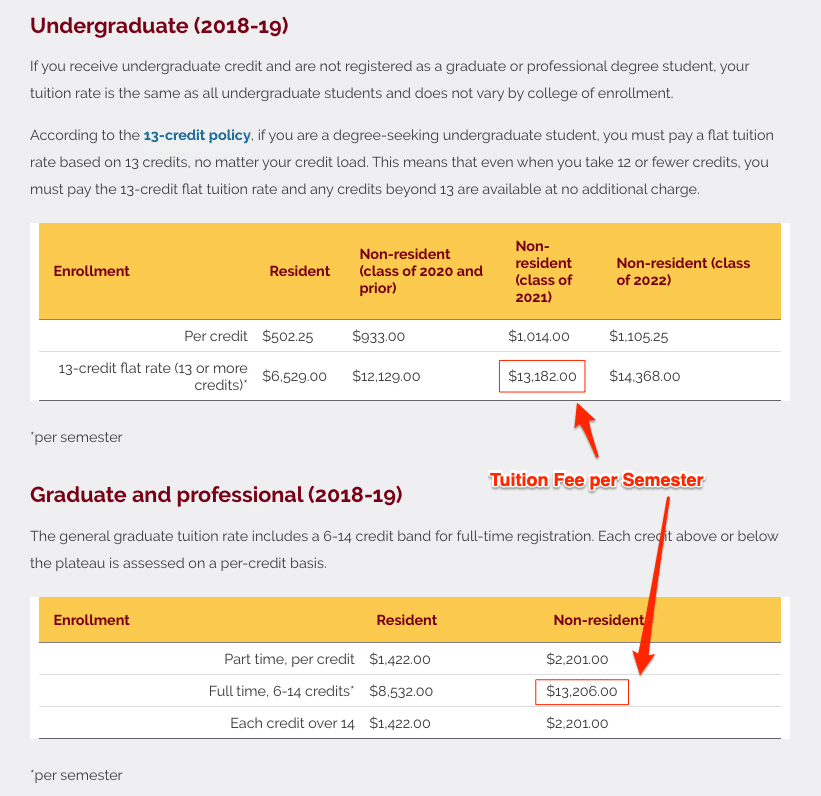 The highlighted Tuition Fees are per Semester.
Som the tuition fees per year will be calculated as follows
9 Months – 18 Credits (9 per semester) = $13,206 X 2
12 Months – 24 Credits (6 credits in Summer) = ($13, 206 x 2) + ($1422 x 6)
Irrespective of when you will finish Masters Degree – 1 year or 1,5 years or 2.5 years, the total tuition fees part will not change.
Generally, I don't recommend to finish Graduate School or Bachelors Degree in less than 2 or 4 years.
Please make use of your summertime for Internship.
Answer to the First Question – $35,000 for 12 Months
I posted that question in the Facebook Group and here's are a couple of detailed answers that can help you.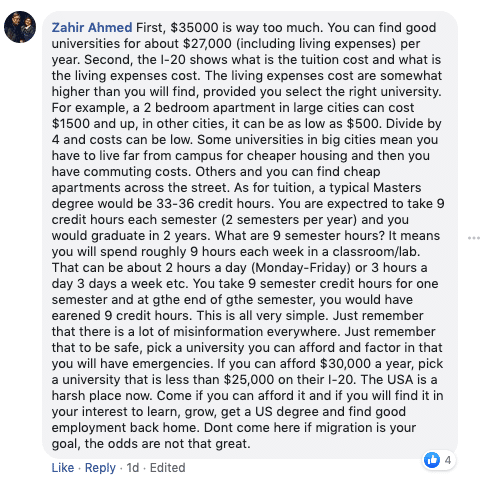 And one more answer.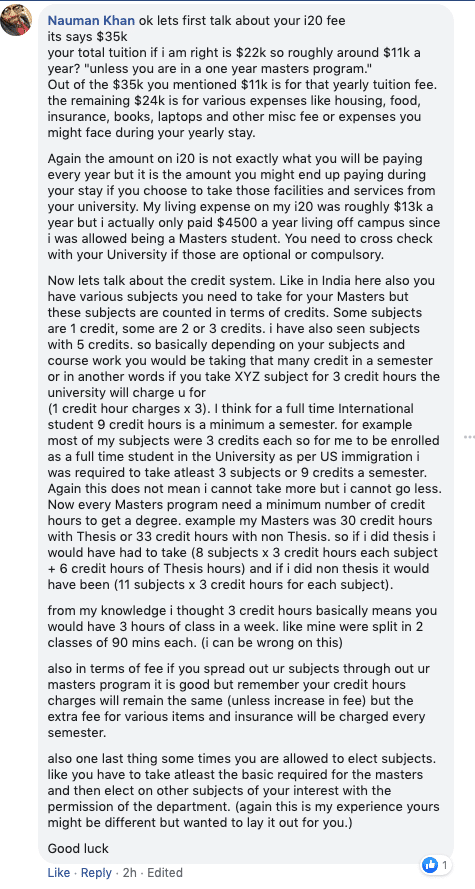 I hope these two detailed answers help you in decoding the fees structure.
Summary: I20 vs Tuition fees
Duration of study can be 9 or 12 months per year
Some students take courses in summer to finish the degree faster
I recommend taking 2 to 2.5 years for Masters, especially if you are entry level graduate.
The Tuition fees are set by the Number of Credits required for graduation.
Related Articles in this Tuition Fees Series
How to Calculate Total Tuition Fees from the Form I-20 (this article)