What is a Credit Hour & How Tuition Fees are Calculated from The Credit Hour?
What the heck a Credit Hour?
Why do Universities list the tuition fees in relation to the Credit Hour?
How many Courses should I study to complete Bachelors or Masters or Graduate Degree?
International student looking to find the Tuition Fees face these questions.
Let me explain these terms with example. Ok?
Distance is measured using the Units like Centimeters, Meters or Miles.
Volume is measured using Units like Liters or Flow Ounce.
A "Credit Hour" is the unit of measuring educational CREDIT.
The Actual Name is Carnegie Unit. It was established in 1906 to measure the amount if time a student has studies the Subject.
For the College Terms, the Credit Hour, refers to the One Hour of Contact time between the Teacher and the Student.
3 Credit Hours = 3 Hours of Class Room time
9 Credit Hours = 9 Hours of Class Room Time
A typical course is 3 Credits.
To meet minimum 9 Credits Requirements, student should enroll in 3 Courses.
3 Courses = 9 Credits = 9 Hours of Attending Classes per Week.
Credit Hour Requirements for International Students
International Students are required to maintain Full-Time student status while on the Student Visa.
Full-time Student Status = Enroll At least More than Required Credit Hours per Semester
Bachelors Degree = Minimum 12 Credit per Semester
Masters Degree = Minimum 9 Credits per Semester
Note: The minimum required Credit would differ with Universities depending on if they follow Semester or Quarter System. But, you get the idea about how Credit Hours work.
Here's an example from the University of Utah about maintaining Full-Time Enrollment.
Is it possible to enroll in less than 9 Credit or 12 Credit per semester?
Yes, you can, but only under certain circumstances, as described below from the University of Utah.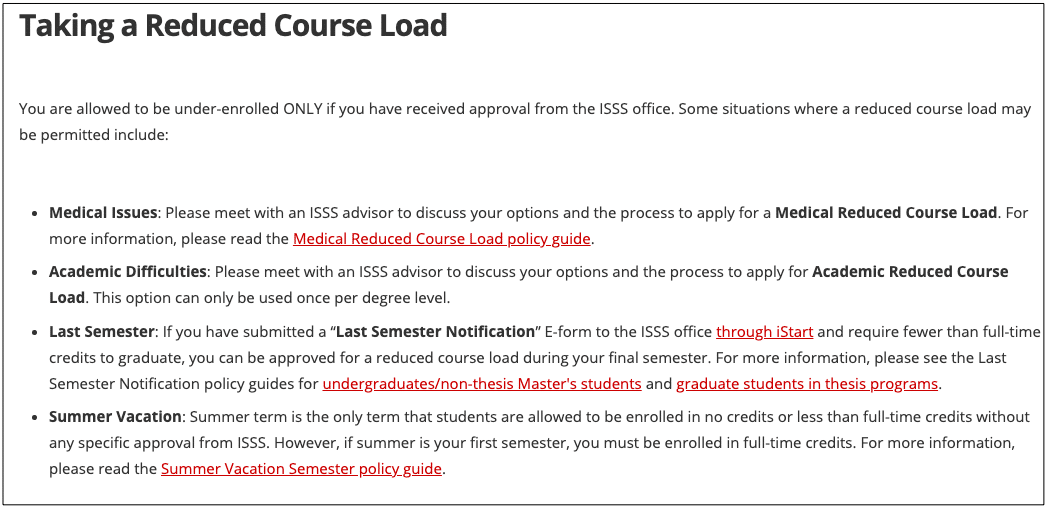 Are you with me so far? We have answered the following questions.
What is a Credit Hour?
How many Credit Hours are Required per Semester to maintain F1 Visa status.
Masters: Sample Schedule with Total Required Credit Hours
Now, to figure out the tuition fees, you just have to do simple math.
If 36 Credits Hours are Required to meet the Requirements to Graduate from Masters Degree, then you would have to take 12 Courses.
12 Courses X 3 Credit Hours = 36 Credits.
In the example below from University of Massachusetts Amherst
Masters Degree Requirements is 30 Credits. And here's a Sample Schedule for a Student starting College in the Fall Semester.
Bachelors: Sample Schedule with Total Required Credit Hours
For Bachelors Degree, Total of 120 Credits is Required to meet the requirements. Here's one way to get that done without taking courses in the Summer.
5 Courses x 3 Credits Hours per Semester = 15 Credits Hours
15 Credit Hours x 8 Semesters = 120 Credit Hours
Here's a sample schedule for 4 Years Bachelors Degree plan from Portland State University.
Calculate Tuition Fees Based on Credit Hours
Now, to find the tuition fees, all you need to know the total credit hours required to complete your degree.
Most Department webpage will list the total number of credit hours required to meet the Degree Requirements for B.S, M.S., and Ph.D.
Once you find that total credit hours, you can navigate to the Tuition Fees Page of the University to estimate your total tuition fees.
Total Tuition Fee = Total Credit Hours Enrolled per Semester + Other Fees
Note: In addition to fees per credit hours, there are other fees, which varies from college to college. The cost of Health Insurance is probably the largest of them all.
This additional fee may add up to a few hundred dollars to a couple of thousand dollars. Here's to name a few fees.
Insurance Fee
International Student Fee
Library Access Fee
Technology Fee
Activity Fee
Student ID Card
Lab Fees
Books
Here is an example of total tuition fees based on a total of 30 Credits Per Year from The University of South Dakota.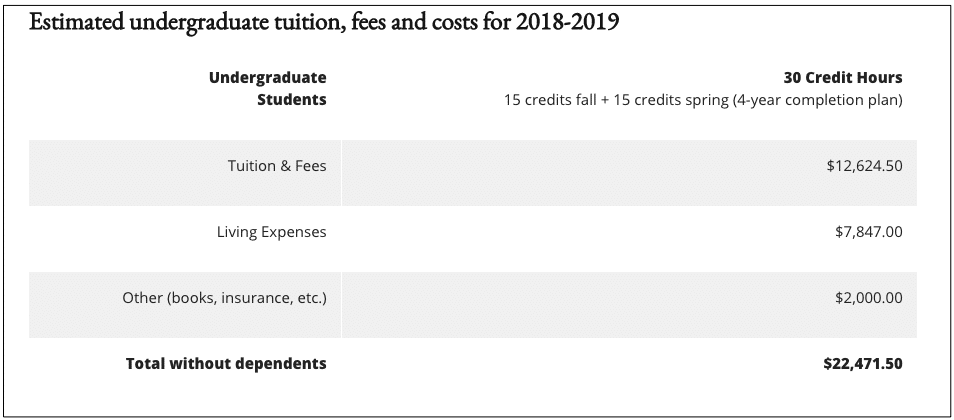 Summary: Credit Hours vs Tuition Fees
Now, you know the following
The College sets the duration of Bachelors or Masters Degree
What a Credit Hours is the total number of hours spent on the class or lab with the teacher.
It's easy for universities to list the fees per credit hour, just like cost per liter of milk.
Simple math can help you estimate the total tuition fees.
Students can take more than minimum credit hours to graduate faster.
Related Articles in This Series
What is Credit Hour, Duration of Degree and Tuition Fee? (this article)