101 Student F1 Visa Interview Questions and Answers (& Rejection Reasons)
Are you looking for a long list of F1 Visa Interview Questions?
Is a list of questions good enough to get the F1 Visa Issued?
You need to know how to answer them. Right?
And you need to make sure your answers would convince the Visa Officer.
You have come to the right place. Not only you can see a list of F1 Visa Interview questions, you can also learn how to answer them.
The key's to successful F1 visa interview is to prepare answers for all possible set of F1 visa Interview questions.
Many F1 Visa applicants visa is denied because of the following reasons:
Not a Qualified Student

Did not have the right credentials (nothing can be done about this)
Fraudulent documents or trying to game the system (nothing can be done about this)

Qualified Student, but

Did not prepare well for the student interview
Did not know how to prepare for the interview
I have seen so many students FAIL the student visa interview because they were asked unexpected questions and they didn't have an answer.
To have a successful interview, the student visa applicant should know two kinds of questions:
Standard F1 Visa Interview Questions
Profile Specific Visa Interview Questions
The key to getting visa lies in the skill to identify the set of questions that could be asked based on your profile.
If you did not identify those questions and if they happen to be the weak aspect of your profile, then chances of student visa approval are pretty slim.
Having said that, here are a standard list of F1 Visa Interview Questions you should be prepared to answer them at any cost. And some of these questions would fall under your profile specific questions as well.
F1 Visa Interview Questions
The list of F1 Visa interview questions can be categories into the following groups.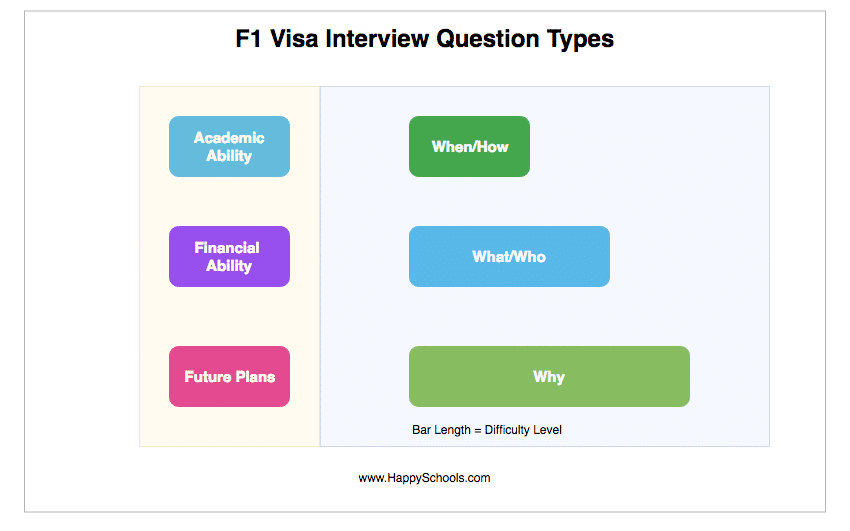 The list if F1 Visa interview questions you would see below is categorized under Academic Ability, Financial Ability, and Future Plans.
Category 1:
Academic Ability
Financial Ability
Future Plans
Category 2:
Why – Involves Reasoning
What/Who – Involved Reasoning and About People
When/How – Usually Facts and numbers
From my experience coaching students for the F1 Visa interview, questions involving reasoning decides on interview outcome for the most part.
Examples of reasoning based questions:
Why do you want to study in the USA?
Why not study at the other University?
Why do you want to study now when you have a good career.
Visa officers look for subtle clues in your answers to figure out if you are a genuine student and if U.S. visa should be given to you. Even a single word from your answer is sufficient for them to deny your visa.
Academic Ability

College and University
Test Scores

Financial Ability

Sponsors: Bank and Finance

Potential Immigrant

Family and Relatives
Work and Job

General Questions
F1 Visa Interview Questions – Colleges and University
Here is a list of possible F1 visa interview questions related to college and university you applied and admitted.
Why do you want to study at this University? (A Perfect Example of How Not to answer this question)
Why do you want to study this degree?
Why do you want to study in the USA?
What are you going to specialize in?
How many universities did you apply?
Which universities did you apply to?
How many admission did you get admitted?
Where did you complete the undergraduate or graduate degree?
What is your undergraduate GPA?
Tell me about the university you are planning to attend.
Mention the name of the professor's you had contacted.
When and where did you get your bachelor's degree?
How long will you study in the USA?
How do you know about this university?
What is your academic background?
Do you plan to study PhD after MS?
Why did you apply to these universities?
Why not attend University X?
What courses are you planning to take in your first semester?
Why not study in India?
Questions About Sponsors and Finance
You have to be prepared for worst case scenarios when it comes to what F1 visa questions you could be asked. Plus, you need to have a solid answer any possible set of questions. Here's set of questions about sponsors and finance.
Who is sponsoring your education in the US?
What does your sponsor do?
Why is your uncle sponsoring you?
Where did you get this bank statement?
Did you pay anyone to get this bank statement?
What is your sponsor's monthly income?
What is your sponsor's annual income?
What is your university yearly expense?
Did you get an education loan?
Can you show your Bank Statements?
What is your father's salary?
How long has he been working here?
Why your parents are not sponsoring your education?
Why is your Mom sponsoring when your spouse is working in the USA?
Your bank passbook shows large transactions recently been deposited?
What is the source of money for a recent large deposit?
Do you have a statement from the sponsor on bank letterhead?
Do you have a financial affidavit from the US-based sponsor?
Why is your company sponsoring your education?
How will you finance your education for 2 years or 3 years when your bank balance shows 1 year worth of expenses?
You might be asked to show bank statements, transactions, passbook, latest transactions, and other finance related documents. Make sure you have them handy.
Relatives and Family Members
During the F1 visa interview, make sure you remember the answers in the interview form DS-160.
If you have relatives in the USA then declare that you have relatives.
Don't hide the facts.
It can cause and will cause trouble and end up in F1 visa denial.
How many brother and sisters do you have?
Do you have any relatives in the USA?
What is your mother doing?
What is your brother doing in the USA?
What is your sister doing in the USA?
Your brother is working in the USA, would you do the same?
Where did your brother complete their studies?
Where do your parents live?
Do you have a brother/ sister, or any other relative already at this university?
Do you have a girlfriend?
Are you married?
What is your husband doing?
What is your wife doing?
Is your wife planning to apply for F2 Visa?
Where is your husband working in the USA?
Job Related F1 Visa Interview Questions
Why are you leaving your current job?
Can show your work experience letter
What is your current salary?
How much do you have in savings?
Do you plan to work in USA?
Are you planning to work in the USA? Why not?
Working on OPT or STEM OPT and Day 1 CPT University
Are you working at Client Location?
Why are you enrolled in second Masters Degree?
Are you working on CPT?
When did you start working on CPT during Second Masters Degree?
Are you continuing to work at the same employer, client after starting second masters degree?
General Student Visa Questions
Why did you choose US but not Canada or Germany?
What kind of good things do you know about America?
What do you expect after returning back?
Why do you plan to do MS?
Why are your GRE scores low?
Your TOEFL (or IELTS) scores are low.
You look like a potential immigrant!
I don't think you have strong ties!
What do you know about US education?
Why are you applying for Fall only?
What will you do after completing MS?
Did you get any scholarship?
What are your plans after graduation?
Tell me how you can prove that you are going to come back?
Have you ever been to America?
Have you visited other countries?
What will you do after coming back from USA?
Do you know anyone (in USA) in your university?
What will you do if your student visa is rejected?
Will you come home during summer?
Why do you think the university is giving you a scholarship?
Why do you wish to study in the USA and not in India?
Why did you change your field (Mechanical or Electrical to Computer Science)
Bonus Question:
Why do you think we should give you visa to study in USA?
Are there any reasons why you shouldn't be given F1 Visa?
Answers to F1 Visa Interview Questions
Do you need to know answers to all the above questions?
Absolutely. If you have a question that applies to your profile and background, then you should know the answer to the questions.
And then, there can be questions that are outside of this list of F1 Visa Interview questions.
Here are some examples.
Your B1/B2 visa was rejected, why are you attending F1 Visa interview now?
Your F2 Visa was denied, why are you applying for F1 Visa now?
Where is your wife studying in the USA?
How will you pay for both your expenses and wife's expenses when you both are going to study.
Who would take care of your business if you get F1 and F2 for your family?
You need two set of questions for F1 Visa Interview. And you need answers to unexpected interview questions.
If you fumble and mumble for any of the questions, then chances of F1 Approval becomes extremely difficult.
Let's review this F1 Visa Interview where the wife is applying for F1 Visa and husband in studying on F1 visa.
VO: Passport and I-20
Me: Provided

VO: Why UTD?
Me: Largest IT program, numerous electives, special tracks like IT Consulting & Service Management which is similar to my work experience.
VO: Which other programs? BA in SMU?

VO: SMU?
Me: Southern Methodist University

VO: Who is sponsoring?
Me: Husband

VO: What does he do?
Me: PhD student at UTD

VO: If he is a student how is he gonna sponsor you?
Me: Interest income + Agricultural Income + 50 lacs

VO: Agricultural income? Was he a farmer?
Me: No he has savings in his Indian Account from interest income and he has property in his name.

VO: Sorry rejected under 214(b)
In the above interview, the questions change when the applicant said that husband is the sponsor and he's studying in the USA. So, you should be expecting questions based on your situation.
The generic list of questions will not apply to you if your situation is different.
If you need help with F1 Visa Interview prep, please attend the Free F1 Visa On-demand Training (when you register for Training, you will automatically be added to the F1 Visa Boot Camp Course as well). Just look for an email sign-up form at end of this article.
One More Unique Situation:
Wife is working in India. Husband in Working on H1B Visa. Wife had applied to B1/B2 Visa and got denied after their marriage. But, between previous rejection and now, husband's status changes from OPT to H1B Visa.
Following are the questions which were asked to me during the interview :
VO: Hello, how are you?
Me: I'm good, how about you?

VO: What is the purpose of visit?
Me: personal

VO: do you know someone?
Me: yes, my husband

VO: what does he do?
Me: he's a product engineer

VO: it was too loud at my end, can you please be a bit louder?
Me: He's a mechanical engineer

VO: Which visa he's on?
ME: F1 Visa, STEM OPT

VO: From which university he graduated?
Me: Mentioned the name of the University

VO: When is he planning to come to india ?
ME: probably december

VO: Sorry, you're not eligible for B1/B2 Visa.
Now, how would you handle the above situation when the wife plans to attend F1 Visa?
The expected questions will not be the standard interview format. You need a custom list of questions and solid answers.
Short F1 Visa Interview
Your F1 Visa interview would last for less than a minute.
If you had a solid answer to a specific question and after the consular officer denied your visa, you can't complain that they did not ask for documents or that specific question.
That's where you should know how your interview is proceeding and tell all possible answers in the short amount of time.
That's one of the keys to preparing for the F1 Visa Interview.
Related: F1 Visa Interview Questions and Answers