H1B Visa 2019 – New Memo, Lottery, RFE and Latest Updates
Are you applying for H1B Visa 2019 Fiscal Year?
In a previous H1B Visa season with Lottery, the biggest challenge was getting selected in the H1B Visa Lottery. Since, last year, there's three MAJOR challenges:
Getting Selected (or getting lucky) in the H1B Visa Lottery
Getting H1B Visa Approval with or without RFE
H1B (and H4) Visa Stamping
Youc an find detailed discussions about H1B Visa application, Latest News, Law Changes, Cap Count, Lotteyr Dates, H1B Visa Receipt Numbers, Premium Processing from several articles about H1B Visa here in the blog. Typically, I explain in details about the above figures in this article. But, the landscape of H1B Visa 2019 (FY 2019 starts from October 1, 2018) since last year due to following changes:
H1B Visa 2019 Timeline
Mar 7, 2018 – USCIS published official guideline for H1B Visa FY 2019
April 2, 2018 – H-1B Visa petitions will be accepted
Oct 1, 2018 – Offical H1B Visa 2019 Start Date
FAQ's H1B Visa 2019
1. What is the start date for H1B Visa 2019?
H1B Visa petitions for FY 2019 accepted from April 2, 2018 (Since April 1 is a Sunday)
USCIS would accept H-1B petitions for Five Business Days (April 6, 2018) or until H11B Cap is met.
FY 2019 Start Date – October 1, 2018
2. Where can I learn more about H1B Visa Lottery and complete process?
Check out H1B Visa Lottery Guide Bundle
Updated to reflect the latest H1B visa News and trends
H1B Visa Lottery guide is created with data based on past several years of lottery
3. Will there be H1B Visa 2019 Lottery?
There will be H1B Visa lottery for FY 2019 (that's my guess and you probably think the same).
Majority of OPT and STEM OPT student who did not get selected in the H1B Visa lottery last year would apply this year.
Indian IT Service providers probably would not submit a large number of applications due to additional third party site documentation requirements.
Also, I think, some smaller consulting employer's applying for H1B Visa during previous years for employee's from abroad or other visa status (like H4 to H1B Visa) would not apply due to recent Memo about third part work sites.
4. What should be the minimum wage to apply for H1B Visa this year?
There's no minimum wage required to apply for H1B Visa (at least for this year)
There are several H-1B Visa reform bills in the congress, but they are yet to get any traction to become a law
Having said that, USCIS could issue an RFE for Level 1 Wage for the position.
Here's some additional links to learn about H1B Visa Application process
5. Did the H1B Visa Cap for 2019 change?
No, there's no change H1 Cap this year.

Regular Quota – 65,000
Advanced Degree Quota – 20,000
Unused Chile and Singapore Cap from last year will be added to this year Cap
6. My current salary falls under Leval 1 Wage for my area as per FLCdatacenter. Can I get H1B Visa approval?
Check for recommendations from Immigration Attorney's who have published their experience on how to handle Level 1 RFE for H1B Visa.
Your Employer and Immigration attorney, should devise a strategy for possible Level 1 Wage RFE.
As an H1B Visa applicant, you should know the answers to following questions related to Level 1 Wage.

What is a level 1 wage?
How many levels are there in total?
How do I find what level my wage belongs to?
How is H1B processing related to wage level? What is this whole new issue?
7. Is H1B Visa Premium Processing suspended like last year?
There's no official announcement from USCIS about Premium Processing Suspension.
Last year (2017) Premium Processing was suspended for all types of H-1B Visa for several months.
Prior to 2017, Premium Processing for New H1B Visa petitions were suspended for a few weeks.
We have to assume, Premium Processing for H1B Visa could be suspended this year as well, but for wait for official news from USCIS.
8. My Employer holds two companies. Can I file multiple applications to increase my lottery selection chance through my employer's another company?
Here's the official answer from USCIS about Multiple H1B Visa applications.
"Employers may not file multiple or duplicative H-1B petitions for the same employee. To ensure fair and orderly distribution of available H-1B visas, we will deny or revoke multiple or duplicative petitions filed by an employer(including its related entities) for the same H-1B worker and will not refund the filing fees."
9. What will be processing time for H1B Visa 2019 applications this year (Applications filed in 2018)?
H1B Visa 2018 applications (filed on April 2017) are still being processed.
H1B Receipt Numbers would be issued if your petition is selected in the lottery.
H1B Visa processing time would depend on the Premium Processing avaiablity.
I would expect slow processing as compared to the previous years.
Vermont Service Center Processing time for H1B Visa as of March 10, 2018 (below)
Yes, they are still processing H1B Visa application filed last year!

10. What is the deadline to apply for H1B Visa 2019?
Process described in the above image provides the list of departments involved and overview of the H1B Visa process.
Since, USCIS accepts H1B Visa application until Apr 6, 2017 and it would take attorney about 7 days to get LCA and another week to prepare documents. Mid-MAch would be the deadline considering the timeline to prepare documents to apply for H1B Visa.
Top H1B Visa Sponsors
Top 10 H1B Visa sponsors by approved petitions as per latest data published by USCIS.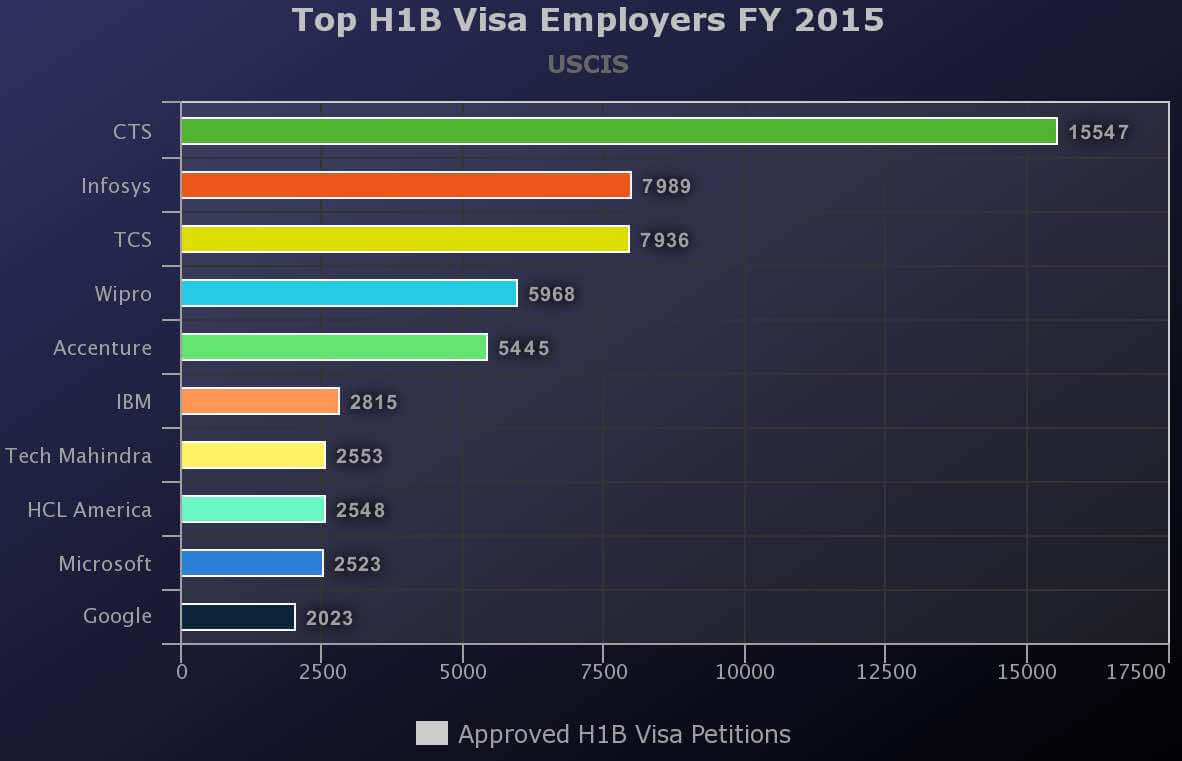 Top H1B Visa sponsors for FY 2016 (can you find the difference between two charts).
Now, you have seen the top H1B Visa sponsors, now, let's do H1B Visa 2019 predictions. Shall we?
H1B Visa 2019 Lottery
Oh Boy! You probably read the argument above at #3. There's going to be H1B Visa Random Lottery selection for sure.
One might wonder if some of heavy H1B Visa users like CTS, Infosys, TCS, Accenture, Tech Mahindra would be slow down considering the RFE and additional costs involved to respond to RFE and possibly apply for H1B for Only Level 2 Wage and Above.
Note: RFE's are not specifically targetting consultants or service providers (more on this later in this article).
I have to make a counter argument considering the future of the H1B Visa program.
What if H-1B Visa reform bill passes just in time for next year H1B Visa 2020 season?
What is minimum Wage Required to apply for H1B Visa is increased?
What if this is probably the last opportunity to apply for H1B as an IT service provider without strict laws?
What if they increase the number of applications this year based on above reasoning?
Next, let's consider the H4 EAD holders.
H1B Visa 2019 Predictions
DHS issued over 100,00 H4 EAD's till date. Let's say 30% of those H4 EAD holders are employed.
For the sake of argument, 50% of those employed H4 EAD holders applying for H1B Visa this year. How would that impact total H1B Visa application this year?
My H1B Visa 2019 prediction: 15% to 20% less applications compared to last year.
I think, decrease in number of H-1B visa applications by some IT vendors would be compensated by increase in Applications from H4 EAD holders. Since there's pending Rule Making by DHS to Remove H4 EAD. But, I think overall, number of H1B Visa application could see a dip compared to previous years.
Facts About H1B Visa RFE
Here's a couple of interesting statistics about H1B Visa RFE from AILA:
The RFEs were assessed predominantly for H-1B cap cases (83%).
The RFEs were overwhelmingly issued by the VSC (77%) versus the CSC (21%).
Only 2% of the RFEs were issued by the Nebraska Service Center (NSC).
Above observation about the H1B Visa RFE (Request for Evidence) is confirmed by an Immigration Attorney.
What sort of impact is RFE having on H1B Visa applicants?
And there's more
I am currently on initial OPT and working full time with an employer. My company is going to apply H1-B application for this April FY 2019. The wage difference between my current pay and prevailing wage for SOC Title – Software Developer (1132) in my area is about $6,000. I pointed this out to my HR and the HR responded that the lawyer and the HR will look at this issue. As the wage level is low, I guess they will file the H1-B with Computer Programmer title. I understand that as per the USCIS Memo not all Computer Programmers qualify for the H1-B and needs to present evidence that this is a Specality Occupation. I now have two options:

Option 1: Ask to raise the salary and change the title to to Software Developer.
Option 2: Let the Attorney and HR figure out what they want to do.
If you notice in forums and F1 Visa and OPT Facebook Group, there's an uptick in discussions about OPT Extension RFE and OPT Extension Denials.
Questions posted through Ask an Immigration Attorney confirms the same for H1B Visa RFE and H1B Visa Denials.
Few Immigration Attorney's have reported RFE or Change of Status denials for F1 Visa to H1B Visa, if the applicant is currently using CPT after completing OPT or STEM OPT Extension. I'm sure you can who are this group of H1B Visa applicants!
Summary
Expect another busy H1B Visa Season starting April 2018.
Premium Processing could be suspended for this year
New H1B Visa Memo means increased time to prepare applications
Number of RFE's issued could to remain the same or even increase this year
With increase in RFE would ultimately result in additional processing time.
Additional H1B Visa FY 2019 Resources