H1B Visa 2020 – USCIS Received 201,011 Application. Lottery Completed [Apr 11, 2019]
Are you applying for H1B Visa 2020 (April 1, 2019)?
If your answer is Yes!
You have two Important milestones to reach.
Getting Selected in the H1B Visa Lottery
Getting H1B Visa Approval (with or without RFE)
Few years again, getting selected in the H1B Visa Lottery is as good as approval.
Related: H1B Visa 2020
H1B Visa – What Happens After the H1B Visa Lottery (This article)
These days getting selected in the lottery is just half the battle.
If you happen to be working as a consultant, then high chances for RFE & Denial.
Having said that, let's look at 17 useful tips, questions and answers about H1B Visa 2020 Lottery Season You Need to Know Today
H1B Visa Cap Count & Next Steps
April 11, 2019 – USCIS Complete the Lottery
Total H1B Visa Petitions – 201,011
Random Lottery – Completed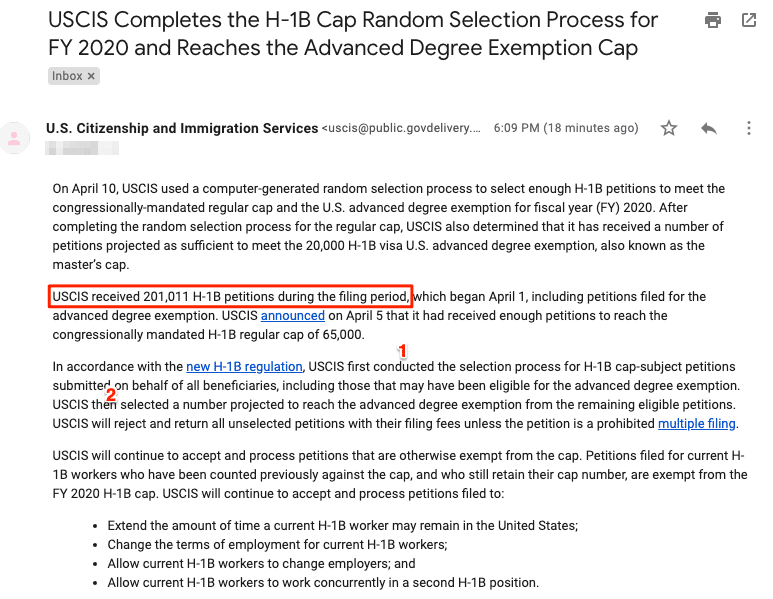 April 5, 2019 – Regular Cap Reached
USCIS Announced on April 5, 2019, that Regular H1B Visa cap is reached and they are still determining if Advanced Degree Cap is reached.
I'm pretty sure it will be reached!
April 5th is the last day of 5 fays filing window.
This announcement came at 5:40 PM EST on April 5th from USCIS.
Next, USCIS will be doing Random Lottery Selection in the new order as listed below.
1. Impact Due to the Reversal of H1B Visa 2020 Lottery Order
You probably know about the H1B Visa Pre-Registration Rule effective from April 1, 2019.
This new rule reverses the H1B Visa Lottery Order for this coming H1B Visa 2020 fiscal year. So, how does the reversal of the H1B Visa lottery order for impacts you?
Previous Years
First random lottery for Advanced Degree Cap to select 20,000 petitions
Unselected petitions added to a general pool of H1B Visa petitions
Second random lottery to select 65,000 H1B Visa petitions in Regular Cap
New H1B Visa Lottery Order for FY 2020
First random lottery for all petitions to select 65,000 under General Category
Unselected Advanced Degree petitions Added to Pool of petitions of the second lottery
Second random lottery to select 20,000 H1B Visa advanced degree petitions
Expected Impact: 16% increase in the selection of Advanced Degree Cap H1B Visa petitions as per USCIS. That equates about 5340 advanced degree H1B cap petitions being selected.
But, is it really true? We have to wait for official news from USCIS to find the impact.
Irrespective of 16% increase or not, even increase in one petition selected directly impacts one person's life. But, another person in the Regular cap is also losing out.
If your H1B Visa petition is selected in the lottery, you have won half the battle.
2. Top 10 Common Reasons for RFEs for H1B Visa Application
USCIS recently published top 10 reasons for the issuance of Request for Evidence (RFE's) on H1B Visa petitions. You probably know the number 1 reason for RFE's – Specialty Occupation. What about the remaining reasons? Here's the list.
Specialty Occupation
Employer-Employee Relationship
Availability of Work (Off-Site Work Cases)
Beneficiary Qualification
Maintenance of Status
Availability of Work (In-House Work Cases)
LCA Corresponds to Petition
AC 21 and 6-Year Limit
Itinerary
Fee
Why does this matter?
The approval rate with RFE in 2015 is 83.2%.
Only 62.3% of H1B Visa petitions that were issued RFE has been Approved in 2018.
In other words, if 100 applicants are issued H1B Visa RFE, about 38 applicants are getting NOT getting H1B Visa even after getting selected in the lottery.
If your H1B Visa 2020 application is Approved with or without RFE, then you have essentially have won the battle.
You can worry about H1B Visa Stamping and Administrative Processing later.
Specialty Occupation RFE: But, what is USCIS actually looking?
What kind of Documents are required?
Read On.
3. H1B Visa Process and Steps to File the Petition
There are three steps to file your H1B Visa petition.
Employee: Submits all the required documents and submit the questionnaire
Attorney Applies for LCA for H1B Visa Application
Attorney: Once LCA is approved, the Form I-129 petition is filed with USCIS along with supporting documents from your employer
This is a pretty standard process. But, can you do to ensure that you are not responsible for the RFE?
It comes down to you by providing detailed job duties to prove that it's complex in nature and requires specialty occupation to some extent.
At the end of the day, you are the one who is doing the work. Right?
You have a good idea about the product, services, and the skills required.
If you like to know how to ensure you do the work? Check this Recorded Webinar for tips.
3. Important Dates for H1B Visa 2020 and Deadlines
You probably know all the dates by now, but still here is a quick recap of important H1B Visa 2020 dates and deadlines.
H1B Visa FY 2020

Starts: Oct 1, 2019
Ends: September 30, 2020

H1B Visa Filing dates 2019

Starts: April 1, 2019 (Monday)
Ends: April 5, 2018 (Friday)

H1B Visa Lottery Dates

To be announced by USCIS
Expect to be Around April 10 to 20, 2019

Premium Processing

Phase 1: Begins No later than May 20, 2019
Phase 2: Begins After June 2019

OPT & STEM OPT Cap-Gap

Students on Cap-Gap are eligible to work until Sep 30
Stop working from Oct 1, 2019, until Approval from USCIS

Last date for Employer to Start Process

Immigration Attorney should file LCA by March 20, 2019

Receipt Notices

USCIS should start sending them from late April 2019
Did I miss any other H1B Visa 2019-2020 dates and deadline? Let me know in the comments section.
4. H1B Visa 2020 Premium Processing
As of Mar 12, 2019, USCIS resumed Premium Processing Services for all H1B Visa petitions.
But, what about H1B Visa 2020 applicants?
USCIS announced a two-phase approach for H1B Visas 2020 Premium Processing as listed above.
I mean, compared to previous years, for USCIS to streamline the process, and start the Premium Processing for Phase 1 in the month of May is wonderful.
5. H1B Visa 2020 Predictions
So, you want to know the magic numbers?
H1B Visa 2020 Predictions are not easy, but depending on the volume of H1B Visa applications processed by Attorney's can give a good estimate.
But, one might wonder what is the impact of RFE's and Denials with this year 2019 – 2020 cap count?
I would estimate the numbers to be around 125,000 to 150,000 in total H1B visa petitions for H1B Visa 2019 – 2020 season. But, this estimaet could change.
6. Can we file multiple H1B Visa Petitions?
If you are about filing multiple H1B visa applications, you are not alone.
When you think of multiple H1B Visa applications, I can only think of applicants using consulting companies to file additional petitions to increase the odds.
USCIS doesn't restrict the Multiple H1B Visa applications from different employers. But, be warned and you never know what's in store for you.
7. What Should be the Minimum Salary for H1B Visa Applications?
You should be paid at least the Wage Level 1 for your location, and job title.
Would USCIS issue RFE if you are getting paid at Wage Level 1?
Here's the answer for that directly from USCIS – USCIS will not issue an RFE simply because a Level 1 Wage has been selected.
But, if your salary is really less than the Wage Level 1, then you may get an H1B RFE. Here's an example.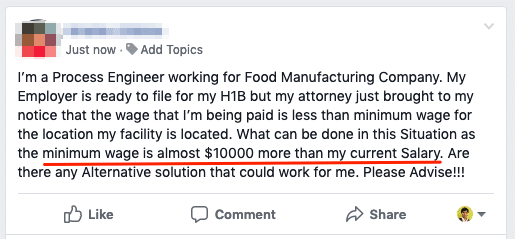 While the above person is trying to figure out if there is a solution to apply for H1B Visa when the minimum salary is less than $10,00 than Wage Level 1. Here's how one other person's salary was increased to meet the minimum wage level.
8. H1B Visa Approval Chances for Day 1 CPT Students
There's definitely impact and you can see that from questions like these.
If you have used CPT on your second Masters, you should talk to your Attorney about possible H1B Visa Denial with possible 3 Years ban from Entering the USA.
In some cases, Consular Processing might be suited for you.
And, you can also learn about additional impact and strategies this guide from Immigration attorney Jack Sung (available for purchase).
9. Which is Better – Change of Status or Consular Processing for H1B Visa?
You must be aware of two options for your H1B Visa petitions about changing your status within the USA (like F1 to H1B) or apply for Consular Processing.
Which is better?
It's not as easy as answer Yes or No.
You should have this conversation with your Immigration Attorney filing your H1B Visa Case.
And, you know if you have anything in your profile that could result in RFE or H1B Visa Denial.
As Attorney Jack Sung discussed in the Webinar, for some H1B Visa 2020 applicants, Consular Processing will be better and for others, it wouldn't make any difference.
Here is a question from a client who used Ask An Immigration Attorney from Happy Schools service to check if Consular Processing would be a better option than Change of Status (COS).
10. Is Client Letter Required to apply for H1B Visa for Consultants?
I was amazed to see this question come up several times in the past few days.
And, you can see the importance of the Client Letter to avoid RFE or responding to an RFE for Specialty occupation and employee-employer relationship.
And, here's a couple of H1B Visa applicants asking about End Client Letter for applying for H1B Visa.
11. Traveling After Applying for H1B Visa in April 2019
First, refer to the Consular Processing vs Change of Status section to understand the difference.
While applying for your H1B Visa petitions, I-129 would be filled and completed by your Employer's immigration attorney.
Part 2 of the Form I-129 is where Change of Status is requested as follows.
If H1B Visa is applied with Change of Status option Checked, then your Status in the USA will automatically change from Current Visa Status to H-1B Automatically. For example:
F-1 Visa OPT or F1 Visa STEM OPT to H1B
H4 Visa to H1B Visa
But, what happens if you travel after applying for H1B Visa.
This is where you have to understand the Visa vs Status in the USA.
Once you depart the USA, you don't have a valid status in the USA.
So, you are essentially abandoning the Change of Status part of your H1B Visa application.
In other words, your petition at that point changes to Consular Processing by default.
12. What is the H1B Visa Approval Rate?
Once your H1B is selected in the Lottery, and you get an RFE.
What is your the Expected approval rate? According to recently published USCIS data, you have about 60% chance for H1B Visa Approval after RFE (with an asterisk).
About 40 H1B Visa applicants WILL Not get H1B Visa Approval after an RFE.
Does the type of employer matter?
Looks like Full-Time Employee – Direct Hire have much higher Approval Rate.
Microsoft, Apple, Amazon has 99% H1B Visa Approval Rate.
TCS, Cognizant, Infosys and IT Services Companies have H1B Visa approval Rate around 70%.
Questions for you
Why do Apple, Microsoft, Amazon have higher Approval Rate?
Is it because they hire highly skilled and qualified candidates and IT Services companies don't?
Or is it because they have Attorneys who are better in preparing the case?
13. Specialty Occupation RFE – What is USCIS Looking and What Document can you provide?
It's the responsibility of H1B Visa applicant, Employer, and the Attorney to provide the documentation to prove the Position is Complex or Unique.
Here is an extract from the H1B Visa Denial Notice sent by USCIS.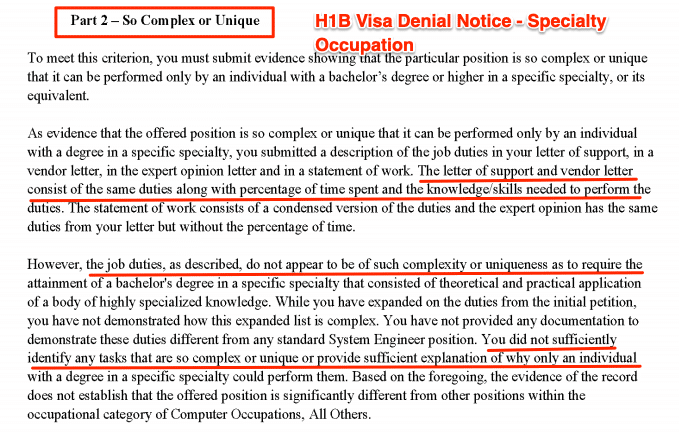 Read the following sentence again:
You did not sufficiently identify any tasks that are so complex or unique or provide sufficient explanation of why only an individual with a degree in a specific specialty could perform them.
That is what USCIS is looking for.
So, what can you do?
Ask yourself the following questions:
Does your job duties, tasks meet the above criteria?
Have you provided sufficient details to prove the tasks is either unique or complex?
Summary: H1B Visa 2020
There will be an H1B Visa 2020 lottery.
Premium Processing could be suspended like FY 2019 for an extended period.
If you are applying for H1B Visa as a consultant, then there are high chances for H1B RFE's
If you have used Day 1 CPT or 12+ months CPT usage, then expect RFE and maybe COS Denial.
H1B RFE's should continue to be issued by USCIS as they crack down and tighten the approval process
Good luck with your H1B Visa season
Subscribe to Email News Letter to Stay Informed about Breaking H1B Visa News and Beyond!
Thanks in advance for Sharing this post with your friends, WhatsApp and Facebook.
H1B Visa 2020 – Related Articles