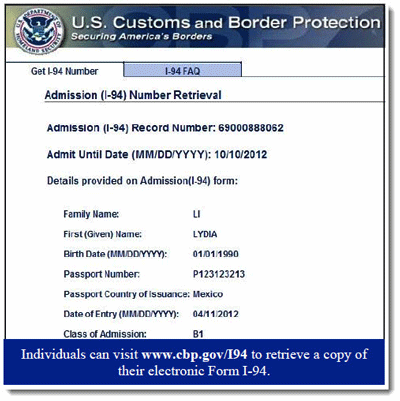 New Electronic I94 Form – Sample, FAQ's
CBP (Customs and Border Protection) of USA have implemented new Paperless Electronic I94 form. If you enter USA after April 30, 2013, CBP officers will no longer issue paper I-94 card.
When you enter USA, CBP Officer generally attaches the I-94 to the visitor's passport and stamps the departure date on the form. Paper based I-94 forms have been replaced with paperless I-94 (electronic I-94)
What is I-94?
The I-94 is the Arrival / Departure Record, in either paper or electronic format, issued by a CBP Officer to foreign visitors entering the USA.
After April 30, 2013, most Arrival/Departure records will be created electronically upon arrival.
Instead of a paper form, the visitor will be provided with an stamp in the foreign passport.
Paper I-94
Paper I-94 Card look like this image in the picture on right side. At Port of Entry CBP officer used to issue paper I-94 which will be stapled to your passport.
Now, CBP have stopped issuing paper based I-94 cards. But, I-94 would be required to verify your legal status in USA at certain places.
Foreigners in USA will be required to show I-94 when applying for Social Security Number or Drivers License. Since, physical I-94 card is no longer issued, you must take a carry a copy of electronic I-94 with you. CBP made it easy to verify take a printout of electronic I-94 from online portal.
Electronic I94 Form
Now, at port of entry, CBP officer will enter your details into electronic system, stamp your passport with entry date which will include the port name. No, paper I-94 or printout out of electronic I-94 will be given to you at the port of entry.
Here is a sample copy of electronic I94 form print out.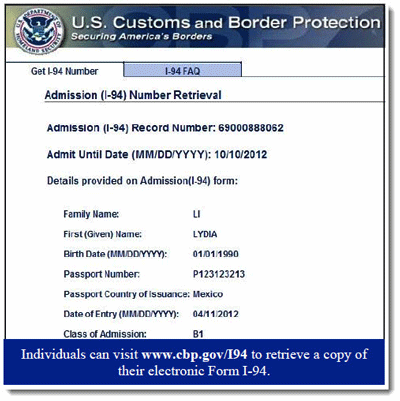 FAQ's – I94
Following questions have been copy pasted from FAQ's section of new Electronic i-94 which will be useful for HSB readers.
If information on the I-94 is in error, how does the traveler correct mistakes?
The electronic version of the I-94 will help eliminate errors because the information will be obtained by official documents and officer input. If there is an error or mistake on the paper or electronic form I-94, the traveler can contact the Deferred Inspection office closest to their location.
CBP offices are located within the airports are near the airports. You can call and schedule appointment to fix the errors in paperless I-94.
How will the new I-94 automation impact international travelers' entry to the U.S.?
I-94 automation will not impact a traveler's ability to enter the U.S. CBP will continue to create an I-94 record for all travelers who require one, but the paper form will be created in an electronic format and not provided to the traveler. If a traveler requires a paper version of Form I-94, it will be available at www.cbp.gov/I94
Will CBP provide a traveler with any documentation or evidence showing status and time allowed in the U.S.?
Yes. CBP will provide each traveler with an admission stamp that is annotated with date of admission, class of admission and admitted until date.
Will travelers need to do anything differently when exiting the U.S.? How can they be sure their departure will be recorded properly with this new the I-94 automation process?
Travelers will not need to do anything differently upon exiting the U.S. Travelers issued a paper Form I-94 should surrender it to the commercial carrier or CBP upon departure. The departure will be recorded electronically with manifest information provided by the carrier or by CBP. If travelers did not receive a paper Form I-94 and the record was created electronically, CBP will record their departure using manifest information obtained from the carrier.
My Thoughts
Print a copy of the electronic I94 card and staple it to your passport
You are not required to surrender the print out when you depart USA
Use the print out while applying for SSN, Drivers License or filling out form I-9 with new employer.
CBP implemented electronic i-94 within last 4 weeks. Still many travelers are not aware of this change. Pass this article to your friends, post in FB groups and share with your friends community.
Post your questions in the comments section below about the new electronic i-94 card.