Tips to To Contact a Professor for Graduate School Admission ( Masters & PhD )
Contacting professor's for Graduate School Admission is a challenging and time consuming task. I would say, some students have an obsession to do just that. This article should clear your misconceptions about sending email to professor's asking about admission, funding and scholarships, research topics and possibility of working for them.
Let's look at the following email reply from a professor as posted by a member in MS in USA Fall 2015 Facebook Group.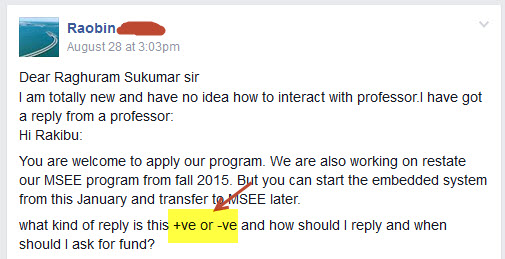 Let's analyze the reply from the professor
You are welcome to apply our program.
I don't have the email that you had sent. But, assuming that you had asked, if you can apply for the program. So, professor have replied saying you are welcome to apply for their Masters Program.
We are also working on restate our MSEE program from fall 2015. But you can start the embedded system from this January and transfer to MSEE later.
Looks like you had requested to apply for MSEE program and the university is not offering that degree for Spring 2015 semester.
Since, you had requested if you can apply for Spring 2015, professor is asking you to start your Masters degree with specialization in Embedded Systems, then transfer your major to MS in EE from Fall 2015 semester.
Now, you have a couple of questions :
What kind of reply is this +ve or -ve ?
How should I reply and when should I ask for fund?
Positive or Negative :
I would say this reply is Neutral to Positive.
Most professors typically don't reply to emails from prospective students asking admission and funding request, unless the email is well crafted.
You could have probably included your GRE Scores, TOEFL, Academics, etc in the email you sent. And you were expecting professor would reply something along the lines of admission and financial aid.
But, in reality sending couple of emails will not help you that leverage to request admission.
Having said that, there are folks who got admission and scholarship by building relationship with professors over a period of time.
How to Reply to Professor?

You have two options here : Don't reply or start a conversation to build relationship with the professor. You have to decide what to do next.
Should I Ask for Funding?
Heck No. Your primary goal at this point is to get your name across to professor, build relationship with the professor with the sole purpose of getting to know about the university and research work.
Think for a moment. Why did you send an email to the Professor?
To requesting admission
To check if you can work for him in his research lab
To get to know the professor
To asking for Funding, Financial Aid
Let's take a step back. Shall we?
You have money and a job. And you want to hire someone to work for you. Would you just pick a random guy from the street and give him the money to do your work?
Probably not.
Contact Professor for Graduate School Admission
First, you would have an interview, then hire the person for the job.
Now, let's apply the same concept to this scenario.
You sent one email this professor.
Professor barely knows you.
You haven't been admitted to the program yet.
Your email probably didn't include anything related to research work.
How can you expect the professors to give you funding or research work?
Above picture is self-explanatory ( that's what I think).
You can get to work on a research topic when following intersects
Your research interest
Professor's Research Work
Job opening to work under a professor
Professor have research money to pay you as Research Assistant.
In some instances, professors will have the department hire you as Teaching Assistant. In such cases, university would pay you and money doesn't come from Professor's Research funding ( research money is saved to fund more students or use of other research activities).
If you don't have research experience, then figure out a way to build your research skills.
Then identify list of professor's who works on the research topics similar to your interest.
Pro Tip : Process of finding a professor working on a specific research topic is cumbersome and time consuming. Folks who don't have the will power, energy and motivation duck this challenge and run to an admission agent, hoping that agent will fix this problem for you.
Once you find a list of professor's, contact them and ask if you can work for them in their research lab, do thesis in Masters Degree or PhD Thesis under them.
You have 3 challenges here :
Finding the right professor
Sending a well crafted email ( that professor's will read and reply)
Getting Reply and Follow-up
PS: I have an entire section on above 3 topics – step by step process that you can use to find a professor, crafting an email, subject lines and how to reply and follow-up. Check out Hello America Course.
You shouldn't ask for funding via email unless you have established a good working relationship based on the conversation about research.
How can you expect someone to give money to a stranger (yes, you are a stranger, until you proved your value to them )
Show that you care about research.
Show that you have done similar research work.
Show that you have gone beyond other students to prove you are "the best".
Your email should focus only about Research, Research interests and professor's research work.
Email is never about You. It's about Them. It's about what Professor's want to hear from a student.
This email that you send is a a Marketing Message. You have to get good at crafting this marketing message that appeals to them.
It will be premature to ask for funding when you haven't proven your value to the professor.
Am I right?
Now, it's time for you to get to work. Don't forget to share this article with your friends in Social Media.
Email to Professor's : Series
Following series of articles will give further information about contacting professors before Graduate School Admission ( Both Masters and PhD Degree).