H1B Visa 2016 – Regular Processing Results Coming In…
Can you imagine H1B Visa 2016 cap season is already here? Are you applying for H1B Visa this April 1, 2015? Then continue reading this article.
Then you have come to the right place. Here's what you will get by following Happy Schools Blog's H1B Visa updates
Lightning Fast H1B Visa 2016 News
Amazing community of H1B Applicants (current and past)
I track over 150 sources for H1B updates, so you can good night's sleep
H1B Visa 2016 – Introduction Video
I started covering about H1B Visa here in the blog from Fiscal Year 2009 cap season. Now, the 2016 cap season is about to begin in April.
If you are a first time H1B applicant, I know the what exactly what you will go through (emotionally and physically ) at every step of this H1B Visa process.
Read this Warning Ahead if submitting H1b Visa 2016 application and you will understand what emotional challenge awaits you.
[pullquote type="right"] I personally know the impact of getting selected in the H1B Visa lottery vs not picked-up in the lottery. Plus, how that affects your life, family, career and future. [/pullquote]
In this article, I will educate you and enlighten you over the next several months of this H1B Visa Cap Season. Are you with me? Let's get started.
You will learn the following topics from this article : Latest H1B Visa news from USCIS, Quota details, important application dates, H1B Visa lottery predictions, cap count increase, H1B visa process, Employers, Sponsors, important application dates, H1B Fees, and above all an helping hands to get you across to the next step in your career.
Are You Applying for H1B Visa 2016?
H1B Visa applicants ( like you) come from different knowledge levels, like
Novice – New to this H1B application process and need guidance (applying for the first time)
Intermediate – Learned About H1B Visa in recent months (or Spouse is H1B worker)
Expert – Not picked in the Random Lottery in Previous Year (or years).
On top of this, if you have tried unsuccessfully in getting H1B in the previous year lottery, it adds more pressure.
I know lot of applicants from last year, who had one last shot in getting selected in the H1B Lottery after completing an Advanced Degree from U.S. Universities, but were not successful ( or unlucky).
H1B Visa 2016 Cap Count
So, you may ask, are there any possibility for H1B Visa cap count increase this year?
I can flat out say, No. Maybe in your dream 🙂
President Obama can't increase the cap count by executive action. Only Congress can increase or decrease the H1B Cap. So, as of today, there's no news about increasing the H1B Visa cap for 2016 cap season.
Having said that, current cap numbers are available
General Cap – 65,000
Advanced Degree Cap – 20,000
I don't want to complicate by adding H1B1 cap count here. So, for the sake of numbers, lets keep the cap to 65,000 and 20,000.
Important Application Dates
Let's start with Important Dates you need to know for FY 2016.
Before going into Dates, you need to know What does Fiscal Year (FY) stands for.
USCIS Defines Fiscal Year as following
Currently, the twelve month period beginning October 1 and ending September 30.
When, I say FY 2016, it means, 12 month period with following Start and End Dates:
Start Date – October 1, 2015
End Date – September 30, 2016
H1B Visa Cap of 65,000 in General Category and 20,000 in Advanced Degree Category is allocated for Fiscal Year 2016.
You may ask, Why are we applying in April for FY that starts in October?
Well, USCIS accepts application up to 6 months in advance. This applies not only to new H1B Visa petitions, but even for H1B Transfer and Extension, that's the maximum.
This 6 month limit comes into the picture if you are a Student in OPT Period. You may be wondering, I have a lot of months left in OPT, can I request USCIS to have H1B Visa start date after October 1, 2015?
The answer is No. Because, applicant can't request start date beyond 6 months from date of application. Because, students in OPT status don't have to pay FICA taxes and they like to save some money. But, there's a way (possibly around that).
H1B Cap Count Increase?
This is the biggest question this year so far. Since, EAD for H4 Visa rule was passed, there's widespread speculation that President Obama can magically wave a wand and increase the H1B Visa Cap count.
As of today, there's always talk about increasing the H1B Visa cap, but it's unlikely new law will be passed from now till April of this year to increase the General or Advanced Degree Cap count.
H1B Visa Application Process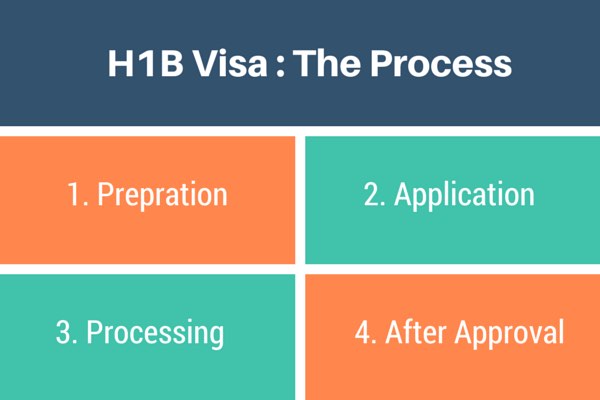 I would say, there's 4 steps in H1B Application Process
Preparation Phase

Immigration Attorney (Questionnaire)
Applicant (Send Documents)
Employer (Initiates the conversation)

Application Phase (Attorney and Employer)

Attorney submits an application with the Department of Labor (DOL)
Then Attorney submits applications to the Department of Homeland Security (USCIS)

Processing Phase

Petition Evaluation is made by USCIS
RFE (if required)
Approval, Denied Decision

After Approval (USCIS, Employer and You)

Receive I-797 approval Notice (USCIS sends it to Attorney)
Visa Stamping (Department of State, which controls U.S. Embassy and U.S. Consulates)
Change of Status to H1B or Travel to U.S.A. on H-1B Visa stamping in the passport
H1B Visa 2016 Lottery Predictions
I'm writing this blog post on March 1, 2015. If, I had written this article in December of last year, I would I have said, this year went to crazy as last year and there will be H1B Visa 2016 Lottery. But, as of today, I think there will be H1B Visa lottery. That's my prediction.
Here's my official H1B Visa 2016 Predictions.
H1B Sponsors (or Employers)
Are you still looking for a job (or a consulting company) who can apply for H1B Visa?
Perhaps you are looking for a backup sponsors in addition to your primary sponsor to increase your odds of getting selected in the lottery.
or you maybe looking for an H1B visa sponsors in India and I received so many questions from tech workers in India, Australia asking if I know a consultant who can process H1B Visa this year.
Here's my experience – Lot of applicants take this "dive head first" approach when it comes to H1B sponsor's selections process. They just think, paying money to a consultant will solve their problem. But, such stories always have a twisted ending.
Where to Get H1B Visa News and Latest Updates?
There's a bunch of ways to get the latest news and updates from USCIS about the lottery and approval dates, times, processing time via HappySchools.com
Sign-up to Receive H1B Updates via email
Join Premium Facebook Support Group (coming soon)
Post your questions below (for answers from the community of H1B Visa Applicants).