7 Years of My Life After F1 Was Rejected 3 Times in 2011 and The Struggle is Real
Getting F-1 student visa would take you on a path to the U.SA. But, what happens if you don't get the US visa? Have you wondered what happens to those who did not get that visa?
There will be shadow thought that linger for years to come – What if I got my F1 Visa, while others move on. Today, I got a guest article from someone who wanted to share the story after F1 Visa rejected thrice. He wanted others to learn from his experience.
---
The Dream
I had this craze about studying, living and working in the US since my childhood because of the resources and education being research-oriented.
During my 12th grade, I decided to study for a bachelor's degree in the US. My first obstruction happened due to family issues which lasted five years. I was forced to complete the bachelor's degree in India and I graduated with 78% grade in 2010.
Though I did not give up on my dreams. I wanted to study in the US.
So, I was planning to study masters degree in the US for Fall 2011, applied to five universities.
My GRE and TOEFL scores are 1180 and 100 respectively.
In the new GRE format, it would be around 305.
I got admission and received I-20 from three universities which include UTD and NJIT. I couldn't recollect the third university.
Anyway, I had two sisters who are up there, one was holding U.S. Citizenship and the other one is a US Green Card Holder.
Happy Schools Blog (HSB) was my go-to for preparing GRE, TOEFL and F1 Visa interviews experiences during those days. I remember a time when HSB Facebook Page used to have GRE problems and puzzles to solve with loads of answers in the comments.
I also remember several F1 Visa Interview experiences – rejections and acceptance on this blog, that I browsed while preparing for the Visa interview.
Anyway, I selected NJIT partially due to the fact the course I was looking was also there (VLSI) and was communicating to a professor through email (a tip from HSB) and my sister lives nearby this university as well. So NJIT was no brainier for me.
I used the Facebook (very useful tool) as a platform to communicate with alumni to look out for internships, TA/RA and talked to NJIT Indian communities. It was a confidence booster.
The F1 Visa Interviews
So when the judgment day (F1 Visa Interview) arrived, I was confident though, except for one hiccup, my father was against my decision to study in the US and he did not want to even be the co-applicant in the student loan application.
You could have guessed what happened next. I couldn't get the education loan approval.
I was not earning either and I was left with showing more immovable assets and whatever liquid assets my mom had left with.
During the F1 Visa interview, when it came down to the questions about sponsorship, I told that my mother was my primary sponsor.
And the Visa Officer began to ask more about her profession (Retired Professor) and I couldn't convince the VO and thereby I received the 214(b) form.
I absolutely can't describe how I felt that day.
I applied for the second time for F-1 Visa interview.
This time, I had listed my sister as the primary sponsorship, and the result was no different as she was holding a citizenship and was working part-time in a community college and I couldn't convince the VO.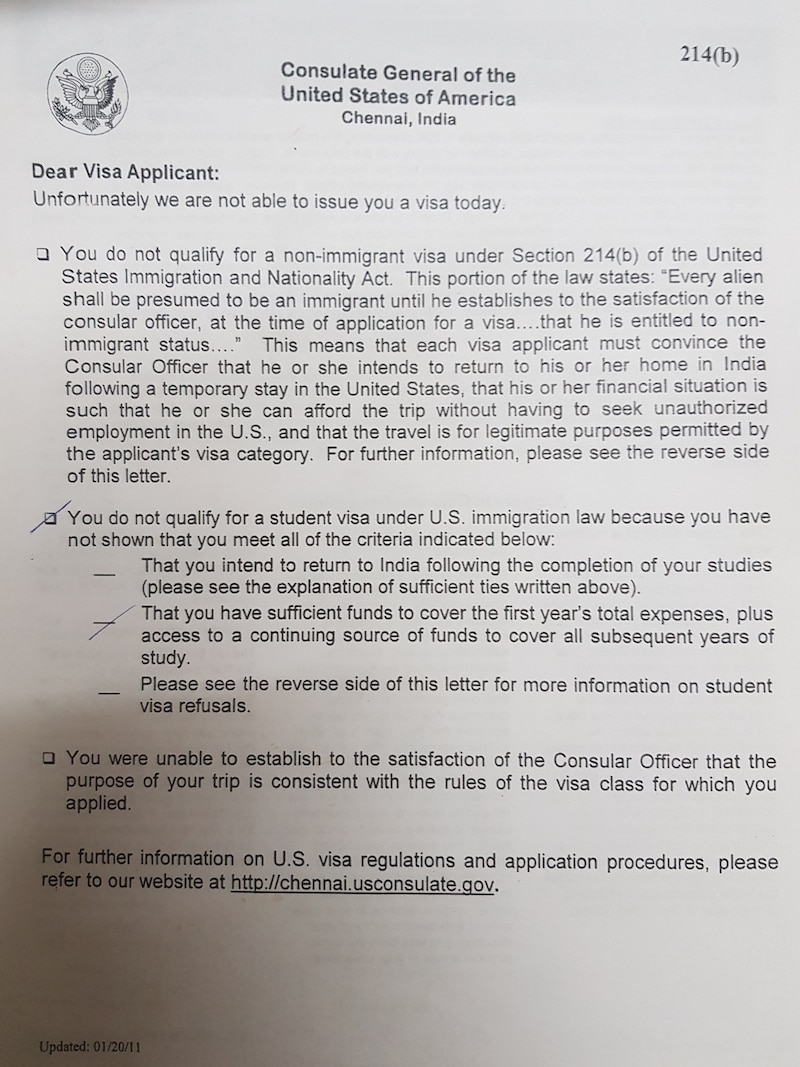 By this moment, I was facing the stark reality, that I may never go to the US.
I wanted to give one visa interview to get the student visa.
I absolutely felt worthless after being rejected for the third time.
For the third time, the result was no different as there were no changes in my profile academically and in terms of sponsors.
Phase: Life After F1 Visa Rejection
Mistake 1: I made the biggest mistake of my life by not having a backup option and I regret to this day
Mistake 2: After seeing my dream crushed, I hadn't further taken any efforts after I felt my dream crushed.
I wasn't strong enough to take that rejection. I went into hibernation from the outside world for over 6 months. Then my depression started (after my 2nd Visa interview my parents had to go to the US for my sister's pregnancy) coupled with loneliness, I wound up with diabetes (though I don't drink alcohol or smoke).
But, life has to go on right?
I started my job hunt and got several rejections as I absolutely had zero experience and zero confidence.
By this time I left Facebook (it became a lethal tool during the depression), because after seeing my friends going to universities and jobs, deep down I felt screwed up. So I deleted my Facebook account in 2012.
I got into a startup company by 2013, for a salary of Rs 5000 per month. All I ever wanted was on the job experience and the salary didn't matter to me.
I got to learn new things and I did. I worked there for like 2 years before the company got dissolved due to the dispute between co-founders (both in Palo Alto) and I ended up working in a company (Clypit Inc) that didn't provide me any experience letter (my third mistake).
By this time (March 2015) I was without a job and without an experience letter which is mandatory if you have to apply for companies and last 3 months payslips.
Finally a ray of hope!
I took some time off to learn DevOps, Linux, and AIX for 5 months while attending job interviews and got 4 offer job letters.
Fortunately, I got a job in a reputed MNC and for the past 3 years, things have been going smoothly.
After 7 years, when I still aspire to go to the US and I asked my friends about the possibilities of studying Masters in the US, I was told by one of my friends to have 60-70 lakhs in hand.
I remember NJIT was around 30 Lakhs in 2011. Though I'm earning now, it begs the question, is it worth studying Masters in the current scenario shelling out that much money or going to the UK or Canada through my project?
I just prefer the latter, though. These days I like to have a backup plan and I have applied for Canada PR via Express Entry.
I always wanted to write to Raghu even back then in 2012 but couldn't muster the strength. Also, I love the way you have changed your blog to a cool website.
---
Lessons Learned
I have published inspiring stories of how someone overcame F1 Visa Rejections.
But, this is the first time someone shared their struggles in the life after F1 Visa Denials.
One important takeaway from this experience, have a backup plan if you are trying to get F1 Visa to study in the USA.
Even if you have any weakness that could get your F1 Visa Rejected, it would be wise to have a backup plan.
Just in case if your F1 Visa is denied, you don't have to spend another 6 months applying for another country.
Here's my experience when it comes getting F1 Visa Approval after you have been rejected in the past:
Fact 1: It's extremely difficult to get F1 Visa again unless you identify your weakness and fix the weakness.
Fact 2: For some students, it's not posisnle to address your weakness in a week or a months time. You may need 6 months or few years. Unfortunately, students don't understand that and there's absolutely no point in trying for F1 Visa repeatedly.
If your financial situation has improved, you can give it a try for the US. But, you should also seriously consider Canada. Since you have already applied via Express Entry, I'm assuming you will land in Canada shortly.
You would have a blast in Canada as well. Just make your dream come true from Canada. It's all about experience and you would get the same in Canada as well. but, keep dreaming and U.S. not far from Canada!