H1B Visa 2014 – Latest Updates
Following the following articles for H1B Visa FY 2015 articles
USCIS will start accepting H1B Visa 2014 applications from April of this year.
Looking US Economy, hiring has picked-up. Unemployment rate have dropped in months of December. Which implies, more number of H1B Visa to USA application will be filed during first week of April.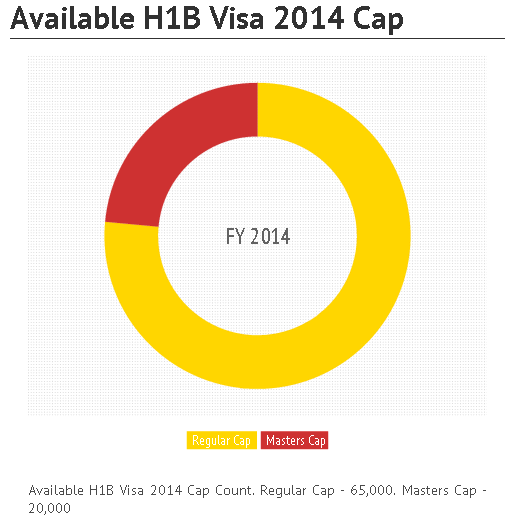 In this blog post you find answers to following questions about H1B Visa FY 2014
When does H1B Visa Quota open?
Can you explain H1B Visa Application Process?
What is the total H1B Visa Cap Count?
How long to get H1B Application Approved?
Previous year H1B Visa statistics
H1B Visa 2014 Filing Date
Is it possible for an employee to self-file H1B visa and what is H1B visa filing date?
Only employer can file H1B visa application on behalf on an employee.
H1B Visa Filing Date open from April 1, 2013.
H1B Visa Start Date
What is the H1B Visa start date?
USCIS will start accepting H1B application from April 1, 2013 (Monday).
After H1B approval, H1B start date will be from October 1, 2013 or later.
H1B Visa Application Process
Above picture should give an overview about H1B Application to Approval Process.
Department of Labor for getting LCA approval.
Department of Homeland Security

U.S. Citizenship and Immigration Services (USCIS)
U.S. Customs and Border Protection (CBP)
U.S. Immigration and Customs Enforcement (ICE)

Department of State (for issuing visa)
During H1B approval process, your H1B Visa application will be handled by 2 departments
Department of Labor
USCIS
H1B Visa Application Processing Time
Following is what it would typically take for an Immigration attorney to file and prepare your H1B Visa application for FY 2014.
Day 1 to 5: Start the H-1B Visa Process – Collect documents and prepare LCA application.
Day 6 to 7 – File LCA (Takes About 7 days for approval)
Day 8 to 13: Preparing the H1B applications while the LCA is Pending
Day 13 to 15: File H1B Application based on LCA approval date.
Above steps will vary between attorney's, but you get an idea about how the entire process takes place.
Total Cap Count
H1B Visa can be applied under 3 different Cap – General, Advanced and Cap-Exempt.
65,000 – General H1B Cap (or Regular Cap)

1,400 H1B1 visa numbers are available for Chileans
5,400 are set aside for Singapore nationals.

20,000 – Advanced Degree Cap (Masters and above degree from USA)
No Quota – Cap-Exempt Companies (Non-Profit Research Companies)
H1B Visa Predictions : Go to H1B 2014 Predictions page to read my analysis on when H1B cap could be filled.
H1B Visa – Approval Times
How long would it take for USCIS to approve the H1B Visa application from April 2, 2013?
Processing time for H-1B Visa application FY 2014 depends on type of processing.
Regular Processing
Premium Processing
When additional $1225 is paid, USCIS will expedite the H1b Visa approval process. It's usually 15 days from the H1B application receipt date.
Regular H1B application processing can take 2 to 4 months. Sometimes, it can take even longer.
H1B Visa Application : After Approval
After USCIS approves the H1B Visa petition, your employer will receive the I-797 Approval Notice with Start and Expiry Date of your H1B petition.
Typically, for application submitted to USCIS on April 1, 2013, start date of H1B will be from October 1, 2013.
Maximum period for which H1B application can be approved – 3 Years.
USCIS have approved application for just one year.
How to File H1B Visa Petition?
Who can file H1B Visa application? Can I self-file H1B Visa application to work in USA?
H1B visa must be sponsored by employer who offered the job. It's not possible to self-file H1B Visa application.
If you want to work on USA, then H1B Visa should be sponsored by an employer.
Questions About H1B Visa?
Do you have any questions about applying for H1B Visa in year 2013 that will count towards Fiscal Year 2014.
Post your questions below in the comments section.