Here's How to Complete DS160 Without Last Name in the Passport
Do you want to know how to Complete DS-160 visa application form if your Last Name in your passport is Empty (or blank)? Here's one reader's experience (& lessons learned).
Before we look at the readers' experience, I can't stress the importance of having a Surname in your Passport if you are planning to live in the USA. I have seen 1000's of questions about problems faced by Students, H1B, H4 Visa holders who get their U.S. Visa in their passport stamped with FNU (i.e. Without Surname in their Indian Passport)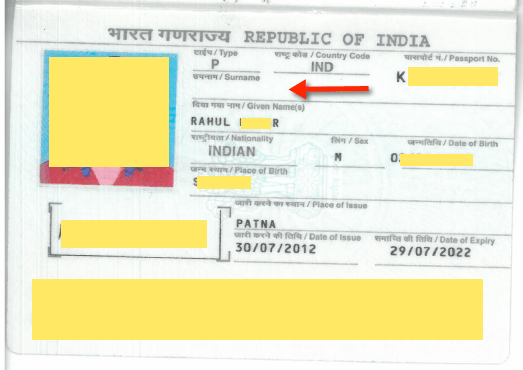 Some Terms to understand if before you continue to read this article:
Surname = Last Name (or Famil Name)
Given Name = First Name
FNU = First Name Unknown
LNU = Last Name Unknown
Here's a couple of articles about potential problems without Surname
Now, you have an idea about them, we can look at what happened with one reader who completed DS160 without a surname in the passport.
---
Recently my dad went to the US Visa Interview and he did not have Sa urname in his Indian Passport. Hi, I've gone through similar situations (Completed DS160 with LNU) for my father and will share our experience in detail.
OFC Appointment
OFC Appointment = Sunday, 05Feb2017,
Consular Appointment = Monday, 06Feb2017,
Location – New Delhi, India
Here's the Background
My Father had First named = XXXX but no last name in his Indian Passport and applied for B2 Visa (Tourist Visa).
His DS160 Form had the First Name = XXXX, Last Name = LNU and booked the appointment. This was incorrect.
On the day of OFC Appointment (Finger printing/Photo), the OFC Officer did not accept his DS-160, because we filled up 'LNU' in the Last Name field.
They confirmed that the correct way is to fill up First Name = FNU, Last Name = XXXX on the DS160. He asked to correct DS160 and then come back for OFC.
My Father came out of OFC center and I immediately filled up new DS160 form (since was not able to edit existing DS160 once it's submitted) as suggested i.e. First Name = FNU, Last Name = XXXX.
I submitted it online and then took the print out of this new DS160 confirmation page from an internet café outside the OFC Center in Delhi.
After 2 hours, my father again went inside the OFC office with new DS160 confirmation page and asked the officer to replace the old DS160 number from the new DS160 number. He did the same and then OFC was completed successfully.
The next day was my dad's actual B2 Visa interview at the U.S. Embassy in New Delhi, and it went successfully and his B2 Visa was approved. We received passport in 3 days.
The U.S. Visa had First Name = FNU, Last Name = XXXX.
Therefore, if your Last name is blank in the Indian Passport, write your First Name in the Last name while filling DS160.
And in the in the first name just put FNU. Later we also found it on USTraveldocs site about FNU.
Additionally, there seems to be just one visa category 'B1/B2' given regardless you choose B1 or B2 or B1/B2 while filling DS160. We selected Visa Category = 'B2' while filling up DS160, But we're given "B1/B2" Visa on the passport.
Hope this helps, All the best!
---
Fact – It's pretty common for people to call you using your Last Name here in the USA. For example, if you go to Doctors Office, they would call you using your Last Name. People often refer tot Last Name of athletes when addressing the media.
Action Item:
IF:
Do you have a surname in the Passport? No
Are you planning to Apply for US Visa? Yes
Are you planning to work or study in USA for long term? Yes
THEN:
Get a new passport with Surname (Yay!)
Question: What should be my surname?
In South India, at least in Tamil NAdu, Surname = Dad's Name
Other Part of India, Surname is a Family Name like Patel, Nair, Reddy, Raval, Singh, etc. They are common Surnames
If you have multiple names in your First Name, then you could split that First Name.
Question: I have a Surname, but my name is really long. Would that cause any problems in the USA?
Yes, people could struggle to fill the entire names. My recommendation: Make to Shorter if you can by all means.
Series: GRE Registration vs Names