No Surname in Passport; FNU in US Visa; Life in USA is Can't Get Any Tougher
Here is a comment from a reader. His passport doesn't have a Surname ( or Family Name). Got FNU in US Visa.
I understand that last name is very important in the U.S.A. I don't have a surname in my passport. Surname field is blank. My given name is Nived XXXXX. So wherever I had to submit my last name, I printed it as XXXXXX.

I received an I-20 from UTD. I had mailed them a copy of my passport. Understanding that I don't have a surname, they printed Nived XXXXX as my surname and left my first name field blank.

International Office at UTD explained that this is the procedure they follow for candidates without surname in passport. They claim no problems have been reported yet from previous students.

I understand that VISA application form, I-94, US custom's form etc asks for Family name and First(given) name. Please advise me on how to fill these.
If you apply for U.S. Visa without Surname in the Passport, they will issue U.S. Visa, but your first name will be used for the Last Name field in the Visa. Your U.S. Visa would look like this.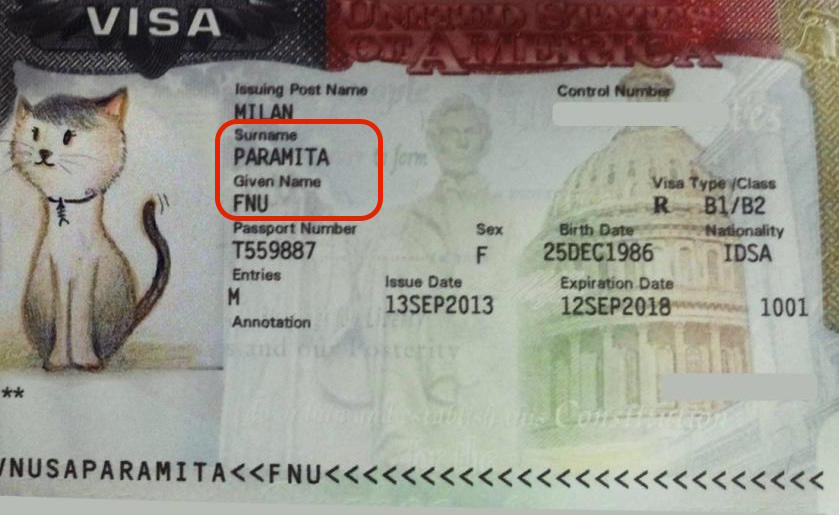 The solution for FNU in US Visa
If you have read the related articles here in the blog, you will know by now that you can get U.S, Visa without last name in your passport. But, you will run into several of problems without Surname in your Visa and the Passport.
Everything, including SSN to Drivers License, will be difficult to get. Read the following experience posted by a reader:
The time and effort you have to put to change your passport changed to include the Surname could save you lot of hassle in the future.
Warning: Changing your last name after coming to the U.S. will be more troublesome and expensive process.
Read the steps to change the name in the Indian Passport here in the USA.
Blank Surname in the Passport
I have posted several articles explaining the importance of having Surname in your passport even before take GRE Exam.
I came across the following experience posted by someone in a forum who had FNU in US visa and this process he had to go through to get it fixed. If you are a student, going through this process will be time-consuming and costly.
Steps to change the Name in Passport in US
Rules are strictly followed here. Only thing we need to wait for a long time.. This is what I did to correct my name everywhere
April 2005 – FNU – Passport, Visa
July 2005 – because of this SSN got delayed for 4 months and received with FNU
July 2005 – DMV refused to give license, because they cannot give license with FNU.
July 2005 – Enquired local newspapers in Philly – They told that I need to get court order number
July 2005 – Went to court, they said that I need to show proof of my residence for 6 months, and should contact attorney for name change.
August 2005 – Talked to attorneys – they said I need to give 100 $ consultation + actual charges of name change
August 2005 – I have decided to give up, but at last try, I have enquired with Desi newspapers in NJ for name change advertisement. They agreed to advertise( $40)
September 2005 – I gave the ad in NJ, and in Chennai India.
September 2005 – Went to Indian Embassy NYC, they said, I need to wait for 1 month time after the advertisement date (because somebody could object to this name change. I don't know how they will come to know, if somebody objects)
October 2005 – I applied for Passport Name change
October 2005 – Received with proper lastname, firstname in passport after 3 weeks time
November 2005 – With this I went to SSN office for name change
December 2005 – I got the SSN with changed name
In the meantime, everywhere my name went as FNU Siva (Insurance, Bank Acct, Utility bills, Pay Check, etc..)
December 2005 – Initiated everywhere to change my name
December 2005 – Applied for Driving License –
January 2006 – Failed 2 times in road test – (I need to unlearn my aggressive car driving habit learned over 2 years in India.
February 2006 – Today I have passed my road test and received my license, W2 forms, Insurance card and other documents with new name. It was such a relief. No more FNU.
The whole process took about Ten months time (purchased the car in December 2005 only after correcting my name in all the documents).
Lessons learned:
Don't give up with your Name Change
Follow the system.
Don't have to break the rules to get your things done
Question: What will happen to U.S. Visa Stamping in the Passport after legally changing the name?
You can continue to use the visa stamping with FNU in your canceled Passport. The name in your USA Visa stamp can only be changed in a U.S. Consulate or Embassy. When you travel next time, you can get a new Visa stamping in your passport. You don't have to attend a Visa Interview for requesting this name change.
Series: GRE Registration vs Names
What names to use when Registering for the GRE Test (this article)
How to Change the Name After GRE Registration (But Before the Test)
How to Change the Name in the Passport in the USA (& why you should change) (this article)